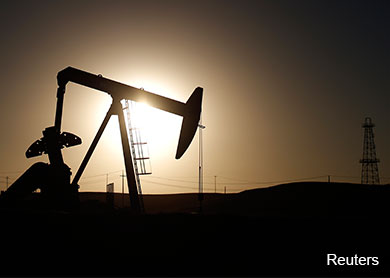 LONDON (Nov 11): Brent crude was trading below $82 per barrel on Tuesday after hitting a four-year low, as a firm dollar and robust production from U.S. shale oilfields outweighed a drop in Libyan output.
Brent crude for December fell $1.11 to $81.23 per barrel, its lowest since October 2010, and was trading at around $81.90 by 0905 GMT. U.S. crude was down 50 cents at $76.90 per barrel.
The U.S. dollar hit a seven-year high against the yen and was up 0.2 percent on the day against a basket of currencies.
A strong dollar suppresses demand for oil and other dollar-priced commodities by making them more expensive for purchasers using other currencies.
"The path of least resistance is lower, until the OPEC meeting," said Michael Wittner, oil analyst at Societe Generale, in a research note.
Brent has fallen nearly 30 percent since late June due to rising production, slowing global demand, and the absence of clear signals from the Organization of the Petroleum Exporting Countries that it will cut output at a Nov. 27 meeting.
Falling prices have had little impact on drilling in the United States, with output from the fastest-growing and largest shale fields showing no sign of slowing, the Energy Information Administration said.
"U.S. producers may begin to cut production next year. The market may rebound if we see confirmation of that, but as long as production keeps rising from non-OPEC countries, the market will continue to fall," said Yusuke Seta, a commodity sales manager at Newedge Japan in Tokyo.
A supply shock in Libya lent some support to prices, as a rival government that has seized the capital took control of the country's biggest oilfield, El Sharara.
Libya's output in the coming months will depend on whether that government can consolidate control over assets and avoid international sanctions, but most analysts believe production in 2015 will be significantly lower than the peak above 900,000 barrels a day, achieved in September.
JPMorgan slashed its 2015 Brent price forecast by $33 to $82 per barrel on Monday, citing supply pressures in the Atlantic Basin and the apparent inability of OPEC member states to work cohesively to restrain production.