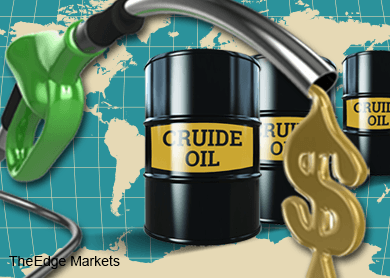 SINGAPORE (Dec 17): Brent crude dropped below $60 a barrel on Wednesday, hovering near its lowest in five years as a supply glut dragged down prices.
Oil prices skidded in recent weeks, with Brent down nearly $20 since the Organization of the Petroleum Exporting Countries (OPEC) decided to keep output steady in late November. Non-OPEC member Russia, one of the world's top producers, has also indicated that it does not plan to cut output despite a glut in the market.
Brent for February delivery was down 56 cents at $59.45 a barrel as of 0349 GMT. It touched a session low of $58.50 on Tuesday, the lowest since May 2009, and has plunged 50 percent since June, when it was traded above $115.
U.S. crude for January delivery dropped 97 cents to $54.96 a barrel after touching the lowest since May 2009 at $53.60 on Tuesday.
"The story is still the same. Europe is weak, China is weak, and the U.S. economy is growing by a bit. It's a supply story," said Avtar Sandu, senior manager for commodities at Phillip Futures in Singapore.
"The only thing is that the markets are very oversold and oil is extremely cheap at these levels," he added.
Core Gulf OPEC members that had declined to cut production at a Nov. 27 meeting signalled this week they are prepared to wait as long as six months to a year to see the market stabilise.
Kuwait's oil minister said on Tuesday that there were 1.8 million barrels a day of excess oil in the market currently and prices could pick up in the second half of 2015.
Russia Energy Minister Alexander Novak had said on Tuesday that Moscow would not cut output in 2015, even if pressure on its finances rose with the economy showing signs of a severe stress.
The rouble has been hit hard, prompting Russia's central bank to rush in to hike interest rates to halt a collapse in the currency.
In the United States, crude inventories rose by 1.9 million barrels last week, compared with analysts' expectations for a decrease of 2.4 million barrels, data from the American Petroleum Institute showed late on Tuesday.