This article first appeared in City & Country, The Edge Malaysia Weekly, on February 1, 2021 - February 07, 2021.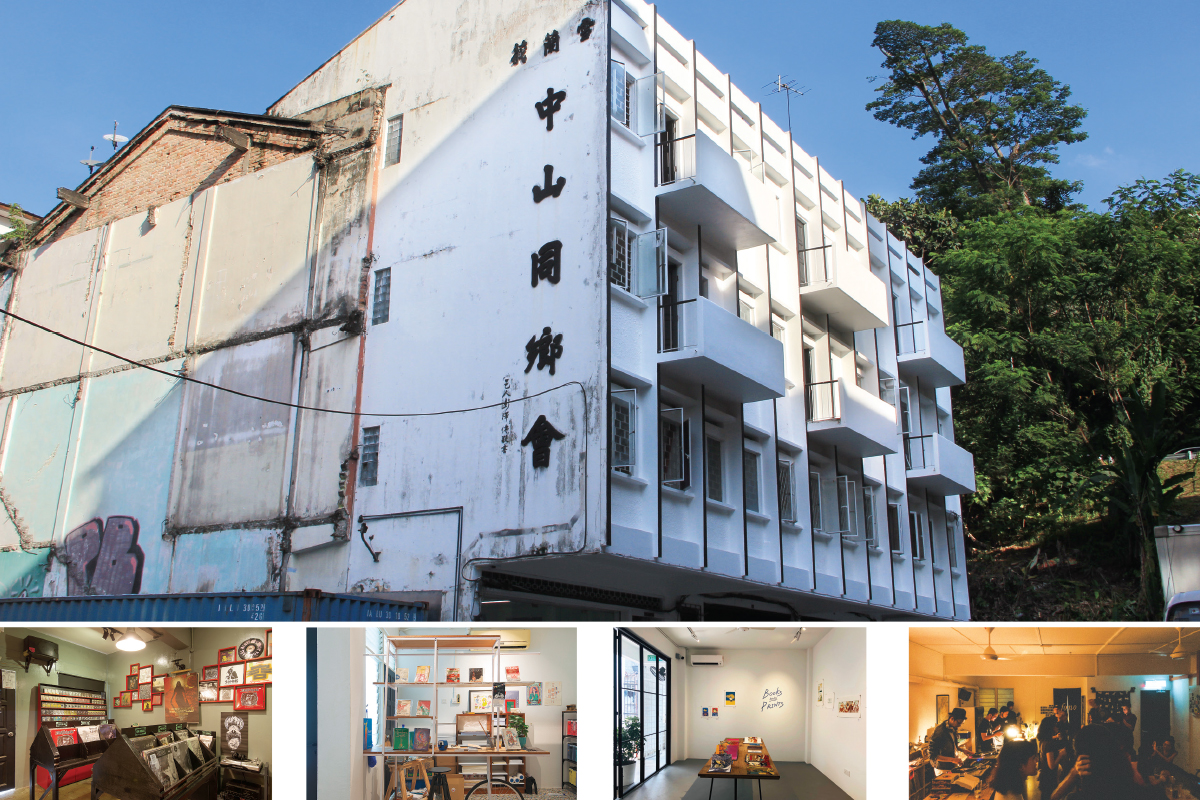 One hot Sunday afternoon, in a bid to escape the heat, we ducked into what looked like a trendy café on Jalan Sultan in Kuala Lumpur. It took us a moment to realise that we were standing in the former landmark, Rex Cinema.  
The space that is now known as RexKL bears little resemblance to the cinema many KL folk of a certain age remember. Traces of its past can, however, still be found in the grand staircase that leads to the second floor and the signage that reads "Reserved Class" in three languages. 
RexKL is the perfect example of clever adaptive reuse. Malaysia has its share of abandoned buildings and has seen a good number of old ones torn down to build anew. While buildings do get worn down over time, some reimagining and redesigning can breathe new life into not just the old structures but the surroundings as well by creating new spaces for the public. 
One of the earlier and most well-known projects is The Kuala Lumpur Performing Arts Centre, or fondly known as klpac, in Sentul. The story of klpac's home started more than a century ago, when the building was constructed to house a wood-crafting workshop and sawmill. It later became part of Sentul Works, one of the region's most important railway depots and workshops, which served the needs of the Federal Malay State Railway from 1906.
The structure was damaged by allied bombing in World War II and later rebuilt in the mid-1940s. It was converted into a make-shift golf clubhouse in the late 1960s after years of abandonment. In the early 1990s, it was left unused again until the construction of klpac in the early 2000s. 
klpac came together after the unfortunate flooding of Plaza Putra at Dataran Merdeka in 2003. The water destroyed the entire complex and, along with it, The Actors Studio (TAS). Founders Joe Hasham and Faridah Merican were devastated. 
Three years later, TAS, together with YTL Corp Bhd and Yayasan Budi Penyayang, established klpac under the patronage of the late Datin Paduka Seri Endon Mahmood, united in the dream of developing and nuturing performing arts in Malaysia.
Today, klpac has 7,614 sq m of facilities, including a 504-seater proscenium theatre, a 200-seater experimental black box theatre, an academy with nine studios, a 100-seat flexible space for independent film screening and smaller shows, a set construction workshop as well as a café and a bar. 
The concept of klpac was to create a strong distinction between original and new works. According to klpac, the old was to be retained in all its original glory and stand testament to its time, and the new must be contemporary and exhibit, in its form and material, the use of current technology and trends.
An example would be the preservation of the external façade and the incorporation of a modern 4-storey glass-and-steel structure to create a perfect blend of old and new. 
The interior was kept neutral, non-imposing and democratic. For its functional spaces, glass was used to promote shared experiences and bridge the traditional divide between artist and audiences by allowing visitors to catch a glimpse of the behind-the-scenes activities. 
Reclaiming the past
Over in Kampung Attap is the unassuming 4-storey Zhongshan Building. Those who have never been there would be surprised to find that it houses an eclectic group of creative businesses and spaces. They range from independent bookstores and artisanal F&B outlets to a record store offering a variety of musical genres and a music-focused community space. 
Zhongshan Building was built in the 1950s. In 1962, Rob Tan's grandparents rented a unit there to stay and opened a butchery called Lee Frozen on the ground floor. The family eventually bought up all the units in the building and began to lease them to families, many of whom would move on after a while. 
In time, the businesses moved out and the building became a hostel for foreign workers. It was still a hostel when Tan inherited the building from his grandmother. He turned down offers to buy the building, as he had a sentimental attachment to it, having grown up there. 
After going through a few ideas, which included turning the building into a boutique hotel, Tan — along with his wife, Liza Ho and friend Snow Ng — settled on creating an arts and creative space. Armed with a Think City grant and Tan's family's own investment, they got down to work with a team of architects, engineers and contractors.
It was tough going for a while, as the team tried to figure out which parts were the original structure and which parts were extensions. Much of the money went into plumbing, wiring and structural work. Renovation work was completed in end-2016. The creative hub now draws people from all over the Klang Valley.
A labour of love
Adaptive reuse is also big in Penang, where Unesco World Heritage Site George Town is located. One of Penang's successful repurposed projects is Hin Bus Depot on Jalan Gurdwara. 
Hin Bus Depot has always been distinctive, thanks to its Art Deco-style architecture, which was rare among George Town's Victorian- and Georgian-style structures. The depot was built in 1947 by bus company Hin Company Ltd to house and maintain its buses. The company's famous blue buses used to ply the Northwest route from Prangin to Tanjung Bunga, and along the western seaboard to a terminus in Teluk Bahang.  
In its heyday, particularly in the 1970s, it was known as the most stylish bus depot in Penang. It shut its doors in 1999 and the blue buses ceased operations in the early 2000s amid the proposed restructuring of Penang's struggling public transportation system. 
The vacant depot was left to decay in the hot tropical weather. In 2001, the depot came into the possession of a company owned by three families, but the place would not come alive until 2014, when a young Lithuanian artist came a-calling.
The artist was Ernest Zacharevic, who is now known as the man who introduced murals to Penang. Back then, Zacharevic had obtained sponsorship from Tan Shih Thoe, managing director of Lum Choon & Co Sdn Bhd, for his first solo exhibition and was searching for a suitable venue. 
Zacharevic was shown several locations, but it was Hin Bus Depot that caught his eye. It was love at first sight and the dilapidated building fit the subject of his exhibition, Art is Rubbish is Art. The exhibition featured works of art made from preloved junk, discarded treasures and overlooked street items. The venue itself became an integral part of the theme, with the original structure retained, and only necessary repairs and additions were made for operational purposes.
After devoting so much love, time and effort to the project, the team of local artists who helped with the exhibition could not bear to let the space go. The local and international success of the exhibition gave them the impetus to set up an independently run gallery for artists. 
Minimal renovations were made to preserve its old-world charm. The original interior structure now serves as canvases for art. It is now run by a small passionate creative collective that works with the community to sustain the depot as a space that supports and showcases progressive and upcoming artists, events and art forms of all kinds. 
Hin Bus Depot covers more than 60,000 sq ft and includes eight shophouses on Jalan Gurdwara and three others facing Jalan Kampung Jawa Lama. According to its website, the existing tenants such as a coffee shop, hardware store and motorcycle repair shop continue to operate, and the vacant lots have been restored and converted into new spaces for small businesses and studios. 
Hin Bus Depot is also home to F&B outlets and art and crafts retailers, including speakeasy Backdoor Bodega; a plant-based café and yoga studio, Wholey Wonder; fine dining restaurant Au Jardin; craft workshop Kinohiro and Woodsmen Makerspace; and handmade accessories shop, Sew Cuddly. It also hosts a weekly pop-up market for small businesses in the community. 
A storied past and vibrant future
This brings us back to RexKL and its storied past. The building was commissioned before the Japanese Occupation and opened its doors on July 28, 1947. Unfortunately, it burned down after a burglary attempt in 1972.
After it was rebuilt in 1976, it housed a single-screen theatre with more than 1,000 seats and was operated by the Shaw Brothers. Golden Screen Cinemas took over later, but closed it in 2002. It was then turned into a backpacker hostel. In 2007, yet another fire gutted the building. 
A decade later, in September 2017, the co-founders and lead architects of RexKL, Shin Chang and Shin Tseng, were approached by the building's landlord to take over the operations of the building. Shin Chang, who runs Chocha Food Store on Petaling Street, has always been drawn to projects that involve repurposing old buildings. 
They soon garnered the support of well-known folks in the landscape and architecture industry, including landscape architect Ng Sek San and GDP Architects founder Malaysia Kamil Merican, as well as the group that owns Sekeping Retreats and Joseph Foo of 3nity Design. They came on board as advisers and investors. 
It was important to them that the identity of Rex Cinema was kept alive to an extent, and the aim was to give the building and the surrounding community a new lease of life by creating spaces for events, theatre, performances, library and exhibitions, among others. 
The structure was retained and most of the work involved cleaning up and removing scraps and makeshift partitions. The flooring in the main hall where the cinema used to be was upgraded. It is now used as an open space to host events. 
On the ground floor, the car park area has been converted into The Back Ground, a sustainable marketplace with F&B and retail vendors such as Lauk Pauk, The REX Bar, Parklife, Mentor Bookshop, Blackmarket Preloved Fashion, Shier.co Vintage shop and Air Asia Foundation flagship social enterprise shop Destination Good. There is even a barber shop and a massage spot led by the Malaysian Association for the Blind. 
According to the architects, the floor has been carefully planned and designed, so each tenant has its own space. While it may look like a food court, each vendor has its own unique design. 
RexKL stands for Recycle, Empower, X for crossover, Knowledge and Learning. 
"The upgrades and reassignment of space in the building will work hard not just to be aesthetically pleasing but also useful to the community — a reimagined community space in the heart of the city where individuals and groups of diverse backgrounds come to meet and build connections. 
"We are focused on giving the old, beloved building another chance at a future rather than tearing it down and starting anew. We hope to create new experiences and do our part in helping downtown KL flourish by making an impact through local enterprises and showcasing the city's wonderful creative scene to increase awareness and understanding," say the founders. 
All these projects are proof that repurposing an old building can create new opportunities and enhance the relationship between architecture and the community, while honouring its history.