This article first appeared in The Edge Malaysia Weekly, on April 1, 2019 - April 07, 2019.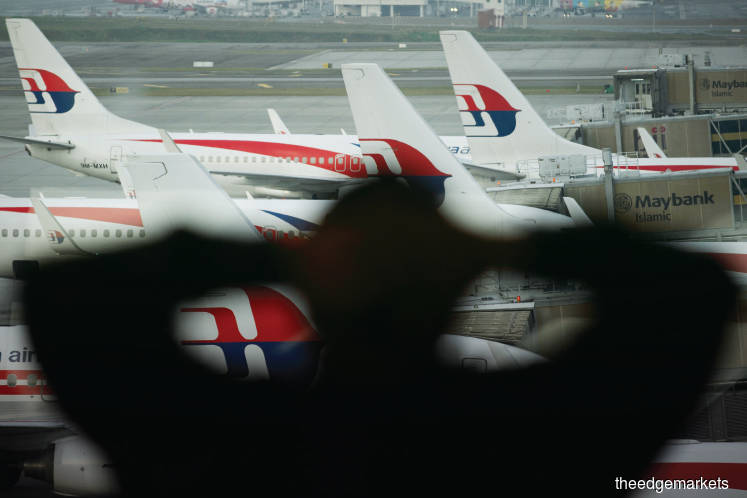 Photo by AFP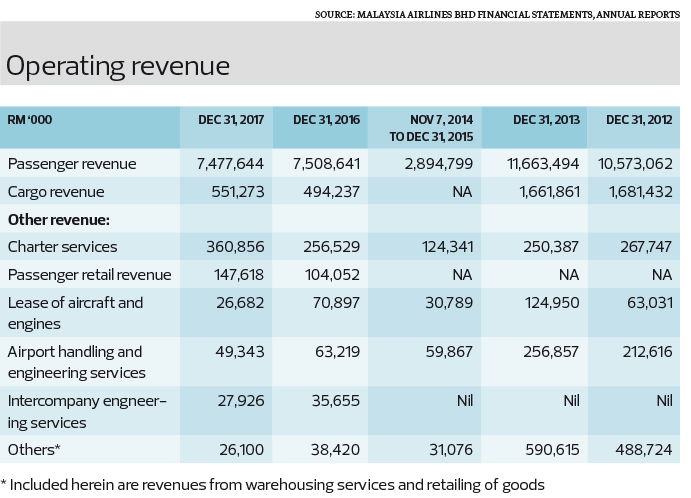 AS Malaysia Airlines Bhd awaits its fate, there are renewed calls for it to consider divesting some of its business units such as engineering and cargo to raise capital.
According to a former senior executive in charge of cargo at the old company, Malaysian Airline System Bhd (MAS), the ailing airline's business units would be better off as independent companies as they would have greater flexibility to pursue future growth opportunities.
"By spinning off its business units, Malaysia Airlines executives would be able to focus on its core business [of passenger transport]. Indirectly, these business units are now a distraction as each unit requires different skill sets and talent," he tells The Edge.
He is of the view that spinning them off will make it easier for the respective business units to secure specialised and reliable partners. "In addition, Malaysia Airlines will get more money by breaking them up and selling them individually."
The former senior executive is confident of the airline's wholly-owned cargo arm MAB Kargo Sdn Bhd, for instance, reaching greater heights if private investors like himself are given the opportunity to take up a stake in it. "The same applies to the engineering, ground handling, catering, information technology and human resources business units."
Filings with the Companies Commission of Malaysia (SSM) show that MASkargo Sdn Bhd posted a net profit of RM214.3 million in the financial year ended Dec 31, 2015 (FY2015), compared with a net loss of RM214.78 million in FY2014. This was despite a 34.5% year-on-year decline in revenue to RM1.27 billion in FY2015.
Under the newly reset Malaysia Airlines, MASkargo, now renamed MAB Kargo Sdn Bhd, slipped into the red in FY2016 with a net loss of RM27.23 million, but rebounded to post a net profit of RM46.49 million in FY2017. Revenue rose 18.1% y-o-y to RM1.3 billion in FY2017. Figures for FY2018 were unavailable.
Based on Malaysia Airlines' financial statements, cargo revenue accounted for 6.4% of total operating revenue in FY2017, down from 11.4% in FY2013. MAB Kargo's freighter fleet has also halved to three now, from six in 2015.
Former MAS executive vice-president for group finance S Suppiah is not in favour of breaking up and selling units of the flag carrier, saying they contribute to cost reduction and revenue generation.
"The airline business is not just about moving people and goods. There are many other businesses within the airline, such as engineering, catering and ground handling. All these businesses were once highly profitable operations," he notes.
"Now everyone wants a piece of these businesses, but it's not fair to take them away from Malaysia Airlines. Why? Because it was not easy to set them up in the first place. For example, you must have at least 11 of the same aircraft type to achieve economies of scale before you can start your own internal maintenance operations."
Suppiah recalls that the engineering and maintenance division under the old MAS was doing "very well", servicing not just its own aircraft but also those of foreign carriers such as Air France, KLM, Southern China Airlines, Hainan Airlines and Continental. "Doing everything in-house helped the airline to reduce cost while generating income, as all the billings were in US dollars," he adds.
Today, Malaysia Airlines' engineering business is a shadow of its former self.
MAS' 2009 annual report shows that MAS Engineering recorded third-party maintenance, repair and overhaul (MRO) revenue of RM385 million in FY2009. For FY2013, revenue from its airport handling and engineering services stood at RM256.86 million, declining further to RM49.34 million in FY2017.
Sitham Nadarajah, former MAS vice-president of engineering, concurs that the business units should be kept intact within Malaysia Airlines, noting that the carrier's maintenance standards were recognised globally back then.
"MAS Engineering had over 30 MRO certificates from regulatory agencies, including Japan Civil Aviation Bureau, Civil Aviation Authority of China, the US Federal Aviation Administration and European Aviation Safety Agency, at one time.
"Regretfully, this is now no more. We have lost all our foreign approvals. While the engineering unit is still operational, it is only servicing Malaysia Airlines. And rather upsetting is the fact that Malaysia Airlines' aircraft are being sent to Singapore and Garuda Indonesia for MRO work," laments Sitham.
He also points out that in the past, MAS had invested millions in flight simulators to train its pilots, and the pilots would then train their foreign counterparts.
"Today, our pilots are highly sought after but they are flying with other airlines like Singapore Airlines, Emirates, Korean Air and China Airlines and contributing to the economy of those countries," says Sitham.
Brendan Sobie, chief analyst and Southeast Asia chief representative at Centre for Asia Pacific Aviation, says spinning off the business units can have an impact on what the airline pays for these services.
"In some cases a business can become more efficient, passing on savings to the airline, but in other cases, a profit generated from a sale results in higher costs for the customer over the long run (as the new owner has to recoup the cost of the acquisition) and therefore results in an overall negative impact for the airline," he tells The Edge via email.
"There could be improved opportunities to pursue more third-party work if these kinds of units were separated but that requires investment and success in marketing and sales, which is hardly guaranteed," Sobie adds.