This article first appeared in Personal Wealth, The Edge Malaysia Weekly, on October 1, 2018 - October 07, 2018.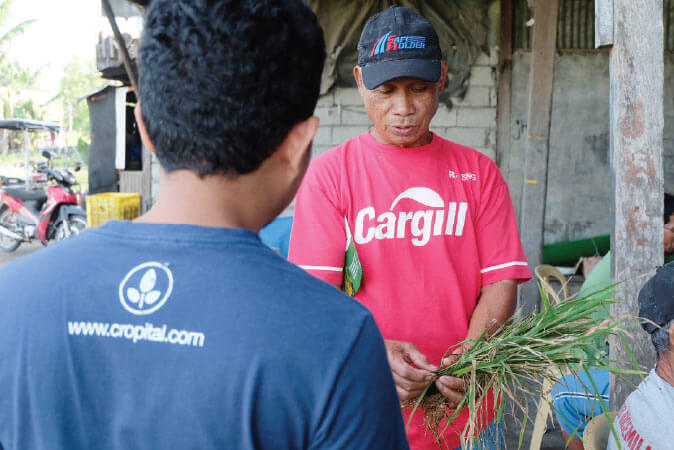 Farmers undergo a stringent due diligence process before their farms can be listed on the Cropital platform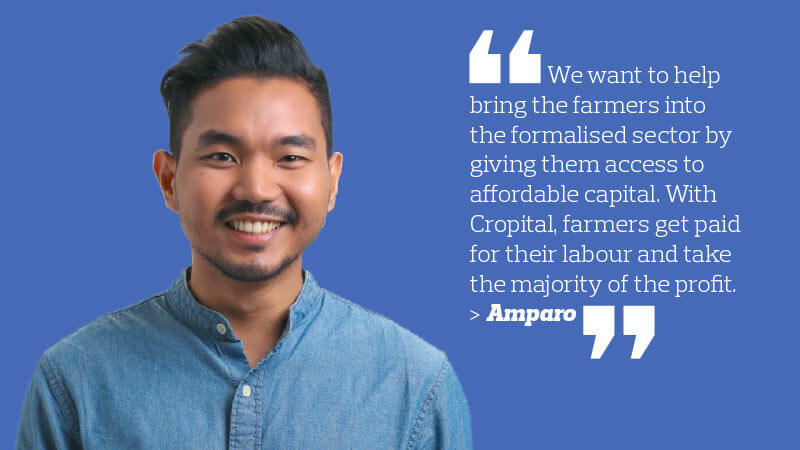 Despite being one of the top rice producers in the world, farmers in the Philippines are among the poorest in the country. They earn no more than 2,000 Philippine pesos (RM152.6) a month on average.
These figures made no sense to Ruel Amparo. The founder of Cropital Corp — a peer-to-peer (P2P) lending platform for smallholder farmers that aims to break the cycle of oppressive debt — found it untenable that these rice farmers, whose harvests are responsible for feeding the world, are barely able to feed themselves.
Amparo says his desire to ameliorate the lives of farmers had been on the backburner since he was a teenager. "Although I grew up in the city, I have been going to the padi fields all my life. My family owns a few farms in one of the provinces and it is quite common for us to help with the planting and harvesting whenever we go back during our vacation. That experience gave me the exposure I needed to gauge the actual conditions and to understand the reasons behind the inability of smallholder farmers in rural provinces to obtain affordable credit."
He was able to crystallise the idea after meeting Rachel de Villa and Lester Wayne Basa Pile at the University of the Philippines, where he was pursuing a degree in industrial engineering.
"Before starting Cropital, I got involved by funding my own relatives, who are padi farmers, so that I could understand the mechanics of lending to farmers, as well as where they were getting their funds. Their impoverished conditions and constant battle with predatory debt played on my mind pretty much all the time. I wanted to solve this particular problem and decided to focus on it after graduation," says Amparo.
He graduated in 2014 and the trio started working on their idea. A year later, Cropital was selected as one of the five start-ups from the Philippines to participate in the Malaysian Global Innovation & Creativity Centre's (MaGIC) Asean Start-up Track accelerator programme.
Cropital started operations in November 2015. "We were looking to provide smallholder farmers with access to capital," says Amparo.
According to 2017 figures released by the National Statistics Office of the Philippines, farmers are among the poorest of the poor, with a poverty incidence of 34.3%. But the challenges faced by this demographic extend beyond the lack of access to credit offered by accredited financial institutions.
The situation was so dire that in 2016, more than 5,000 farmers took to the streets in Cotabato (in Mindanao) to demand government assistance after a drought hit hundreds of thousands of hectares of farmland. The protests turned ugly when shots fired killed a farmer. The subsequent melee saw more than a dozen farmers and 20 police personnel wounded, according to a Reuters report. Since then, protests demanding the reform of agrarian policies to resolve landlessness and to investigate the death of farmers in the state have been on the rise.
Amparo says the majority of the farmers, including those involved in livestock farming, are trapped in the cycle of debt as many of them depend on moneylenders for credit. "In the Philippines, a good number — I think it is safe to say the majority — of smallholder farmers depend on credit for their production. Unfortunately, a lot of them get these loans from informal sources such as moneylenders (also known as loan sharks), who charge extremely high interest rates illegally."
The interest rates could be as high as 25% to 30% a month, he adds.
If the crops are affected by natural disasters, pests or diseases, the farmer will not be able to service the interest. "So, via this platform, we want to help bring the farmers into the formalised sector by giving them access to affordable capital. With Cropital, farmers get paid for their labour and take the majority of the profit," says Amparo.
How does it work?
Those interested in participating on the P2P lending platform have to register online before they can browse through the farms listed on the site. These farms have gone through Cropital's vetting process, which includes ground visits and background checks.
To ensure legitimacy, the platform only lends to farmers who are members of organised farmers' groups. "Our farmers are recommended by the heads of these groups. We also have our own alternative scoring assessment process, which provides approval and adjustments to the requested loans," says Amparo.
These groups are selected and verified with the assistance of local governments. Farmers are required to submit an application form, obtain barangay (administrative district) clearance and undergo an interview with Cropital.
Upon registration, investors are assigned a custom-built virtual wallet, through which they are able to load their desired funds. They can load their wallets either via bank transfers or online payment channel Dragonpay.
The minimum investment amount is 5,000 Philippine pesos. There is also a platform service fee of 5% for each investment. Foreigners who are keen to participate undergo the same process, but use a remittance service to transfer funds.
The loan is disbursed to the farms once the target fund size is achieved. Cropital ensures that the money is used solely for the farmers' production needs. "The key distinction is that these loans are uncollateralised and farmers only pay a monthly interest of 2%," says Amparo.
With a monthly interest rate of 2%, the investor who puts in 5,000 Philippine pesos receive 5,175 pesos at the end of the investment cycle, which is a fixed return of 3.5% on the 5,000 pesos or a gross return of 8.9% on the actual loan amount of 4,750 pesos (after deducting the 5% platform service fee).
"As Cropital is a P2P platform focused on rice production, the returns are fixed. For rice, the crop cycle is four to six months so the investors are lending to farmers for inputs for that particular cycle," says Amparo.
According to its website, Cropital has already gone through two full cycles. The total rate of return averaged 8% over six months and it has already been disbursed to the investors.
If there are requests from investors to visit the farms they have backed, Cropital will make the necessary arrangements. But Amparo says it is not something they do often.
The platform currently focuses on providing loans to padi farms, but it is working to expand its network to include corn fields by the end of the year. "We have funded various farms, including livestock farms. But right now, our focus is on helping rice farmers scale their business," says Amparo.
The farms are mostly located on the islands of Luzon and Visayas, which are two of the three major groups of islands in the country. When the platform was launched, it was able to raise 500,000 Philippine pesos in less than three days. "But now, we have provided about 500 loans to more than 300 farmers. We have raised a total of 24 million pesos in last three years," says Amparo.
Who are the funders? The platform initially targeted local investors looking for alternative investment options. But to the astonishment of the founders, a large portion of the funding came from Overseas Filipino Workers (OFWs). "In terms of demographics, about 70% are locals while 30% are from outside the Philippines. The majority of the fund flows from outside the Philippines are from OFWs," says Amparo.
"We also have a lot of non-Filipinos interested in funding some of our farmers. This is not a large group, but it is growing."
Like all investments, this comes with risks such as infections and natural disasters. Amparo says these risks are made clear to investors. "For us, it is really critical to find good insurance for the farmers. We are also very transparent with the funders about the risks of lending to farmers, particularly as there are conditions where the farmers may not reap any harvest at all," he adds.
The farmers are provided with crop insurance underwritten by the Philippine Crop Insurance Corporation, which insures both the farmer and investor in the event of unpredictable conditions that may affect the growth of the crops.
"In cases of huge natural disasters or those caused by pests or diseases, there is a possibility that the farmers may not make enough to pay off their loans. In such circumstances, Cropital actually provides some consideration for them to pay off the loan in the following crop cycle or season at no additional interest," says Amparo.
"There is always a risk of delay in payment, particularly when dealing with complex agricultural and horticultural problems caused by diseases, pests or natural disasters. But so far, we have not written off any loans."
In fact, he hastens to add that the farmers who requested that their loans be restructured because of untoward incidents that affected their harvests — and thus, their ability to pay off their loans — were very committed in meeting their obligations.
Cropital also offers support services that are meant to improve the productivity of the farmers. "At every cycle, we monitor the harvest or yield of our farmers. Some of the basic services we provide are access to insurance, access to agriculturists [crop technicians] and training in specific areas of planting. We also work to connect them directly with buyers," says Amparo.
"All of this is made possible through partnerships. All these interventions aren't really Cropital's areas of expertise. We act as the liaison to make it easier for farmers to access the expertise of our partners."
Beyond helping farmers improve their production, Cropital's services are also geared to entice the younger generation to get into agriculture. The platform estimates that the average age of a Filipino farmer is currently 57 — a somewhat worrying statistic.
The demand for food is expected to increase 50% by 2030 as the global population is expected to reach 8.3 billion. This is an opportunity and indication of the demand for food in the future, says Amparo.
However, he stresses that the primary objective of Cropital is to support and uplift farmers. "Our investors need to understand that the returns we provide is secondary. We are impact first, profit second."