This article first appeared in The Edge Malaysia Weekly, on July 12, 2021 - July 18, 2021.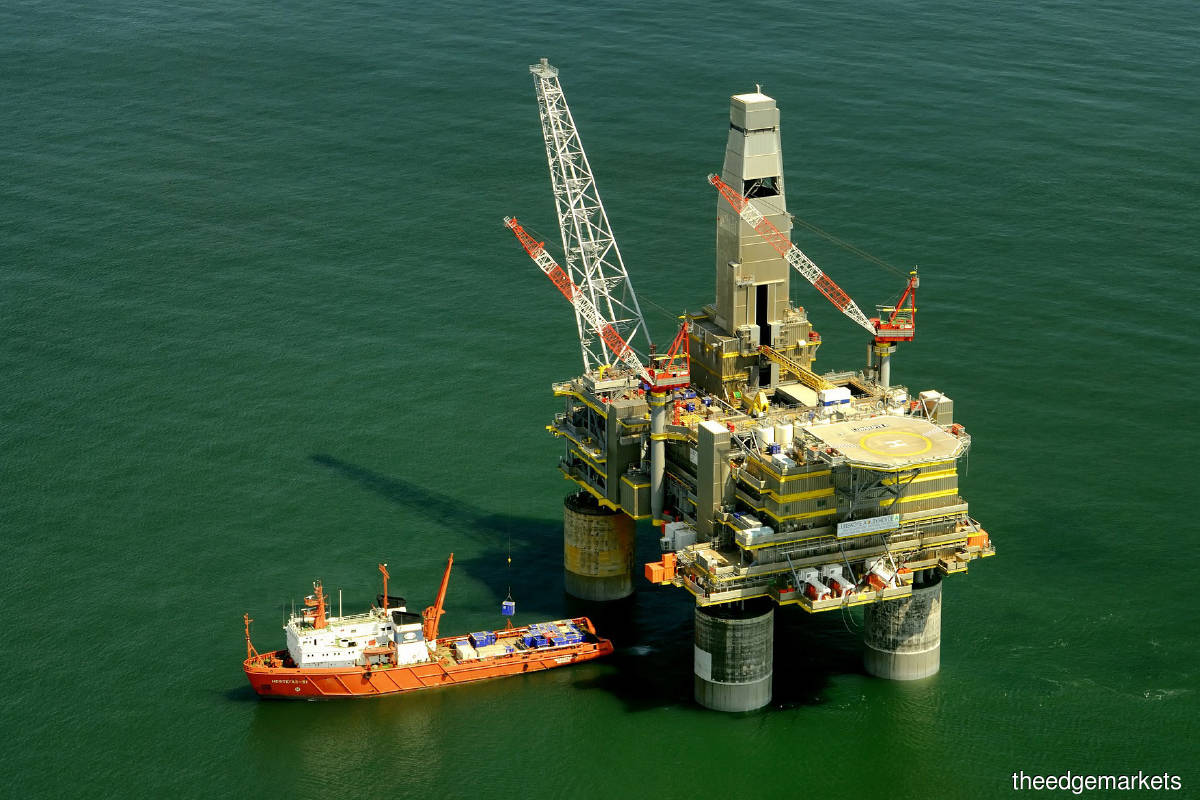 THE disagreement among the Organization of the Petroleum Exporting Countries and its allies (Opec+) on the proposal to increase supply in a gradual and controlled manner left oil markets on tenterhooks last week.
Two of the world's largest petroleum producers, Saudi Arabia and the United Arab Emirates (UAE), locked horns, with the latter demanding increased production quotas, while the former opposed it. This led to heightened volatility in prices.
On July 6, Brent crude futures peaked at US$77.84 per barrel before dropping to US$74.13. Since then, prices have been trending downwards as traders worry about a repeat of the March 2020 Russian-Saudi price war (and demand destruction caused by the Covid-19 pandemic) which sent oil futures into negative territory.
If the UAE were to get leniency on production quotas, it is likely that other supply-enthusiastic countries such as Russia and Iraq would also be able to negotiate supply increases, says Rystad Energy, a data and analytics company, in a July 5 note.
"If UAE and more countries are allowed to up their production, the conservative stance that Opec and Saudi Arabia aimed for would be swept away from the table and prices will take a bearish hit. For now, the group is at an impasse as the UAE continues to lobby for a higher production quota.
"If granted, [it] would likely also have to include the other supply hawk countries. A combined lift of quotas could result in an increase of more than the 500,000 bpd (barrels per day) that the market originally speculated," says Rystad Energy in the note.
Malaysia also attends the Opec+ negotiations but its stance on whether to increase or reduce production is unknown. The Malaysian delegation is led by Datuk Seri Mustapa Mohamed, minister in the Prime Minister's Office overseeing the economy. A request for comments from Mustapa's office went unanswered as at press time.
Despite efforts to reduce dependency on petroleum revenue, the sector is still a major contributor to the country's coffers. In Budget 2021, it is estimated that petroleum revenue would make up 16% of total federal government revenue.
Regardless of the Malaysian government's position on whether to cut production or boost supply, it would benefit from a sustained, elevated oil price.
According to a study by the Asean+3 Macroeconomic Research Office (AMRO) published in April 2020, with every US$1 increase in crude oil price, the Malaysian government's revenue increases by RM339 million.
Meanwhile, Malaysia's gross domestic product (GDP) is estimated to increase by RM646 million with every US$1 increase in Brent crude price.
At RM322.5 billion, Budget 2021 is the largest the government has allocated for, with RM236.5 billion channelled towards operating expenditure, RM69 billion for development expenditure and RM17 billion for Covid-19 funds.
The government has budgeted for a deficit of 5.4% of GDP in 2021. If the crude oil prices remain at an elevated level, that could mean more fiscal space that may result in a lower budget deficit.
Budget 2021 was crafted based on a crude oil price assumption of between US$45 and US$55 per barrel, real GDP growth of between 4.5% and 5.5%, and oil production of 580,000 bpd.
High crude oil prices, however are a double-edged sword for Malaysia as it will also push up the Consumer Price Index (CPI). In recent months, as oil prices kept increasing, the transport component of the basket has fuelled a rise in the CPI.
In May, Malaysia's CPI increased 4.4%, slightly lower than 4.7% in April. However, stripping out fuel costs, the CPI in May should only be 1.6% as the transport component increased 26% year on year in May, much higher than the other components.
"It will always be a double-edged sword. At some point in the future, the government has to really decide its strategy on helping the people in the right way and the most efficient manner," says Dr Afzanizam Abdul Rashid, chief economist at Bank Islam Malaysia Bhd.
High fuel prices as a result of rising crude oil prices could become another burden to the public, with the economy still in tatters. Therefore, the government might have to decide whether to increase the fuel subsidy for RON95. However, Afzanizam believes that while subsidies are good in the immediate term, the government needs to think about the future generation in the context of capacity building, especially in education.
"There must be a clear path to divert meeting short-term needs to building the future of a nation. The pandemic has resulted in a great challenge for our education, and the main worry is that the divide between rural and urban, rich and poor could become more pervasive," he says.
Sustainability of high oil price
However, can the current high crude oil prices be sustained over an extended period? As at last Thursday, Brent crude futures were trading at US$73.53 per barrel, compared with US$37.46 per barrel on Oct 30, 2020.
Rystad Energy sees Brent crude reaching US$80 per barrel by August, based on the current production level. However, producing more oil is what most Opec+ members want.
When negotiations started on July 1, the proposal was to boost output by two million bpd until the end of the year, albeit in a controlled and cautious way, with a conservative 400,000 bpd production increase in August for a start.
Even with an increase in supply of up to 500,000 bpd by August, Rystad Energy opines that the outlook for crude oil prices will remain bullish. That level of increase should theoretically help bring the market balance towards an equilibrium, the data analytics firm says.
However, it could also be a premature step considering the new wave of the highly contagious Delta strain of the coronavirus that is triggering countries in Asia to increase social distancing measures, the firm adds. And if an increase of 600,000 bpd to one million bpd in August starts being discussed, prices may take a moderate dip on the prospect, it says.
There are still various roadblocks that could cap rising crude oil prices. These include potential vaccination delays, new lockdowns in some parts of the world, and novel strain breakouts. All these are being taken into consideration by Opec+ before arriving at a conclusion.
The scenario of an Opec+ rebellion, which, according to Rystad Energy is unlikely, could either bring lack of compliance by some members or a complete disregard of the original deal altogether.
The current production level by Opec+ members is based on the deal achieved back in April 2020, when the cartel and its allies agreed to cut production by a historic 9.7 million bpd. The production cut was then revised to 7.7 million bpd in August last year.
"Unregulated output could mean freedom for all to produce as much as each country sees fit and would be an extremely bearish development for a market that got used to rules and supply quota, in a world still affected by Covid-19," says Rystad Energy.
The US Energy Information Administration (EIA), in a July 7 Short-Term Energy Outlook report, notes that it expects moderate downward pressure to emerge in the second half of the year, with global oil production forecasted to rise and cause inventories to draw at a slower pace.
"We expect global oil inventories will fall by 0.2 million bpd in 2H2021, compared with an average draw of 1.7 million bpd in 1H2021. We forecast Brent spot prices to average US$71 per barrel during 4Q2021 compared with the average of US$73 per barrel in June," the EIA states in the report.
Despite expecting a fairly balanced oil market in 2022, the EIA forecasts that global oil production will outpace global oil demand in 2022. This will continue to put moderate downward pressure on oil prices, it says.
"Higher oil price levels realised in 2021 drive increases in the US' tight oil production in 2022. In addition, we expect more barrels from Opec+ members to reach the market," the EIA states in the report.
The agency expects US crude oil production to increase by 0.8 million bpd in 2022 and Opec crude oil production to increase by 1.8 million bpd. With the growth of oil demand expected to taper in 2022, the EIA forecasts that Brent crude oil spot prices will average US$67 per barrel next year.
Higher oil price positive for O&G stocks
According to a study by Mohammad Enamul Hoque, Soo-Wah Low and Mohd Azlan Shah Zaidi from Universiti Kebangsaan Malaysia, published on July 31, 2020, the effects of the oil price on the returns of oil and gas stocks vary across sub-industries along the supply chain.
The study found that the coefficient of the movement of the oil price to the returns from oil and gas stocks range from -0.048 to 0.113, with the gas utilities sub-industry having a negative coefficient of -0.048.
Needless to say, the oil and gas exploration and production (E&P) sub-industry has the highest coefficient, at 0.113, suggesting that returns of this sub-industry are affected the most by oil price changes.
Companies listed on Bursa Malaysia involved in the E&P stage of the industry include Yinson Holdings Bhd, Sapura Energy Bhd, Hibiscus Petroleum Bhd, Bumi Armada Bhd and Velesto Energy Bhd.
RHB Research is keeping its "overweight" call on Malaysia's oil and gas sector, despite the still unfolding tug of war at the Opec+ meeting. The research firm opines that E&P and petrochemical companies should continue to enjoy strong earnings rebounds in 2021, while services players should gradually benefit from higher domestic capital expenditure allocations.
The consensus target price for Hibiscus Petroleum is RM1.09, which is 65% higher than its closing price of 66 sen as at last Thursday. Meanwhile, Yinson has a consensus target price of RM6.59, giving it a 31% upside from its close of RM5.03 last Thursday.