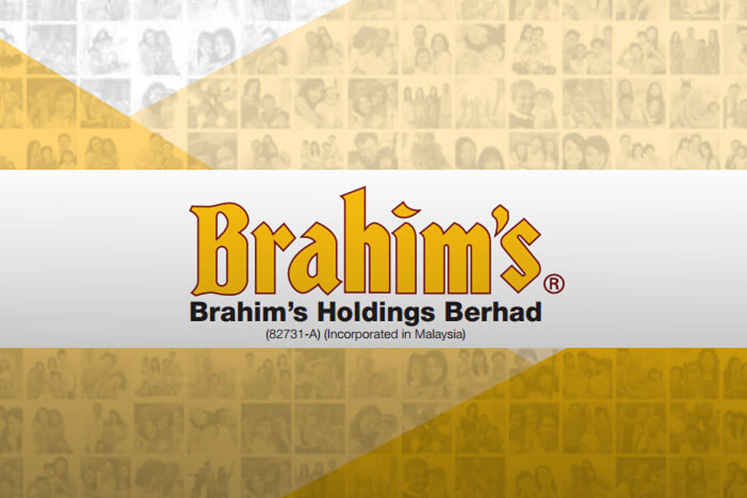 KUALA LUMPUR (Aug 30): Brahim's Holdings Bhd's net loss widened to RM3.16 million in the second quarter ended June 30, 2018 (2QFY18) from RM2.02 million a year ago, as the performance of its in-flight catering and related services operating segment continues to decrease.
This resulted in a larger loss per share of 1.18 sen for 2QFY18 compared with 0.85 sen for 2QFY17. Quarterly revenue dropped 7.4% to RM64.42 million from RM69.53 million a year ago.
In a filing with Bursa Malaysia today, Brahim's revealed that the in-flight catering and related services segment recorded an operating loss of RM4.27 million in 2QFY18 compared with an operating profit of RM1.5 million a year ago. The segment's revenue also fell 7% to RM62.3 million from RM67.28 million in 2QFY17.
 
No dividend has been proposed during 2QFY18.
The weaker quarterly performance dragged the group's net loss for the cumulative six months (1HFY18) down further by 37.2% to RM5.31 million from RM3.87 million a year ago, while revenue fell 5.5% to RM133.09 million from RM140.88 million in 1HFY17.
On prospects, Brahim's said the outlook for its in-flight catering and related services segment in 3QFY18 is expected to be tough.
"Based on the data provided by Malaysia Airports Holdings Bhd, passenger traffic continue to be consistent with the previous quarter and expected to continue the same throughout the whole year.
"Nevertheless, with top management changes, new directions and business strategies set and executed accordingly, (it) will then result in a recovery of this business segment," it added.
Brahim's said its non-airline business will be streamline and rationalise to reflect its significant to this segment. 
On its food and beverage segment, Brahim's said it is still reviewing the market segment prospects. "A series of discussions has been done to determine the suitable business module as well as the appropriate business location," it added.
As for its logistics segment, the group said it continues to be consistent and maintaining its performance.
"This segment is still looking into expanding business models by promoting other related and support businesses and expanding its operations by acquiring new customers and businesses. Apart from that, the segment will also continue to streamline its variable cost," it added.
Brahim's shares closed unchanged at 30.5 sen today, with 404,800 shares done, bringing a market capitalisation of RM72.07 million.