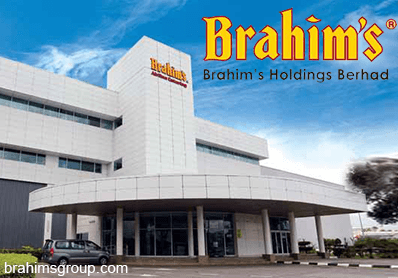 KUALA LUMPUR: Faced with the prospect of lower margins after agreeing to less rosy catering terms with its biggest customer Malaysia Airlines Bhd (MAB), Brahim's Holdings Bhd hopes to reduce the impact by asking its suppliers to lower their prices, said a source.
"The company is looking at ways to reduce cost and improve efficiency, and these include telling its suppliers they need to tone down their margins," a source familiar with Brahim's' operations told The Edge Financial Daily.
"Certainly, Brahim's' margins will be lower under the new terms. It won't be like before; when on a net basis, it was about 12% to 15%. So, it needs to look at ways to become more efficient in the domain in which it operates," the source said.
Industry observers, however, pointed out that it won't be easy to ask suppliers to take a cut in margins, especially since the recently introduced goods and services tax has raised costs for many businesses.
On May 11, as part of a major cost-cutting plan to help the national airline return to profitability, Brahim's' 70%-owned subsidiary, Brahim's Airline Catering Sdn Bhd (BAC), signed two catering agreements with MAB — one covering wide-body aircraft flights and the other, narrow-body ones — which are expected to commence on Sept 1, 2015.
MAB is the new company that will take over Malaysian Airline System Bhd's operations.
The catering agreements are for a period of five years, with an option to renew for another five years if BAC meets its key performance targets. This is in stark contrast to the old contract, which was to have been for 25 years to 2028.
However, The two parties have not revealed much of the financial or pricing details set out in the new agreements. In its media release, MAB said only that the new pricing methodology would result in a 20% to 25% reduction in catering costs.
"This effectively means a 20% to 25% cut in BAC's average selling price and would likely be negative for BAC. However, the earnings impact cannot be determined yet as we are unsure if margins may be offset by charges in meal quality requirements and other cost initiatives," AllianceDBS Research said in a recent note to clients.
It said it was keeping its earnings forecast under review, pending further details.
"However, we believe that with the [new contracts], BAC is now free to utilise the kitchen for any potential industrial catering plans should the kitchen have additional capacity to be utilised [after serving MAB and all other foreign airlines]. Hence, there could be potentially new contributions to the group under its food and beverage (F&B) segment," HLIB Research said in a report.
Brahim's has in recent times been looking to buy other F&B businesses in a bid to reduce its dependency on the catering business.
MAS accounts for about 80% of Brahim's' revenue, and as such, it was no surprise that Brahim's shares closed 2% higher to 98.5 sen the day after the new agreements were signed, as it was an indication of certainty that it would be able to retain its biggest customer, albeit under tighter conditions. The stock closed at 95 sen last Friday, bringing a market capitalisation of RM224.47 million.
"The driving phrase throughout the negotiations for the new contracts was that the terms had to be more toward international standards," the source remarked.
While it remains to be seen to what extent Brahim's will be impacted by the new terms, what seems positive for it is that BAC will be able to continue to use the in-flight kitchen at the KL International Airport in Sepang and the Penang International Airport to service other airlines even if the contracts with the national airline expire or are terminated. It currently services 36 other airlines.
It will also have the right of first refusal should MAB wish to buy frozen or fully-prepared meals at any location.
This article first appeared in The Edge Financial Daily, on May 18, 2015.