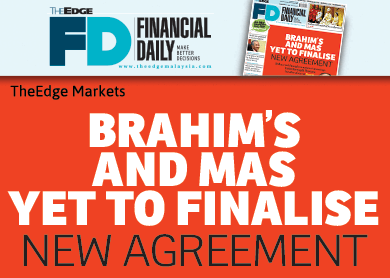 KUALA LUMPUR: Brahim's Holdings Bhd and Malaysian Airline System Bhd (MAS) have yet to conclude negotiations for a new catering agreement (NCA), despite the extension of the cut-off date for the conclusion of the talks from March 31 to April 30.
A delay in the conclusion of the NCA would weigh on Brahim's earnings, said analysts.
"Brahim's may still be seeing losses in 1Q (first quarter ended March [1QFY15]), which is mainly because they have reduced their prices for MAS as part of the settlement agreement (SA) by 25%, while their operating costs remain the same," said an analyst.
According to a source familiar with the deal, the terms of the agreement are still not finalised.
"The agreement is still under negotiation and I don't think the companies will be making any announcements on it this week," said the source.
Brahim's and the national carrier entered into a SA on Feb 26 to provide for the settlement of certain disputes and the negotiations for an NCA to replace Brahim's existing catering agreement with MAS as part for the RM6 billion MAS Recovery Plan announced by Khazanah Nasional Bhd in August last year.
The Edge weekly reported on March 30, quoting sources, that the reason for the delay was that MAS and its owner Khazanah had yet to decide on the billing method for in-flight meals.
The report also said the new catering agreement would be for five years, a drastic reduction from the 25 years for Brahim's current contract with the airline, under which Brahim's 70%-owned subsidiary Brahim's Airline Catering Sdn Bhd (BAC) provides exclusive in-flight catering to the national carrier at Kuala Lumpur International Airport and Penang International Airport.
Subsequently, Brahim's announced in a filing with Bursa Malaysia on April 1 that BAC and MAS had mutually agreed to extend the cut-off date for the negotiations from March 31 to April 30.
Brahim's 4QFY14 net profit already saw a net loss of RM40.32 million compared to a net profit of RM12.68 million in 4QFY13; revenue was down 27.54% to RM79.07 million from RM109.12 million. For the full FY14, Brahim's saw a net loss of RM33.59 million compared to a net profit of RM22.02 million in FY13, even though revenue only declined 10.45% to RM353.57 million from RM394.82 million previously.
The losses were largely due to concessions given to MAS — RM56.08 million — under the latter's recovery plan, as stipulated in the SA. The SA will remain in force until a NCA is signed.
In the interim, BAC is to provide a reduction of 25% on the monthly final bill to MAS and shall not compromise on the quality of meals provided as a result of the reduction.
Meanwhile, the analyst yesterday noted that he did not see any catalyst currently for Brahim's and predicted that there may not be much the company can leverage from the NCA, when it materialises.
"Since they are still negotiating, there may be some difficulties in ironing out some of the terms. I don't think that anything too positive will come out of the negotiations. Brahim's' margins may not look too good too after [they come to an agreement]," he said.
He also noted that Brahim's had previously seen an average catering margin of 9% to 10% and a margin after minority interest of 4% to 5%.
Brahim's, which closed unchanged yesterday at 90 sen, was valued at RM212.66 million.
This article first appeared in The Edge Financial Daily, on May 7, 2015.