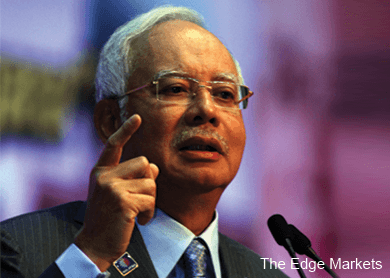 (April 24): Prime Minister Datuk Seri Najib Razak has urged consumers to boycott unethical businesses exploiting the good and services tax (GST) to boost profits.
"The problem with GST is not the concept, but the unethical behaviour of some traders who have taken advantage of its implementation.
"I call upon all consumers, play your part, your role. Put pressure on them. Don't even buy from them if they exploited the GST." he said in a speech Asean Business Awards Malaysia 2015 dinner in Kuala Lumpur today.
The 6% GST was implemented on April 1, replacing the sales and services tax (SST) that ranged from 5 to 10%.
Najib said many people were sceptical of the implementation, but he went ahead confident that it would benefit the country.
"Many think it will be a political disaster to introduce GST. But, we have the moral conviction that this is good for Malaysia.
"We have done the calculation and in a reasonable span of time, we will see GST strengthening the revenue base of our country." he said. – The Malaysian Insider