This article first appeared in The Edge Malaysia Weekly, on September 20, 2021 - September 26, 2021.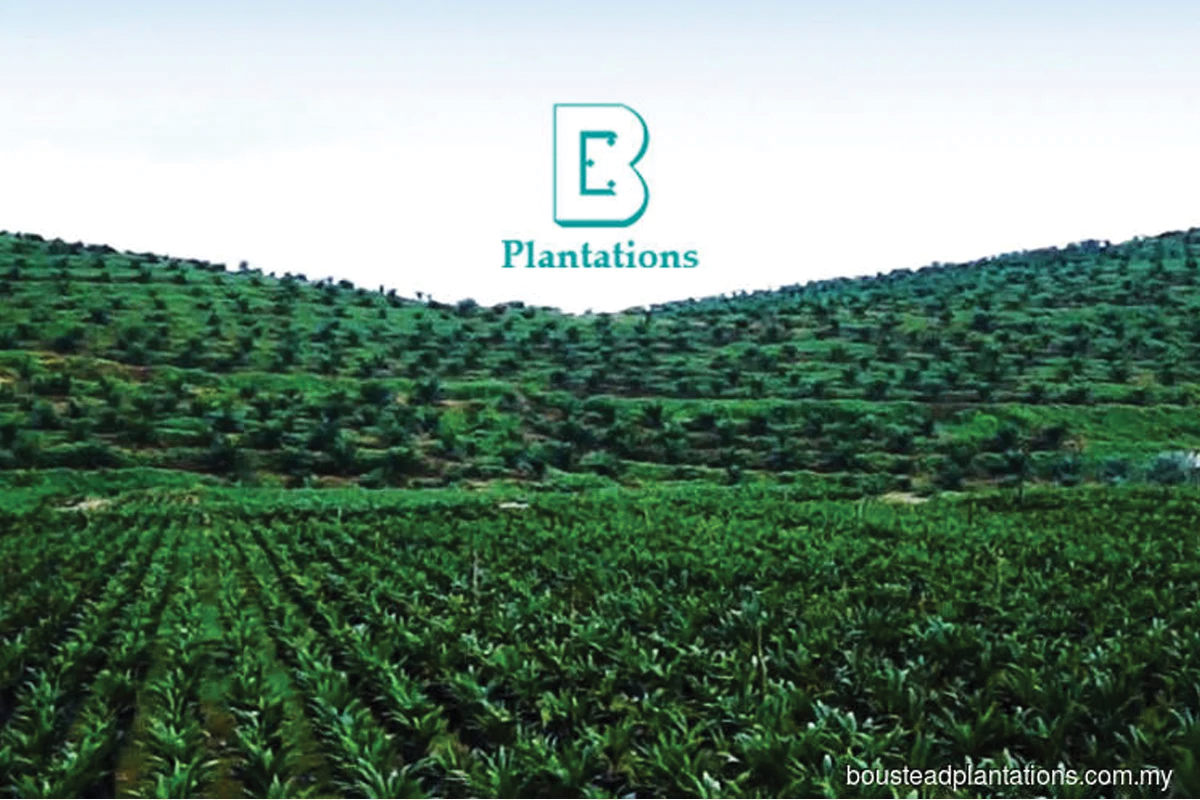 BOUSTEAD Plantations Bhd (BPlant) is rebalancing its plantation assets through an accelerated replanting programme, as well as consolidating its holdings either through joint ventures with other players or an outright sale.
At an analyst briefing, its newly appointed managing director Zainal Abidin Shariff says that the group will be replanting more than 18,700ha over the five-year period to 2025 to improve its future earnings.
BPlant has 73,453ha of planted estates in Peninsular Malaysia, Sabah and Sarawak, and 24,756ha of land that have not been planted.
"The biggest challenge to BPlant is the structural age profile issue. There is quite a big chunk of our plantations that are quite old. Around 40% of our age profile is on the older side, and you can see on a year-to-year basis, production is going down.
"I am working hard to rebalance the assets. One way is through an accelerated replanting programme. We need to replace those plantations with [yields] below 10MT (metric ton) per ha to a higher yield, but definitely that takes time, maybe three to four years down the road," says Zainal during the briefing.
BPlant's average fresh fruit bunch (FFB) yield per ha declined from above 16MT per ha in 2014 and 2015 to 13.9MT per ha in 2019. It increased to 15MT per ha in 2020, fuelled by better production from the group's plantations in Sabah since 2018.
The accelerated replanting programme will see BPlant replanting around 25% of its total plantation areas over the five-year period starting this year. Zainal estimates that it will cost around RM20,000 per ha.
BPlant plans to spend RM100 million next year for the replanting exercise as well as the mechanisation of its operating processes. The group will replant 3,400ha of its plantations next year, mostly in Sabah.
The programme to replant and mechanise its operations requires quite a substantial amount. BPlant is confident that it has enough funding avenues for that purpose, such as internal cash flow and unutilised credit line from the banks.
In the second quarter ended June 30, 2021 (2QFY2021), BPlant managed to reduce its net gearing level to 45% from 55% in FY2019.
Besides the replanting programme, the group plans to acquire plantations with a younger age profile to rebalance its plantations. To do this, it plans to sell some of its plantation assets with an older age profile to finance the acquisitions, says Zainal.
"The whole idea is to rebalance the assets through accelerated replanting, and basically, the strategy is to correct the bell curve of the age profile to plantations that can provide a more palatable, sustainable production going forward," says Zainal, who was appointed BPlant's managing director on July 9. He was the CEO of TDM Bhd between April 1, 2019, and Nov 27, 2020.
The replanting exercise is important to ensure that BPlant will be able to continuously grow its production. As at 2QFY2021, the age profile of its palms is skewed towards past prime or above 20 years, with 39% of its planted areas falling in that category.
BPlant's plantations in Sarawak has the oldest age profile among the different regions. As at 2QFY2021, 78% of the Sarawak plantations were planted with palms past their prime.
This has led to speculation that BPlant may sell its plantations in Sarawak. This is one of the options, but the group will also look at other options such as joint ventures and plantation integration.
Plantation integration is where plantations are used to grow other crops apart from just oil palm, such as pineapples and chillies, and for the rearing of cattle. Besides that, BPlant is also looking at consolidating unplanted land to grow other crops, or to lease or sell these areas for solar farms, says Zainal.
On Sept 10, BPlant announced that it had entered into a Conditional Land Lease Agreement (CLLA) with Next Generation Oil Sdn Bhd (NGOSB) for between 1,040 acres and 1,286 acres of land in Telok Sengat Estate in Johor.
The land will be leased for a period of 30 years, at a monthly rental of RM1,210 per acre. This will provide BPlant with an annual lease rental of RM15.1 million to RM18.7 million, based on the actual location and size of the land to be determined, prior to the unconditional date of the agreement.
The CLLA with NGOSB is one example of how BPlant plans to consolidate its unplanted land. The group has 24,756ha of unplanted land across the country, or around 25% of its total land bank. Of these, 16,240ha are in Sarawak.
On the operational side, like other plantation companies, BPlant has benefitted from the high crude palm oil (CPO) prices in the second quarter of the year. In 2QFY2021, BPlant saw its net profit soar 295.9% to RM48.3 million, from RM12.2 million in the preceding quarter.
BPlant turned a net profit of RM60.6 million in the first half of the year, compared with a net loss of RM2.5 million in the corresponding half last year. The good performance has allowed it to declare dividends of 2.6 sen per share in the first half.
However, the better performance this year was almost entirely due to high CPO prices. BPlant registered lower fresh fruit bunch (FFB) production in 1HFY2021 of 411,867MT compared with 480,240MT in the corresponding period.
The lower FFB production resulted in lower FFB yield per ha in the first half of the year compared with the corresponding period last year. In 1HFY2021, BPlant's FFB yield per ha was only at 5.9MT, compared with 7.2MT in the previous corresponding period.
This was due to the wet weather in 1QFY2021 compared with the previous corresponding quarter, the prolonged drought in 2019 which affected 2021 production, as well as the labour shortage due to Covid-19 restrictions.
Nevertheless, on a quarter-on-quarter basis, BPlant's FFB production and yield per ha have improved. Zainal is confident BPlant will be able to maintain the same level of FFB production in 2020 this year.
The efforts undertaken by BPlant has been noted by Maybank Investment Bank Research analyst Ong Chee Ting, who has a "buy" call on BPlant with a target price of 81 sen per share, based on a sum-of-the-parts valuations.
"While details remain sketchy, we sense a greater willingness to monetise and/or sweat existing assets to hasten BPlant's transformation, while rewarding shareholders at the same time," says Ong in a Sept 12 report.
"Despite management's flattish y-o-y FFB output target for FY2021E, we are conservatively keeping our -11% y-o-y FFB output forecast. Nonetheless, our sensitivity analysis shows that should FY2021E's output equal FY2020, BPlant's core PATMI will rise by RM61 million," he notes.
Maybank IB Research has a core net profit target of RM101 million for BPlant in FY2021. It has forecast a net dividend per share of 3.6 sen in FY2021, based on an 80% dividend payout ratio of the group's core net profits.
Last Wednesday, BPlant closed at 61 sen per share, valuing the group at RM1.366 billion. The 81 sen per share target by Maybank IB Research signifies a potential capital upside of 32.8%, based on Wednesday's close.