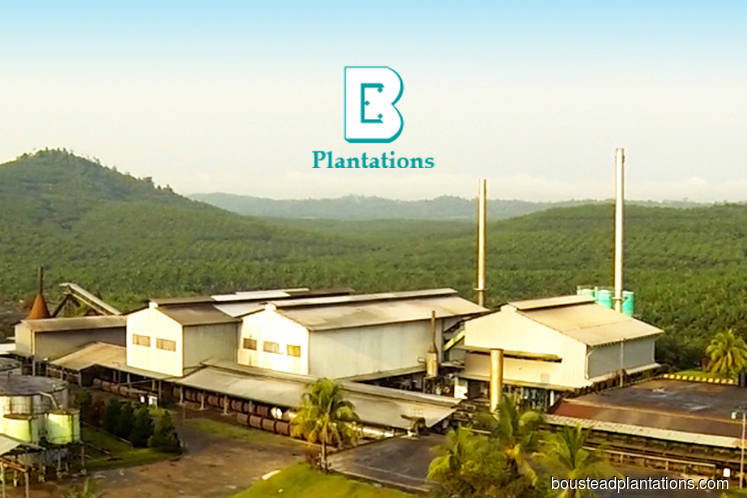 PETALING JAYA (April 24): Boustead Plantations Bhd is looking to pare down its gearing ratio to 0.2 times by 2022, and achieve this target in part by selling plantation land close to urban areas.
At a press conference following its annual general meeting (AGM) today, Boustead Plantations chief executive officer (CEO) Chow Kok Choy said the group's gearing level is around 0.5 times currently, and it is looking to reduce its gearing level via the sale of its plantation land near urban areas during the next three to four years.
"We will have a gearing slightly around 0.5 times. If you are in the plantation business, your gearing should be around 0.2 to 0.3 times.
"We have land with potential property value, and we have quite a number of properties which have got potential. The plan over the next three to four years is to monetise these pieces of land," said Chow.
He added that the group is looking to sell plantation land near urban areas because costs associated with the lands' upkeep are high and that the supply of labour to harvest these pieces of land is limited.
When queried on the total land bank that the group is looking to potentially dispose of as property developments, Chow said he could not indicate the actual size of the land, but revealed it was worth between RM1 billion and RM1.2 billion.
Chow added he could not disclose the locations of the plantation plots slated for property development.
When queried as to why the group is looking to purchase more land, Chow said the purchase of more plantation land would allow it to achieve economies of scale.
"Going forward we need size, in our strategy we aim to have 100,000 hectares (ha), currently we have 93,000 ha.
"As an upstream player we are a price taker, if you are not big enough you are not going to be competitive," said Chow.
In the financial year ended Dec 31, 2018 (FY18), the group had long-term borrowings amounting to RM373.09 million, short-term borrowings of RM744.6 million, and a gearing level of 0.4 times.
The group announced on Aug 1, 2018 that it was purchasing 17 pieces of oil palm plantation land totalling 4,915.25 ha in Sabah, inclusive of a 75 tonne per hour palm oil mill for RM397 million, with the purchase being partly funded by RM350 million in bank borrowings.
At the midday break today, Boustead Plantations rose 0.63% or 0.5 sen to 79.5 sen.