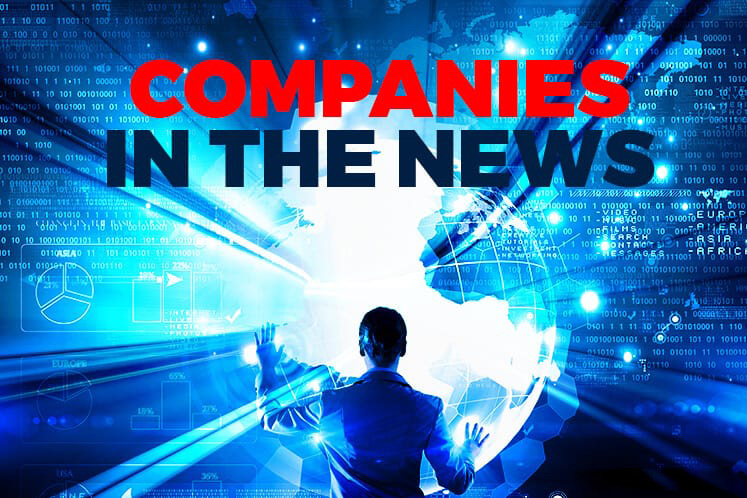 KUALA LUMPUR (May 23): Based on corporate announcements and news flow today, stocks in focus for Thursday (May 24) may include the following: Boustead Plantations Bhd, DBE Gurney Resources Bhd, Kenanga Investment Bank Bhd, Freight Management Holdings Bhd, Axiata Group Bhd, Sunway Construction Group Bhd, TSH Resources Bhd, Sarawak Oil Palms Bhd, MBM Resources Bhd, Khee San Bhd, Jaya Tiasa Holdings Bhd, Perak Corp Bhd and Malakoff Corp Bhd.
Boustead Plantations Bhd net profit for the first quarter ended March 31, 2018 (1QFY18) slumped 82.2% to RM5.26 million, from RM29.56 million a year earlier, due mainly to lower prices of palm products.
Boustead Plantations said revenue for the quarter fell 18% to RM154.6 million, from RM189.02 million. Earnings per share dipped to 0.23 sen, from 1.32 sen previously.
The group declared its first interim dividend of 2.5 sen per share to be paid on June 27.
 
DBE Gurney Resources Bhd expects a "good turnaround" within two years, as the loss-making poultry group opens more restaurants, kiosks and food trucks under the HARUMi system, DBE managing director Datuk Alex Ding Seng Huat said.
Ding said today that DBE aims to have 30 restaurants and signature outlets under the HARUMi system by 2020, besides 3,000 kiosks and 300 food trucks.
At present, DBE has eight restaurants and signature outlets, 220 kiosks and five food trucks under the HARUMi brand, he said.
According to Ding, the group also plans to grow its overseas market for HARUMi. Its target is to have 50 HARUMi restaurants across China, Taiwan, Indonesia and Thailand by 2020.
Kenanga Investment Bank Bhd (Kenanga IB) wants to expand its remisier base through the proposed acquisition of Inter-Pacific Securities Sdn Bhd (Interpac Securities), its managing director Datuk Chay Wai Leong said.
While the proposed acquisition of Interpac Securities will come with its five branches across Kuala Lumpur, Penang and Johor Bahru, the focus is on the remisier base as Interpac Securities has more than 200 remisiers, Chay added.
Kenanga IB is currently the largest retail stockbroker in the country, with a remisier base of about 1,000 through 32 branches nationwide.
The net profit of Freight Management Holdings Bhd tumbled 24.1% to RM3.7 million in the third financial quarter ended March 31, 2018 from RM4.88 million a year ago, mainly due to a share of losses in its associate.
Freight Management said the group's overall financial results was dragged by the weak performance of its associate in the tug and barge business.
However, group revenue was 4.2% higher at RM121.94 million compared with RM116.97 million a year ago, owing to an increase in activities.
Axiata Group Bhd is hoping to seal one or two large-size acquisitions related to the telco tower infrastructure business, which will help the group rise in the tower infrastructure space to fifth by 2021 from eighth currently, said president and group chief executive officer Tan Sri Jamaludin Ibrahim.
Jamaludin said the plan is to be among the fifth largest in the world from eighth currently, by growing the company aggressively, organically and inorganically.
Including a recently-concluded US$940 million telco tower deal in Pakistan, Jamaludin said, "Axiata has done three large deals so far. Maybe a small one coming this year, and one or two more big deals coming later."
Sunway Construction Group Bhd (SunCon) has bagged two construction jobs worth a total of RM69.5 million.
SunCon said its subsidiary Sunway Construction Sdn Bhd (SCSB) has been awarded a RM23.17 million piling works contract by Tenaga Nasional Bhd (TNB).
The second contract worth RM46.32 million was awarded to SCSB's subsidiary Sunway Geotechnics (M) Sdn Bhd by Cergas Murni Sdn Bhd involving piling works for the Bukit Bintang City Centre (BBCC) mixed development project.
Despite selling more crude palm oil (CPO) and palm kernels (PK), TSH Resources Bhd's net profit tumbled 39.07% to RM17.82 million in the first quarter ended March 31, 2018 (1QFY18), from RM29.25 million a year ago, owing to lower CPO and PK prices.
Average CPO and PK prices for 1Q18 declined to RM2,316 per MT and RM2,043 per MT respectively compared with RM2,985 per MT and RM2,981 per MT respectively in 1Q17.
Pre-tax profit declined to RM28.3 million from RM43.2 million in the corresponding period last year despite a 21.8% increase in fresh fruit bunch production.
The group reported that core profit for 1QFY18 was reduced to RM17 million from RM35.3 million, while its revenue was flattish at RM226.13 million against RM228.5 million in 1QFY17.
Lower production and prices have dragged Sarawak Oil Palms Bhd's net profit down by 61% for the first quarter ended March 31, 2018 (1QFY18).
The plantation player said the net profit for the quarter came in at RM26.07 million, against RM66.93 million in 1QFY17. This resulted in its earnings per share dipping to 4.57 sen from 11.73 sen previously.
Revenue, meanwhile, stood 17.5% lower at RM904.36 million, compared with RM1.1 billion recorded in the year-ago quarter.
MBM Resources Bhd's (MBMR) net profit jumped 68.9% to RM32.82 million in the first quarter ended March 31, 2018 (1QFY18) from RM19.43 million a year ago, due to improved sales from both motor trading and automotive parts manufacturing divisions, as well as higher profits from the associates and joint venture entity.
As a result, earnings per share came in higher at 8.4 sen compared with 4.97 sen a year ago.
Quarterly revenue also grew 10.9% to RM463.46 million from RM418.07 million.
MBMR said the improved quarterly performance in the motor trading segment is principally driven by higher sales volume from most of the brands within the group, especially the Perodua models which registered impressive sales volume during the current quarter under review aided by strong demand for the new Myvi.
The Securities Commission Malaysia (SC) has reprimanded Khee San Bhd and its directors for failing to comply with approved accounting standards within the financial years ended June 30, 2015 and 2016 (FY15 and FY16).
Khee San said given the seriousness of the breach, the SC has imposed a total fine of RM1.86 million on the directors.
Two existing directors of Khee San, who are also audit committee members, Leslie Looi Meng and Huang Yan Teo, and an ex-director Datuk Seri Liew Kuek Hin, who at the material time was a member of the audit committee, were fined RM392,000 each.
Two other existing directors Datuk Seri Liew Yew Chung and Liew Yet Mei were fined RM343,000 each.
Jaya Tiasa Holdings Bhd reported a net loss of RM38.41 million in the third quarter ended March 31, 2018 due to lower output at both its oil palm and timber divisions, compared to a net profit of RM27.95 million a year ago.
Quarterly revenue came in at RM160.2 million, down 40.3% from RM268.46 million registered in the year-ago quarter.
Jaya Tiasa's slip into the red brought its cumulative nine months net profit to RM5.9 million, compared with the RM64.69 million it posted in the same period last year.
Cumulative revenue, meanwhile, fell 11% to RM660.02 million from RM741.36 million previously.
Perak Corp Bhd's external auditors have issued a statement of material uncertainty over the company's ability to function as a going concern.
"The group incurred a net loss of RM340.6 million during FY17 and, as of end-2017, the group's current liabilities exceeded its current assets by RM158.5 million," Ernst & Young said, adding a material uncertainty exists that could cast significant doubt over the group's ability to continue as a going concern.
In a bourse filing today, the group said the auditors had also highlighted an impairment test — which resulted in a loss of RM167.2 million — as an area of audit focus due to the significance of the amount and subjectivity involved.
This is related to property, plant and equipment of a subsidiary operating a theme park, where commencement of full operation had been delayed numerous times.
Malakoff Corp Bhd reported a 46.4% drop in net profit to RM52.9 million in its first quarter ended March 31, 2018 (1QFY18) from RM98.79 million in 1QFY17, mainly due to lower contribution from its gas-fired power plant owned via its unit Segari Energy Ventures Sdn Bhd.
Malakoff said in its filing to the exchange this afternoon that the lower capacity payment from Segari follows the reduction in tariff under the extended power purchase agreement which took effect from July 1, 2017.
Lower fuel margin recorded at the Tanjung Bin Power Sdn Bhd and Tanjung Bin Energy Sdn Bhd coal plants also contributed to the decline in profitability. This was partially moderated by lower operation and maintenance costs as well as lower depreciation of C-inspection costs.
Revenue for 1QFY18 fell 9.9% to RM1.6 billion from RM1.78 billion a year ago due to the lower capacity payment from Segari.