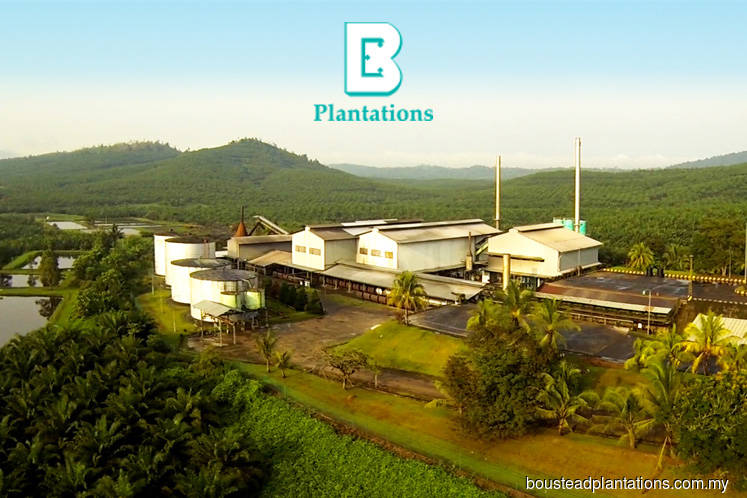 KUALA LUMPUR (Nov 21): Boustead Plantations Bhd's net profit leaped by more than 15 times to RM562.42 million in the third quarter ended Sept 30, 2017 (3QFY17) from RM37.36 million a year ago, primarily due to gains realised on disposal of land amounting to RM554.87 million.
Earnings per share grew to 35.15 sen from 2.34 sen. Quarterly revenue, however, fell 8% to RM183.43 million in 3QFY17 from RM199.33 million in 3QFY16 on lower share of results from associate.
The group also declared a third interim dividend of 3 sen per share and a special dividend of 7 sen per share for the financial year ending Dec 31, 2017, payable on Dec 19.
For the cumulative nine months (9MFY17), net profit jumped 3.5 times to RM628.8 million from RM177.5 million a year ago, while revenue rose 6% to RM541.93 million from RM511.23 million in 9MFY16.
In a statement today, Boustead Plantations vice-chairman Tan Sri Lodin Wok Kamaruddin said the strong earnings growth were also supported by better selling prices for palm products.
The average crude palm oil (CPO) selling price for 9MFY17 was RM2,871 per tonne, up 16% from RM2,475 per tonne in 9MFY16, while average palm kernel price rose by 8% to RM2,478 per tonne. Fresh fruit bunches (FFB) production increased 5% to 696,668 tonnes, mainly as a result of improved yields post El Nino in the first half of the year.
Average oil extraction rate for 9MFY17 was 20.9% and kernel extraction rate was 4.3%, slightly lower than the same period last year.
"Going into the last quarter of the year, while our peninsula and Sabah regions have seen improved FFB yields, this may be hampered by erratic weather conditions and labour shortages, along with difficult ground conditions in Sarawak.
"In addition, Malaysia's export growth was weaker than expected due to stiff competition from Indonesia which caters to price-sensitive markets such as China and India," he added.
Lodin said despite these challenges, CPO prices have outperformed expectations as production recovery was not as strong as expected post El-Nino.
"It is anticipated that favourable CPO prices will remain supportive with upward potential should CPO production fall short of expectations. Robust global demand and comfortable stock levels are also expected to support CPO prices," he noted.
On the group's proposed acquisition of 11,600ha of plantation land in Sabah, Lodin said it is on track for completion.
"On the back of this positive outlook, we are confident that prospects remain positive for the group," said Lodin.
To improve liquidity of the stock and further reward shareholders, Boustead Plantations is proposing to undertake a bonus issue of 640 million new bonus shares on the basis of two bonus shares for every five existing Boustead Plantations shares held by shareholders on an entitlement date that will be determined later.
The proposed bonus issue of RM320 million is expected to be completed by the first quarter of 2018.
At midday break today, BPlant gained 0.62% or one sen to RM1.62, with 696,800 shares done.