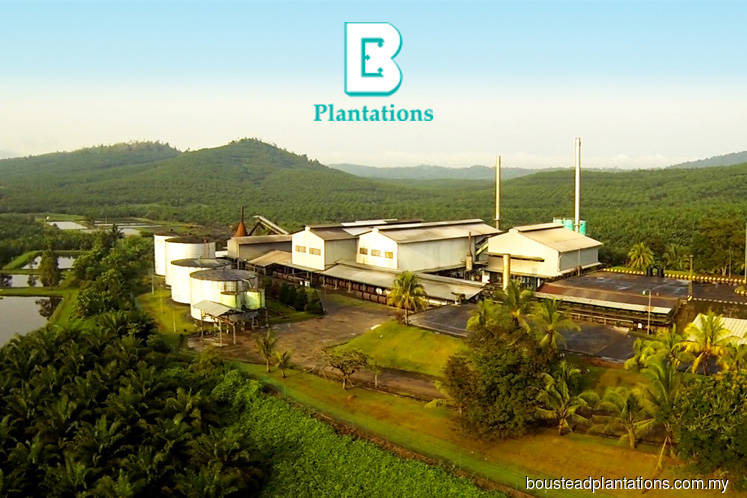 KUALA LUMPUR (Aug 23): Boustead Plantations Bhd posted a net loss of RM22.24 million for its second quarter ended June 30, 2018 (2QFY18) from a net profit of RM10.78 million a year earlier due to the decline in oil palm product prices and oil palm fresh fruit bunch production.
In a statement to Bursa Malaysia today, Boustead Plantations said revenue fell to RM141.75 million from RM169.49 million in the previous year.
"The loss was attributed to the decline in palm product prices and lower production, particularly for the Peninsular (Malaysia) region. For the second quarter of 2018, CPO (crude palm oil) prices came under pressure due to lacklustre exports caused by the reinstatement of CPO export duty in May 2018 and the US-China trade conflicts which had led to a sharp drop in soy prices," Boustead Plantations said.
Despite the 2QFY18 net loss, Boustead Plantations declared a dividend of 2.5 sen a share for the quarter in review. The group said the dividend's ex and payment dates fall on Sept 6 and 25, 2018 respectively.
For 1HFY18, Boustead Plantations said it posted a net loss of RM16.98 million from a net profit of RM40.34 million a year earlier, while revenue was lower at RM296.36 million compared to RM358.51 million a year ago.
"The price direction for palm oil for the rest of the year is likely to be governed by the production trend from Indonesia and Malaysia, soybean supplies, biodiesel offtake in Indonesia, Indian demand, development of US-China trade tensions and its implications on prices of crude mineral oil. The group is cautiously optimistic that palm oil prices will pick up in the last quarter of 2018," Boustead Plantations said.