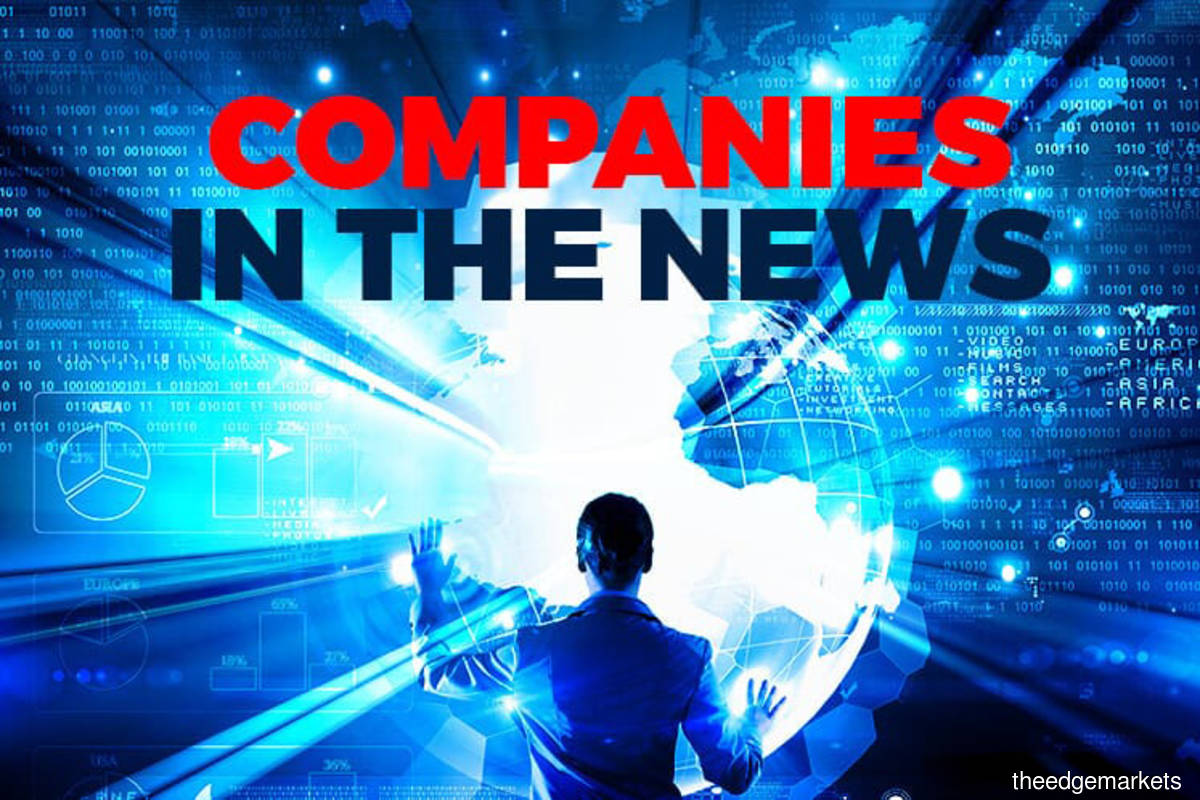 KUALA LUMPUR (Feb 2): Based on corporate announcements and news flow today, companies that may be in focus tomorrow (Wednesday, Feb 3) include: Boustead Holdings Bhd, Pharmaniaga Bhd, Bursa Malaysia Bhd, RHB Bank Bhd, Greatech Technology Bhd, Genting Malaysia Bhd (GenM), S P Setia Bhd, Lii Hen Industries Bhd, Bintai Kinden Corp Bhd, TCS Group Holdings Bhd, Willowglen MSC Bhd and Westports Holdings Bhd.
Lembaga Tabung Angkatan Tentera (LTAT) has decided not to pursue the privatisation of Boustead Holdings Bhd at this juncture, after taking into consideration the current challenging economic environment arising from the Covid-19 pandemic and the reimplementation of Movement Control Order.
It was jointly agreed by both parties for the management of Boustead to focus on its newly-crafted Reinventing Boustead strategy to rejuvenate the group.
Pharmaniaga Bhd has obtained an extra two million Covid-19 vaccine doses from China's Sinovac Life Sciences Co Ltd, in addition to the 12 million which it will supply to the government for Malaysian citizens.
Its managing director Datuk Zulkarnain Md Eusope said the government had told the pharmaceutical firm to offer the extra two million vaccine doses to economic frontliners among government-linked companies, foreign workers and expatriates.
Bursa Malaysia Bhd's net profit in the fourth quarter ended Dec 31, 2020 (4QFY20) stood at RM104.85 million, up 130% from RM45.56 million a year earlier, while revenue went up 78% to RM230.7 million from RM129.33 million, as trading revenue grew significantly for its securities and derivatives markets segment.
Net profit for the full year surged 103% to RM377.75 million from RM185.86 million in FY19, the exchange's highest full-year earnings since its listing in 2005, while revenue rose 59% to RM798.97 million from RM502.49 million in FY19.
The group declared a final dividend of 26 sen per share and a special dividend of eight sen per share.
RHB Bank Bhd has appointed Nik Rizal Kamil Nik Ibrahim Kamil as chief financial officer, effective today. Ex-Khazanah Nasional Bhd executive director Nik Rizal Kamil takes over from Syed Ahmad Taufilk Albar, who has been redesignated as head, group international business of RHB Bank, which is also known as the RHB Banking Group.
Industrial automation solutions provider Greatech Technology Bhd, via its unit Greatech Integration (USA) Inc, has teamed up with US-based company Atlis Motor Vehicles (ATLIS) to assist ATLIS in developing an electric vehicle battery pack assembly production line at its headquarters located in Arizona.
Through this partnership, the Greatech Group will serve as ATLIS' strategic partner for a comprehensive battery pack assembly production line and will supply all parts, equipment and machinery required to form ATLIS' limited-run prototype battery pack assembly line.
Greatech said if the prototype lines meet ATLIS' performance and quality expectations, the group will explore the development of high-volume lines designed to produce thousands of packs per month.
Genting Malaysia Bhd (GenM) said its indirect wholly-owned dormant subsidiary Stanley Leisure (Ireland) Unlimited Company (SLIUC), which was incorporated in Ireland, was placed under members' voluntary liquidation last Wednesday (Jan 27), pursuant to the provisions of the Companies Act 2014 of Ireland.
S P Setia Bhd president and CEO Datuk Khor Chap Jen will retire on Sept 30, 2021, under the property developer's leadership transition and succession plan, and will be replaced by Datuk Choong Kai Wai.
The enhanced movement control order (EMCO) enforced on the subsidiaries of Lii Hen Industries Bhd in Muar, Johor, has been lifted by the Ministry of Health. The balance 875 employees placed under quarantine and isolation between Jan 16 and Jan 29 have fully recovered from Covid-19.
Bintai Kinden Corp Bhd's 50.05%-owned subsidiary Bintai Healthcare Sdn Bhd (BHSB) has signed a Memorandum of Understanding  (MoU) with SRT-EON Security Services Sdn Bhd to supply its cold chain boxes for the storage and distribution of Covid-19 vaccines.
BHSB is the exclusive distributor in Malaysia, Saudi Arabia and the Philippines for the cold chain boxes, and the non-exclusive distributor for other Southeast Asia countries. The move is part of SRT-EON's expansion in the distribution of secured vaccines.
TCS Group Holdings Bhd has secured a RM92.72 million contract from Tropicana Temokin Sdn Bhd (TTemokin) to undertake a freehold condominium project known as Tropicana Miyu in Petaling Jaya. The contract period is 32 months, commencing in February.
TTemokin is a joint-venture company, in which Tropicana Corp Bhd has a 51% effective equity interest through its subsidiary Tropicana Harapan Sdn Bhd.
Willowglen MSC Bhd has bagged a contract worth RM12.48 million in Singapore from the republic's Public Utilities Board.
The project, which commences on Feb 15 and is expected to be completed by Aug 14, 2023, entails implementing a fully-immersive 3D scanning and visualisation system at various water plants there.
Westports Holdings Bhd's net profit for 4QFY20 grew by 30.34% to RM163.94 million from RM125.44 million in the corresponding quarter in the previous financial year, on higher container revenue and lower operational costs, while its quarterly revenue increased by 20% to RM541.54 million from RM452.82 million.
The port operator declared a second interim dividend of 6.47 sen per share, payable on March 1.
Full-year net profit increased by 10.76% to RM654.49 million from RM590.9 million. Revenue for its entire FY20 was up 10.77% to RM1.97 billion from RM1.78 billion last year.