This article first appeared in The Edge Financial Daily, on April 25, 2019.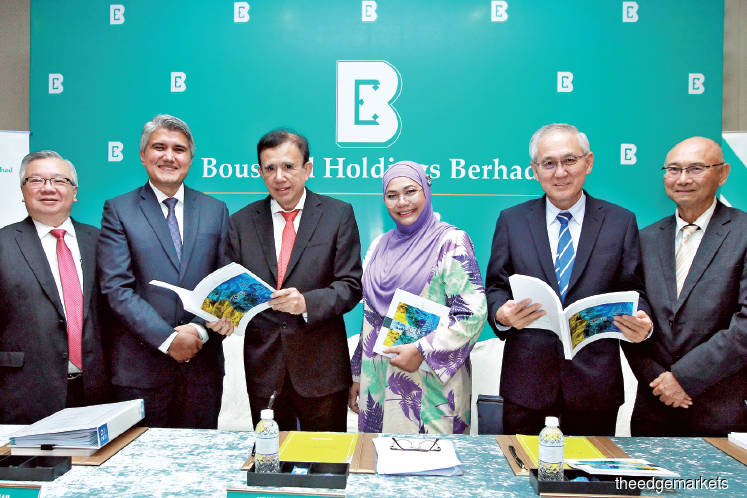 (From left) Koo, Fahmy, Ghazali, Pharmaniaga Bhd MD Datuk Farshila Emran, Boustead Heavy Industry Corp COO Ee Teck Chee and Boustead Plantations Bhd chief executive officer Chow Kok Choy after the group's AGM yesterday. Photo By Shahrin Yahya
PETALING JAYA: Boustead Holdings Bhd is positive it can reverse its financial fortunes this year, from the RM469.2 million net loss last year.
Its executive director Datuk Seri Ghazali Mohd Ali said the group is "definitely expecting" to turn a profit this year as it has the key ingredients such as its assets, manpower, plans and a new direction from incoming managing director Datuk Seri Amrin Awaluddin.
"We do have turnaround plans and have been liaising with him (Amrin) who will be on board officially on May 6.
"We will be discussing [the plans] with him and the board of directors before we go ahead and implement them," he told reporters after the group's annual general meeting (AGM) yesterday.
For financil year ended Dec 31, 2018 (FY18) it recorded a net loss compared to a net profit of RM436.2 million in FY17. Revenue during the period fell to RM10.19 billion from RM10.24 billion previously.
Asked if the group was looking to dispose of more assets, Ghazali said there would potentially be "one or two" and that the management would look at the entire group to see which assets merit selling.
"These [potential disposals] are all part of a strategy that needs to be discussed," he said, without giving further details.
The group is in the midst of selling its Royale Chulan Bukit Bintang Hotel for RM197 million to Singapore-based Hotel Royal Ltd.
Ghazali said such asset sales would be used to reduce its borrowings and pay for the deposits of new tracts of land.
The group's wholly-owned subsidiary UAC Bhd is set to be a key growth driver, said Boustead Holdings industrial division director Datuk Koo Hock Fee.
Koo said UAC has been aggressive in promoting its industrial building system  which has potential growth on account of the government's drive for affordable housing.
Ghazali added that its trading segment, which also includes BH Petrol Sdn Bhd which operates BHPetrol petrol stations nationwide, is  an area of growth.
In FY18, the group posted a gearing level of 0.9 times, from the 0.7 times registered in FY17. It registered an increase in borrowings to RM1.4 billion .
Boustead Holdings chief operating officer (COO) and group finance director Fahmy Ismail said the borrowings increase was the resultant of its acquisition of Pertama Estates in Sabah, as well as drawdown's and part of the operation requirements of its other businesses.