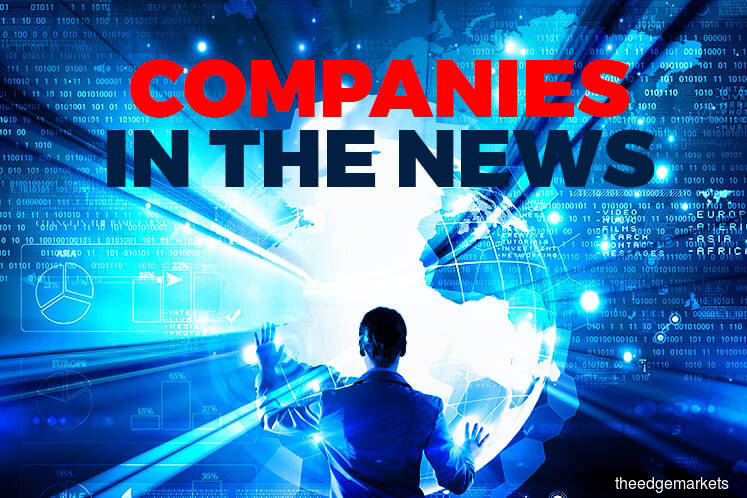 KUALA LUMPUR (June 19): Based on corporate announcements and news flow today, stocks in focus on Monday (June 22) may include: Boustead Holdings Bhd, OCR Group Bhd, GDB Holdings Bhd, FGV Holdings Bhd, UEM Sunrise Bhd, Vsolar Group Bhd, Ranhill Utilities Bhd, Muar Ban Lee Group Bhd (MBL), Federal International Holdings Bhd and Permaju Industries Bhd.
Boustead Holdings Bhd's net loss widened to RM73.1 million for 1QFY20 compared with RM22.4 million a year earlier. There were weaker performances across all its divisions except pharmaceutical and plantation. Quarterly revenue dropped 9.8% to RM2.26 billion from RM2.51 billion previously. Boustead chairman Datuk Seri Mohamed Khaled Nordin said the group's performance was dragged by the Covid-19 pandemic and subsequent Movement Control Order (MCO). He expects the challenging situation to persist until year-end and said a group-wide transformation exercise is underway to "enable us to weather through".
OCR Group Bhd's 40%-owned associate company Landasan Surimas Sdn Bhd has inked an agreement with Perbadanan Kemajuan Negeri Pahang to set up a 70:30 joint venture named Taraf Raya to provide mechanical and civil works relating to the East Coast Rail Link (ECRL) project within Pahang.
Excluding the tunnelling portion, the works are subject to the final contract to be entered among Taraf Raya, Malaysia Rail Link Sdn Bhd and China Communications Construction (ECRL) Sdn Bhd. OCR has also been appointed by Yayasan Pahang to undertake a project management consultation role, which entails overseeing Yayasan Pahang's affordable housing scheme in the state, encompassing over 25,000 residential units over the next 15 years.
GDB Holdings Bhd's net profit for 1QFY20 fell 18.7% to RM5.72 million, from RM7.04 million a year earlier, due to higher profit recognition from completed projects in the preceding financial period, lower interest income, and higher administrative and other expenses incurred for the current financial period under review. Quarterly revenue rose 54% to RM99.88 million versus RM64.76 million previously. The group has an outstanding order book of RM1.05 billion, comprising among others, construction works for AIRA Residence in Damansara Heights, Perla Ara Sentral in Ara Damansara, Park Regent at Desa ParkCity, Kuala Lumpur and substructure works for Aviary Residence in Puchong Horizon. On prospects, GDB expects the outlook for the current financial year to be challenging, given the ongoing Covid-19 pandemic and economic uncertainties on a global scale.
Palm oil giant FGV Holdings Bhd is hopeful of posting positive results for FY20, despite a challenging first quarter which saw its plantation segment swing to a loss. This will be driven partly by the anticipation that the projected lower fresh fruit bunch production will be offset by FGV's cost-cutting measures and expectations that crude palm oil prices will stay afloat. Separately, FGV said it will also continue divesting its non-core assets with a target of RM150 million sale proceeds this year. These include the planned sale of Trurich Resources Sdn Bhd and Asian Plantations Ltd.
UEM Sunrise Bhd, which swung to a first-quarter net loss largely due to foreign exchange losses, has warned that its earlier sales and gross development value targets of RM2 billion respectively for FY20, are likely to be impacted by the economic uncertainty. The property developer said it is evaluating the targets pending the finalisation of its numbers. Going forward, the group will focus on growing its top-line and ensuring liquidity through prudent spending and conserving cash where appropriate.
Vsolar Group Bhd has roped in Lambo Group Bhd executive director Koo Kien Yoon as the group's new executive director. Koo, 43, replaces Leung Kok Keong who relinquished the position today due to personal commitments. Koo has 22 years of extensive and varied working experience in public relations and managing business activity.
Ranhill Utilities Bhd has proposed a secondary listing on the Main Board of the Singapore Exchange. The exercise will allow the group, formerly known as Ranhill Holdings Bhd, to access additional platforms for future fundraising to finance the company's regional expansion, it said in a bourse filing. The water and power firm has appointed CIMB Investment Bank Bhd to proceed with the submission for the secondary listing.
Muar Ban Lee Group Bhd (MBL) has emerged as a new substantial shareholder of Federal International Holdings Bhd, after the plantation firm bought a 5.1% stake. MBL's stake in Federal International exceeded 5% with the purchase of 247,800 shares on June 17, a filing with Bursa showed. This confirms theedgemarkets.com's earlier article entitled 'Muar Ban Lee wants a substantial stake in Federal International'. It is learnt that MBL intends to hold more than a 20% stake in the furniture manufacturing-cum-construction company.
Permaju Industries Bhd continued to bleed red ink for the third quarter ended March 31, 2020 with a net loss of RM2.23 million on revenue of RM14.33 million, dragged by lower sales in its automotive division. There were no comparative numbers from the previous year, due to a change in its financial year end from Dec 31 to June 30.
For the nine-month period ended March 31, the group posted a net loss of RM3.58 million on revenue of RM51.69 million. Going forward, Permaju said its automotive division may continue to face weak sales amid the Covid-19 crisis. It also expects the property sector to remain challenging due to "weak demand and oversupply market". Permaju has planned a rights issue for additional working capital, which it believes will be positive for the group's operations, moving forward.