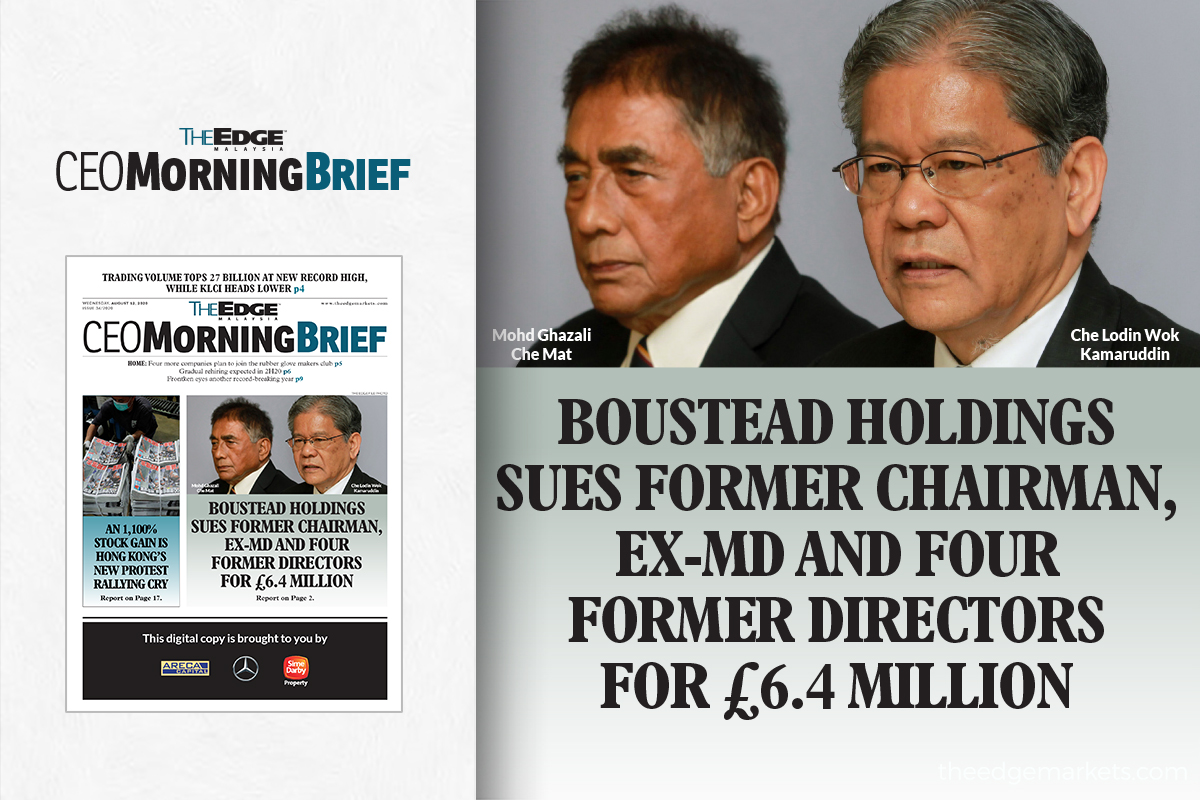 KUALA LUMPUR (Aug 11): Boustead Holdings Bhd had in June file a suit here against its former chairman Tan Sri Mohd Ghazali Che Mat, its managing director Tan Sri Che Lodin Wok Kamaruddin, and four other directors for purported breach of fiduciary duty and is seeking jointly from them a sum of £6.4 million (RM35.37 million current value).
Besides the duo, the remaining four named — are former directors Datuk Azzat Kamaluddin, Datuk Francis Tan Leh Kiah, Datuk Seri Ghazali Mohd Ali and Datuk Wira Dr Megat Abdul Rahman Megat Ahmad, where they are named as defendants.
Lodin resigned from Boustead and its related subsidiaries on Nov 30, 2018, while the others left the company last year.
The writ sighted by theedgemarkets.com listed Boustead Holdings as having filed the suit at the High Court here through the law firm of Messrs Christopher & Lee Ong on June 29.
The conglomerate is seeking declarations that the six defendants were jointly negligent, breached their fiduciary obligations as directors under the Companies Act 1965, and are jointly liable to pay the £6.4 million or other sum deemed fit by the court.
Boustead is further seeking the defendants jointly pay the sum of £6.4 million, equitable compensation, besides seeking general damages, exemplary damages, aggravated and punitive damages, costs and other relief deemed necessary by the court.
The matter came up for case management today before High Court Justice Datin Rohani Ismail.
Justice Rohani had decided in chambers to transfer the case from the Civil High Court to the Commercial High Court.
The Edge Weekly had last month reported that Boustead Holdings Bhd group, is expected to embark on a massive debt restructuring exercise, which will include the sale of non-core assets, to improve its long-term financial position.
Citing sources, the report states the diversified conglomerate's exercise will involve a restructuring of existing debt amounting to about RM5.4 billion and a rationalisation of non-core, low-yielding assets over the next few years that will help it with cash flow needs.
The RM5.4 billion — of which RM4.7 billion is Boustead Holdings' company level debt as at end-2019 — does not take into account debt at its listed companies, trade-related debt or debt at Boustead Naval Shipyard Sdn Bhd. About 46% is short-term debt comprising revolving credit.
Boustead Holdings, the flagship listed vehicle of Lembaga Tabung Angkatan Tentera (LTAT), is understood to have presented the plan to its bankers last June.
According to its 2019 annual report, Boustead Holdings' principal bankers are Affin Bank Bhd and Affin Hwang Investment Bank Bhd — both of which fall under the group's stable of companies — as well as Alliance Bank Malaysia Bhd, AmBank (M) Bhd, CIMB Bank Bhd, Malayan Banking Bhd, OCBC Bank (M) Bhd, RHB Bank Bhd and United Overseas Bank Bhd. It is understood that there are several other local banks with exposure to the diversified conglomerate.
According to the sources, the upcoming debt restructuring exercise — which will also include the refinancing of RM607 million perpetual sukuk — is independent of any potential move by LTAT to take Boustead Holdings private.
On May 28, the armed forces fund, which holds a 59% stake in Boustead Holdings, announced that it was mulling taking the loss-making group private at an indicative price of 80 sen a share, which is less than half of the group's net asset per share of RM1.85 as at end-2019.
Late June, however, LTAT said there was no development on the possible privatisation.
Boustead closed at 63.5 sen yesterday, valuing it at RM1.29 billion.
Read also:
Boustead confirms £6.4m suit against former board members, but writ not yet served