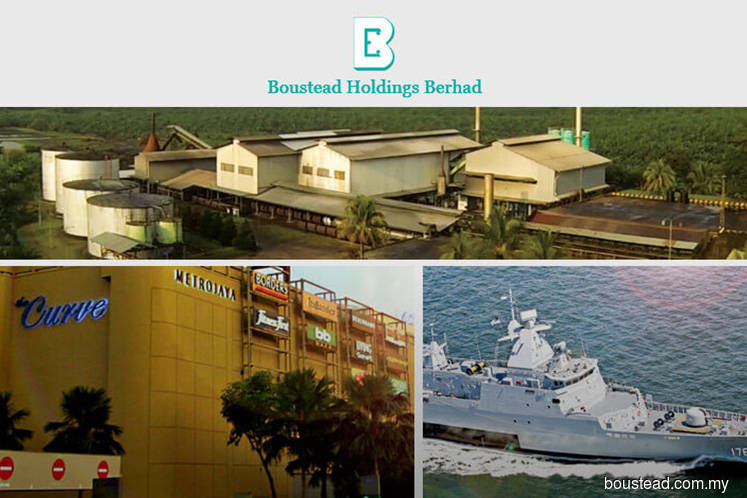 KUALA LUMPUR (Aug 29): Boustead Holdings Bhd slipped into the red in the second quarter ended June 30, 2018 (2QFY18), posting a net loss of RM27.6 million compared with a net profit of RM52.5 million a year ago, on lower contributions from the plantation, heavy industries and property divisions, as well as allocation to non-controlling interests and perpetual sukuk holders.
It posted a loss per share of 1.36 sen for 2QFY18 compared with an earnings per share of 2.59 sen for 2QFY17.
Quarterly revenue also fell by a marginal 0.52% to RM2.37 billion in 2QFY18 from RM2.39 billion in 2QFY17.
Nevertheless, the group declared a second interim dividend of one sen per share for the financial year ending Dec 31, 2018 (FY18), payable on Oct 5.
For the cumulative six months (1HFY18), Boustead posted a net loss of RM21.5 million compared with a net profit of RM48.5 million a year ago. This was due to weaker contributions from the plantation, property and heavy industries divisions.
According to the group's Bursa filing, 1HFY18 revenue dipped to RM4.62 billion from RM4.76 billion a year ago.
The trading and industrial division was the key contributor for 1HFY18, recording an increased profit of RM74 million, primarily attributable to stockholding gains as well as better operating margins and sales volumes recorded by Boustead Petroleum Marketing Sdn Bhd.
However, the plantation division recorded a deficit of RM18 million for 1HFY18, impacted by a sharp fall in palm product prices and increased operating costs. Average crude palm oil selling price for the first half of the year was RM2,457 per tonne, a 17% year-on-year (y-o-y) drop, while fresh fruit bunch production declined by 2% y-o-y to 431,349 tonnes.
The property division also posted a loss of RM19 million despite a reduced share of loss from a joint venture, Boustead Ikano. The property division's financial performance was dampened by weaker results from the property development and hotel segments as well as unrealised exchange loss from the property investment segment.
The heavy industries division also registered a deficit of RM30 million, on the back of weaker performances from all its operating units. Boustead Heavy Industries Corp posted a lower contribution as the bottom line for last year's corresponding period was bolstered by conditional variation order claims for Belum topside project.
Meanwhile, Boustead Naval Shipyard incurred a deficit due to weaker performance from both shipbuilding and ship repair activities. MHS Aviation also registered a deficit as its current operation is being scaled down.
"The group was impacted by challenging market conditions, which resulted in weaker contributions from the plantation, heavy industries and property divisions. Despite this, our other divisions were able to achieve solid performances.
"Moving forward, the group will continue to leverage on the strength of our diversified core businesses to deliver sustained results," Boustead said in a separate statement.
At noon break, Boustead's share price was up by 1.49% or 3 sen to RM2.05, with 142,300 shares done, giving it a market capitalisation of RM4.1 billion.