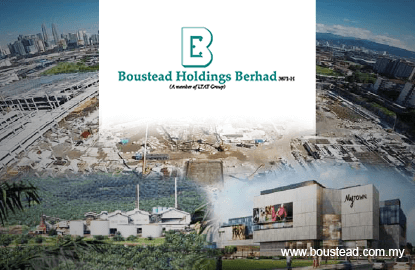 This article first appeared in The Edge Financial Daily, on April 5, 2016.
KUALA LUMPUR: Boustead Holdings Bhd expects to raise up to RM1.5 billion by disposals of three noncore assets and from a rights issue, which will help pare down its gearing ratio to 0.9 times by year end from 1.1 times currently. Its borrowings stood at RM8.03 billion as at Dec 31, 2015.
Its deputy chairman and managing director Tan Sri Lodin Wok Kamaruddin said the group is in the process of disposing of a quarry land and a plantation land in Johor, and also a 30% stake in property developer Jendela Hikmat Sdn Bhd, which are expected to generate RM500 million by the end of 2016.
Earlier in its extraordinary general meeting (EGM), Boustead shareholders also passed a proposal for the group to undertake a rights issue to raise over RM1 billion.
"The reduction of debts is one of the priority areas given by management. The rights issue exercise is part of the plan. We are also in the process of selling several parcels of land. These will settle our debts quite substantially," Lodin told reporters after the group's annual general meeting and EGM yesterday.
According to the annual report, the disposal of the plantation land in Johor will net the group a profit of RM120 million, while the 30% stake in Jendela Hikmat will realise a profit of RM198 million.
Boustead, which saw its net profit plunge 97% to RM13 million in the financial year ended Dec 31, 2015 (FY15), expects its financial performance to be better this year, underpinned by a turnaround of its heavy industries division and better contributions from other sectors.
Lodin is confident that the group's heavy industries division, which incurred a net loss of RM137 million in FY15, will become profitable this year by focusing on government naval contracts.
Boustead also expects to secure RM1 billion worth of new jobs out of the total tender book of about RM3 billion under its heavy industries division this year. This will add to its order book of RM7.2 billion, which will keep the group busy for the next three to four years.
Lodin also said the capital expenditure cut of RM50 billion by Petroliam Nasional Bhd had hurt Boustead's heavy industries bottom line, but expects this to be offset by its littoral combat ship projects, and defence-related maintenance, repair and overhaul activities.
Dragged by the losses in heavy industries and lower contributions across most sectors, the group's net profit in FY15 was substantially lower than RM408 million in FY14. Its revenue fell 18.34% to RM8.66 billion from RM10.6 billion the previous year.
"Other than the heavy industries division to turn around, we expect the property segment to remain stable, Pharmaniaga Bhd to contribute well and cost rationalisation at our financial group (Affin Group) to improve [this year]," he added.
On the plantation segment, he expects crude palm oil prices to rise to close to RM3,000 per tonne by the third quarter of this year.
"Overall, we are much bullish this year. We expect to achieve a much better performance," Lodin added.