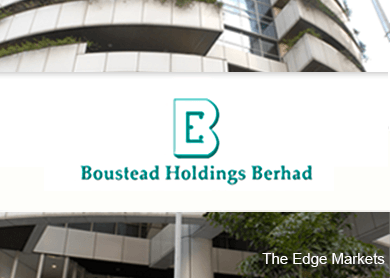 Boustead Holdings Bhd
(June 3, RM4.29)
Downgrade to hold with lower target price of RM4.44: Historically, Boustead was regarded as an undervalued play (given its rich embedded asset value), with attractive dividend yield.
However, we believe it is unlikely for the group to crystalise its asset value in the near term, as the good performance of its healthcare division (via 56.4%-owned Pharmaniaga Bhd) will be negated by several factors.
One such factor is weak fresh fruit bunch (FFB) production and palm product prices, which will continue to drag down earnings contribution at the plantation division (via 57.4%-owned subsidiary Boustead Plantations Bhd). Besides that, weak property sentiment and low loan applications and approval rate may continue to drag down earnings at the property development division (despite management's plan to launch its mixed development project in Cochrane by end-2015). Furthermore, slower loans growth and weaker net interest margin will drag down Affin Holdings Bhd's earnings contribution to Boustead.
Given the anticipated weaker contribution from most of its business segments (with the exception of Pharmaniaga), it is unlikely for Boustead to maintain its generous dividend payment. Post downward revision of our earnings forecasts, we estimate that Boustead's total dividend per share in financial year 2015 (FY15) will decline to 18 sen per share (from 26 sen in FY14), assuming a higher dividend payout ratio of 98.5% (vis-à-vis its historical average payout ratio of 90% for the past three years).
We trim our FY15 and FY16 net profit forecasts by 1.8% and 6.4% respectively, largely to account for slightly lower FFB yield assumption at the plantation division and lower earnings before interest and tax assumption at the trading division. — HLIB Research, June 3
This article first appeared in The Edge Financial Daily, on June 4, 2015.