This article first appeared in The Edge Financial Daily, on September 4, 2018.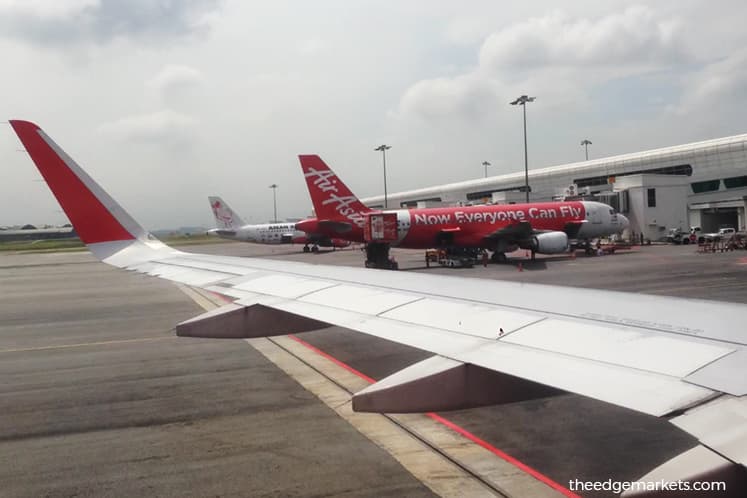 AirAsia Group Bhd
(Sept 3, RM3.38)
Maintain hold with a higher target price (TP) of RM3.56: AirAsia Group Bhd reported a core net profit of RM264 million for second quarter of financial year 2018 (2QFY18), down 27% year-on-year (y-o-y). The group's core airline operations experienced a much more severe 68% y-o-y fall in recurring net profit. However, this was substantially mitigated by a tripling of leasing profits y-o-y (our estimate, as leasing profits were not officially disclosed), as the 84 planes that are the subject of the sale to BBAM Aircraft Leasing & Management have not been depreciated since the agreement to sell was inked on Feb 28. We notice a drop in depreciation expense in the 1QFY18 results, but this became more apparent in the 2QFY18 results due to the full quarter's impact.
 
Higher oil prices were partly responsible for the 68% drop in the group's 2QFY18 core net profit (excluding leasing profits). Malaysia AirAsia, which is 100% owned by AirAsia Group, saw its 2QFY18 core net profit fall a modest 13%, as the ringgit strengthened 9% y-o-y against the US dollar on average, and the benign competitive environment permitted it to raise average yields by 2.5% y-o-y, which mostly offset the 3.4% y-o-y drop in loads as revenue-passenger-kilometres demand needed more time to catch up with its 13% y-o-y average-seat-kilometre capacity growth. Thai AirAsia, which is 45% owned by AirAsia Group, recorded a core net loss during 2QFY18, from a core net profit in 2QFY17, due to a decline in its yield and loads on intense competition on China routes. Indonesia AirAsia, which is 47.7% owned by AirAsia Group, also swung into a loss, as rupiah's depreciation against the US dollar hit hard and demand for Bali flights was hit by the volcanic activities. Philippine AirAsia (PAA), which is 40% owned by AirAsia Group, saw 2QFY18 core net profit decline 86% y-o-y due to the weakness in peso, as well as the closure of Boracay islands for six months from April, which forced PAA to redeploy capacity to other destinations in short notice and caused a steep drop in yields. AirAsia India, which is 49% owned by AirAsia Group, saw its loss widened as it continued a very aggressive capacity expansion exercise.
The sale of 84 planes to BBAM is partly complete, with 39 aircraft transferred as at Aug 8, and another 45 transfers to be completed by November 2018, according to AirAsia Group's estimate. We estimate that special dividend of up to 75 sen may be declared, which is already included in our TP. According to AirAsia Group's verbal guidance during a conference call, the special dividend related to the BBAM transaction may be declared during the release of the 3QFY18 results in late November, and to be paid in either 4QFY18 or 1QFY19.
Separately, AirAsia Group completed the sale of the residual 25% stake in AAE Travel to Expedia on Aug 14 for US$60 million (RM247.8 million), or seven sen per share, which we expect will be paid out as special dividend before end-FY18. This is already included in our TP. In summary, we value AirAsia Group's underlying core airline operations at RM2.73 based on calendar year 2019 price-earnings ratio forecast of 12 times, and adding to that another 82 sen special dividend per share from the sale of aircraft to BBAM and also the sale of AAE Travel. — CGSCIMB Research, Sept 2