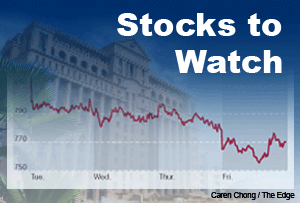 KUALA LUMPUR (Oct 7): Based on news flow and corporate announcements today, stocks that may be in focus tomorrow (Wednesday, Oct 8) could include the following: Borneo Oil, Tambun Indah, Censof, Axis-REIT, as well as major oil and gas related counters.
Borneo Oil Bhd, whose core business is the franchise fast-food restaurant chain under the brand name SugarBun, saw Tan Sri Lau Cho Kun @ Lau Yu Chak become its substantial shareholder today.
Hap Seng Insurance Services Sdn Bhd, a unit of Gek Poh (Holdings) Sdn Bhd, which in turn is controlled by Lau, had on Oct 3 (last Friday) acquired 51.248 million shares or 18.47% stake in Borneo Oil, a filing to Bursa Malaysia revealed this evening.
Some 36.248 million shares were purchased through private placement, while the remaining 15 million shares were bought through direct business transaction.
Lau is the nephew of the late Tan Sri Lau Gek Poh — the low-profile founder of the Hap Seng group.
Hap Seng Consolidated Bhd, Hap Seng Plantations Bhd and the Hong Kong-based Lei Shing Hong are the flagship companies that house the Lau family businesses.
Borneo Oil closed unchanged at 66.5 sen today, with a market capitalisation of RM184.5 million.
Meanwhile, businessman Chen Khai Voon has ceased to be a substantial shareholder of Tambun Indah Land Bhd, after disposing 188,700 shares last Thursday (Oct 2).
To recap, he has emerged as the substantial shareholder of Tambun Indah in September 2013, after buying 55 million shares through Nadayu Properties Bhd.
Chen, 54, is currently a non-independent non-executive director of Genetec Technology Bhd.
He was also the executive director and deputy chairman of Nadayu Properties, as well as the managing director of Atis Corp Bhd, before both companies were delisted.
Tambun Indah closed 10 sen lower at RM2.37 today, with a market capitalisation of RM974.9 million.
Censof Holdings Bhd has set up a joint venture (JV) with Asian Business Software Solutions Sdn Bhd (ABSS) to market software solutions that help businesses deal with the introduction of the goods and services tax (GST).
In a filing with Bursa Malaysia today, Censof said the JV will help drive the sales of its MYOB brand of accounting software products. Censof will have a 50.02% stake in the JV, while ABSS will hold the remaining 49.98%.
Censof closed 2.5 sen higher at 60 sen today, bringing its market capitalisation to RM267.4 million.
With 54.697 million shares done, it is the third most-active stock of the day.
Axis Real Estate Investment Trust (Axis-REIT) has proposed to buy and leaseback a freehold industrial facility, measuring 10.9ha within Kawasan Perindustrian SiLC, Nusajaya in Johor Baru, for RM153.5 million cash.
The property, located 25km west of Johor Baru city centre, has a gross floor area of 504,400 sq ft and 100% occupancy rate as at Aug 15.
The REIT told Bursa Malaysia that the acquisition and leaseback of the property will be accretive to its distributable income.
The counter closed 1 sen lower at RM3.64, giving it a market capitalisation of RM1.688 billion.
Major oil and gas services firms SapuraKencana Petroleum Bhd, Uzma Bhd, Dialog Group Bhd, TH Heavy Engineering Bhd and Coastal Contracts Bhd, saw their share prices fall today, as the outspoken local fund manager Tan Teng Boo warned that the oil and gas counters are "expensive".
In an interview with The Edge Financial Daily, Tan noted the valuation of oil and gas services firms is "very rich" and the profit margins are not sustainable.
He also highlightedthe price of what the investors are paying now and what they get in return, "doesn't make sense".
Uzma fell 5.85% to RM3.55, while SapuraKencana was down 4.93% to RM3.86. Meanwhile, Dialog declined 6.21% to RM1.66, TH Heavy was down 10.49% to 72.5 sen, while Coastal was also down 4.05% to RM4.50.