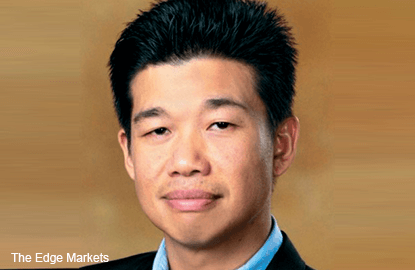 BORNEO Oil Bhd, a Sabah-based conglomerate with interest in food and beverage as well as property development, is reinventing itself as a gold miner. A new round of fundraising will give it the capital strength to grow its relatively new venture despite some initial scepticism from investors.
The company is essentially setting itself as a proxy for the outlook for gold. Some analysts say the commodity is coming to the end of its multi-year bearish cycle. Its appeal as a safe haven asset could also lead to prices being pushed up, particularly as the other asset classes are experiencing a substantial decline in value this year.
The trend has already emerged over the past few weeks. The September contract for gold futures on Bursa Malaysia traded at RM151 per gram on Aug 20, or a 12% jump since July 31. During the same period, the benchmark FBM KLCI fell 8.5% while the ringgit declined 7.7% against the US dollar.
In an interview with digitaledge Weekly, Borneo Oil executive director Raymond Teo says the firm is poised to capitalise on the upswing in sentiment in gold, especially in the light of the worsening global macroeconomic outlook.
Borneo Oil (fundamental: 1.25; valuation: 1.50) is currently proposing a cash call to raise up to RM223.39 million for its gold mining operation, which is being undertaken by its wholly-owned subsidiary Borneo Oil and Gas Venture Sdn Bhd (BOG).
Of this figure, some RM45 million will be spent on mining machinery and the exploration of lode gold.
"We have very carefully thought out a plan for spending the proceeds. The gold mining industry is currently in a depressed state, so the company has a window of opportunity to enter the industry on the best possible terms. Perhaps the window will only be open for the next 6 to 12 months, so the company needs the resources in order to capitalise," says Teo.
The current operating environment in the mining industry has led to mining licences being made available on generous terms, he adds. Borneo Oil is said to have a strong relationship with the government of Pahang — where the company mines its gold — as well as the state's royalty.
According to its latest monthly production figures, BOG had mined 22,000 metric tons of ores in June and produced 2,693 grams of gold dore in June.
In Pahang, the company has an exclusive production sharing agreement with HDL Global Sdn Bhd to carry out prospecting, exploration, mining, extraction, processing and marketing with respect to all minerals and precious metals mined over a 1,200ha plot in Bukit Ibam.
The mining area was initially given to HDL by Pahang State Development Corp, which in turn holds the prospecting licence from the Pahang government.
Additionally, BOG was contracted by Verde Resources Inc to carry out exploration and exploitation works on alluvial and gold resources at a mine in Merapoh, Pahang, for a period of five years.
Verde is an exploration stage mining company that focuses on global mining acquisition and development opportunities. It owns the management rights to Site IV-1 of Merapoh Gold Mine.
"In Merapoh and Bukit Ibam, there are low-hanging fruits in the form of available alluvial ores of about 800,000 metric tons in total. Additionally, there are tailing inventories of 1.7 million tons at Merapoh and 1.6 million tons at Bukit Ibam," says Teo.
The company's decision to venture into gold mining, which follows a disappointing foray into the oil and gas sector over the past few years, had initially raised some concerns. Sceptics point out that gold's price rally had peaked at the tail end of 2013, when Borneo Oil had been burdened by weaker earnings from its fast food and franchise segment.
However, since then, the company has established close relationships with prominent corporate players. One of its backers is the Hap Seng group, which is led by low-profile Sabahan tycoon Tan Sri Lau Cho Kun. Lau's investment vehicle Lei Shing Hong Ltd holds a 25% stake in Borneo Oil while another proxy, Hap Seng Insurance Services Sdn Bhd, holds 9.56%.
It is worth noting that the major shareholders have upped their stakes in Borneo Oil since the gold mining venture was announced last year, which is widely seen as a stamp of approval for the company's new business direction. They have also pledged to fully subscribe for the upcoming rights issue based on their respective entitlements.
It is apparent that over the past year, Borneo Oil has made major inroads into gold mining and has established important relationships with several stakeholders in the industry. Teo says the venture will continue to be value accretive to the company, with cost savings expected to continue.
"The entry of BOG into the mining sites does not carry any acquisition cost, hence there is no unnecessary write-offs on goodwill. Moreover, all the infrastructure and development facilities are already in place, so a great deal of capital expenditure in pre-mining preparations were avoided," he explains.
These cost savings have the effect of lowering production costs, thus improving overall margins. While its current output is not indicative of a large mining operation, Teo says the group's cost considerations are already highly efficient.
"For example, excluding tribute payments, the direct mining and production cost per gram of gold at our mine in Merapoh, Pahang, is RM52 per gram. In comparison, gold was trading at RM134 per gram in early August and has rallied further since."
Moving forward, Teo says the group hopes to determine the quality of gold deposits in upcoming sites, which would pave the way for underground hard rock mining operations. Presently, gold in Malaysia is extracted from open pits.
Preliminary assessments have been conducted on the volume and grades of gold that can be extracted from the area.
"Once the findings are confirmed independently by a third party geologist, an announcement will be made. The current ores and tailings will keep us busy for the next few years. We are very optimistic," says Teo.
---
Note: The Edge Research's fundamental score reflects a company's profitability and balance sheet strength, calculated based on historical numbers. The valuation score determines if a stock is attractively valued or not, also based on historical numbers. A score of 3 suggests strong fundamentals and attractive valuations. Visit www.theedgemarkets.com for more details on a company's financial dashboard.
This article first appeared in digitaledgeWeekly, on August 24 - 30, 2015.