This article first appeared in Digital Edge, The Edge Malaysia Weekly, on December 28, 2020 - January 10, 2021.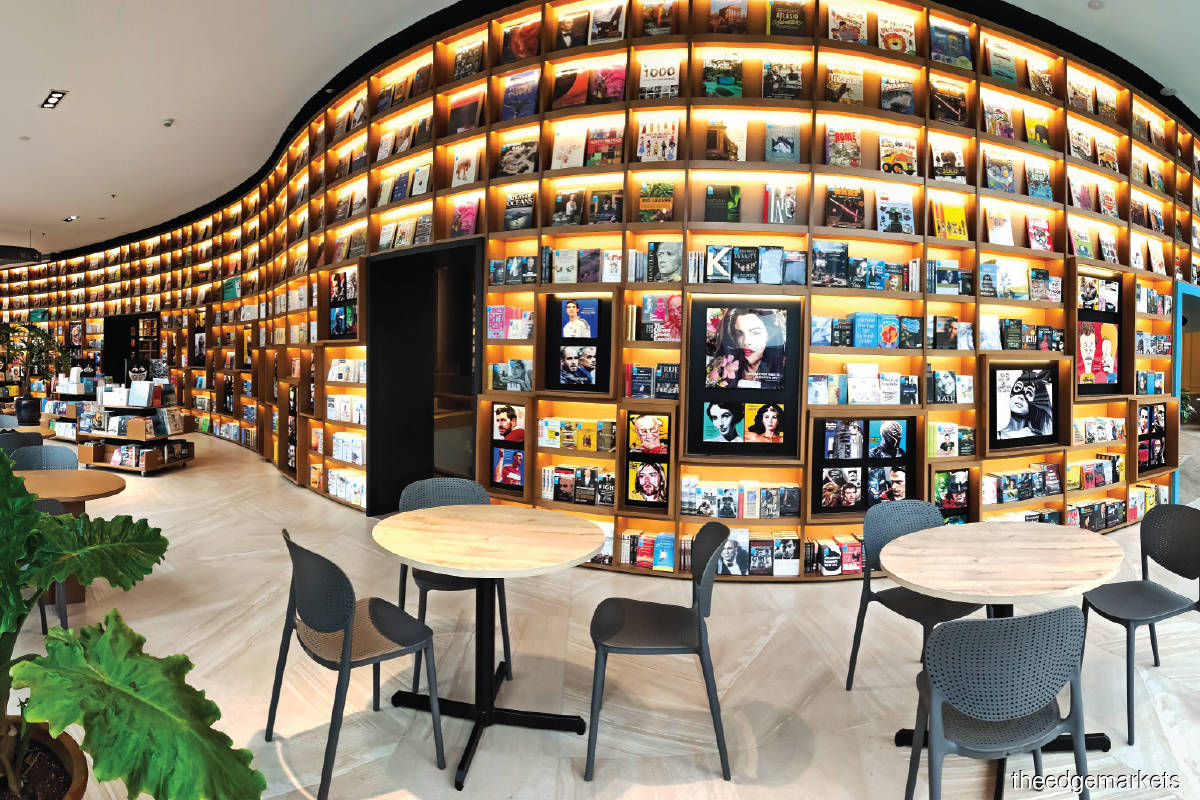 BookXcess Sdn Bhd, best known for its affordable books, has an ambitious mission — to make books accessible to everyone. Through the intelligent use of technology, it has successfully weathered the storm brought about by the Covid-19 pandemic.
"We would not have pushed ourselves so hard and so fast if we [had not faced]the nightmare of going bust in the next few months," its co-founder Andrew Yap points out.
Yap and BookXcess' other co-founder, Jacqueline Ng, were thrown for a loop in March when the Movement Control Order (MCO) was first announced and traffic at their bookstores dwindled to nothing.
The two, who had already opened 10 outlets by that time, had to pivot quickly and improve the company's online presence. They had planned to do this two years down the line, focusing on physical sales in the meantime. But Covid-19 put paid to those plans.
On top of the sales at its different outlets, Yap and Ng had run the famous Big Bad Wolf book sales since 2009. This year, they had planned to take BBW to more than 50 cities around the world, including the Middle East and Africa.
As each country went into a lockdown, however, the duo shifted their focus to e-commerce channels. For starters, they spent RM200,000 to improve the BookXcess Online website and started pushing digital sales through various channels, such as emails to its loyalty card members to tell them of the latest additions to its list of titles.
Yap tells Digital Edge that the company enhanced the user interface and user experience of its website, which used to be sketchy. In the old version of the website, it was difficult to search for books and one had to go painstakingly through its extremely large list of titles available. The company also added a feature to allow buyers to start applying promotional coupon codes to their purchases.
Basically, these improvements, coupled with the company's focused promotional activities, helped it grow its online sales by a whopping 15 times, which more than covered the cost of the e-commerce set-up.
But it was not good enough. Traditionally, the company earned 95% of its revenue from the BBW sale. So, what was it to do in a year in which physical events such as these, which attracted huge crowds, were prohibited? Without the sale, Yap and Ng would have to put their heads together to figure out another way to clear out books worth almost RM120 million from the company's warehouse.
They decided to hold BBW's first virtual sale from Nov 4 to 11 this year. The success of this event was crucial, as it was a make-or-break situation for the company.
First, the preparations. The company's warehouse had been fitted only for its physical sales, where the books would only have to be delivered to the different sale locations. Now, the books would have to be easily located in large volumes to handle the demand from the online sale.
The duo took months to source for the right vendors and software. Yap says they spent RM10 million to establish the proper digital platform for the BBW sale, and RM2 million on the warehouse racks and shelving. And this figure did not include the massive amount of manpower required (almost 70% of the total cost) for the sale.
For Yap and Ng, it was a steep learn­ing curve. They had built the BBW website from scratch in just three months, when such a gargantuan task would normally have taken at least six to nine months. "Everything had to be rushed and accelerated," says Yap.
They also had to come up with more efficient picking and packing methods for the expected surge in orders from the BBW sale. The duo decided to adopt the order management system (OMS) to receive its online orders and the warehouse management system (WMS) to help warehouse employees select the right books according to the orders. Each person was in charge of fulfilling 10 orders in a single trip. At the packing station, the software verifies every stock-keeping unit (SKU) to make sure the order is correct.
This, in a nutshell, was the entire automated quality-control process to accommodate thousands of orders per day during the virtual BBW sales. They had to ensure that the books would be sent to 70,000 locations while adhering to Covid-19 safety standards.
A few hours before kick-off, the team secretly launched the website to evaluate potential issues that could come with the huge expected traffic. It crashed almost instantly despite their best-laid plans and the BBW team worked overnight to address the issues and calm dissatisfied customers.
"We worked the whole night to make sure that, if there were any problems, they were caught immediately and we could fix them. That's why we bounced back within a day," says Yap.
Although the team had expected a large amount of traffic, they were still unprepared for the massive volume of visitors and searches per second.
Surprisingly, it was the unusual online consumer patterns that caused the website to crash. "There is a drastic impact to the server when one customer browses and checks out one or two items in 10 minutes while another takes 30 minutes and checks out 15 items," Ng points out.
They also found that there was an influx of overseas traffic from a particular IP address making bulk orders to be delivered to a particular local address. Figuring that this was what had contributed to the collapse of the website, the team blocked this IP address and the intensity of activity on the search engine fell by 30% to 40%.
BBW also collaborated with Shopee because Ng thought it was important for BBW to be accessible at different touchpoints. "In the digital world, it is hard to get traffic unless people spend a lot of money on advertising, whereas Shopee acts as an online marketplace that has gained the most market penetration over these few years," says Ng.
Yap adds that the collaboration could help them reach grassroots communities, as the previous model of BookXcess and BBW may not be as accessible to them.
Their hard work paid off. Yap says the virtual BBW sale managed to bring the company's sales up to 80% of the takings from last year's sales, which the company thought was a miracle in itself. It had projected much lower revenues from the virtual sale.
Despite the success of its digitalisation programme, Yap and Ng never stopped expanding the company's physical stores in their mission to convert more non-readers into readers. It launched stores in Tropicana Gardens Mall and KL East Mall in November and December respectively.
After the lockdown, Yap also converted the lobby of BookXcess' headquarters in Shah Alam into a bookstore. The store provides a drive-through for online customers to collect their books two hours after they have purchased them online.
From its humble beginnings in a bookstore that took up only 500 sq ft, it has progressed to 13 outlets throughout the country, but one thing has never changed for this company: Book prices remain low and have never risen since it started out 13 years ago.