This article first appeared in The Edge Malaysia Weekly, on September 17, 2018 - September 23, 2018.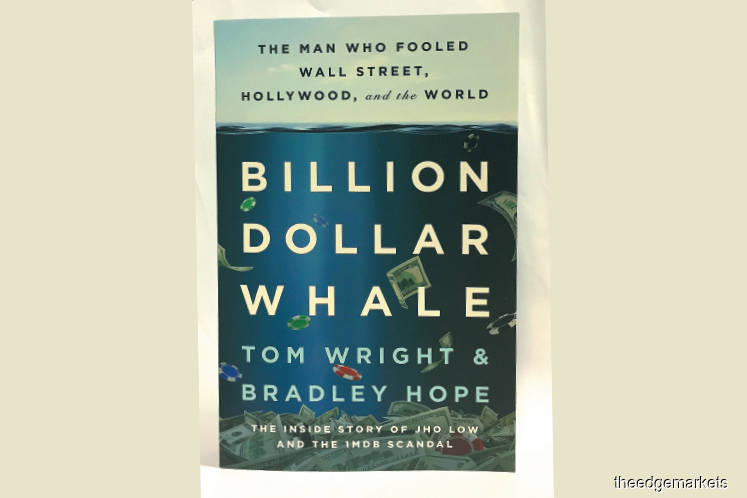 THE title of the book is, perhaps, a little misleading.Low Taek Jho (Jho Low) — the pudgy son of a Penang millionaire, who himself is painted as dodgy in the book — may have fooled Wall Street, Hollywood and the world, but these parties and the Malaysian ruling class and institutions were also Jho Low's enablers in the biggest heist the modern world has ever seen.
The authors of Billion Dollar Whale, Tom Wright and Bradley Hope, spent the last three years piecing together how Jho Low, who faces jail time in many jurisdictions, sweet-talked and capitalised on the greed of bulge bracket banks like Goldman Sachs and of his protector, former prime minister Datuk Seri Najib Razak, and his wife Rosmah Mansor, as well as influential and powerful individuals and banks from Singapore and Malaysia to Thailand, Abu Dhabi, Saudi Arabia, Switzerland, Wall Street and Hollywood, to steal billions of dollars, the extent of which may only be known years down the road.
Reading this 376-page book, as Jho Low's exploits are laid bare, one question keeps popping up: "How did he ever expect to get away it?" But he did get away with it for many years.
The authors' note at the beginning of the book gives an insight into how he got away with it for so long until his house of cards came crashing down with the defeat of his mentor, Najib, in Malaysia's 14th general election on May 9.
Wright and Hope wrote: "We set out to uncover Low's true identity and what we found was astonishing … [Low] figured out how the world really works. He was everyone's friend, but few truly knew him … [it] was not just a wild story involving Wall Street bankers, celebrities, and a silver-tongued con man.
"Low was the product of a society preoccupied with wealth and glamour."
There are gaps in the narrative and one gets the feeling that the full story of 1MDB has yet to be told. Perhaps the details will come out during Najib's trial, or when Jho Low and his cohorts are caught and brought to justice.
But, for the time being, Billion Dollar Whale is the most complete, readable and comprehensible account of the scandal that destroyed many individuals and institutions, largely in Malaysia.
It is a must-read, especially for Malaysians who want to understand how a country, once deemed an Emerging Tiger, teetered on financial collapse because of a young man, schooled in the best institutions such as Harrow and Wharton, and a complicit, maybe initially naïve, prime minister, who not only destroyed the legacy of the most prominent political dynasty in Malaysia — the Razaks — but also everyone closely associated with him.
It is a must-read for politicians from both sides of the divide because most of them still do not seem to understand how the heist took place, save for shouting out the headline-grabbing numbers. It is a must-read for civil servants, law enforcers and regulators, not only in Malaysia but also in Singapore, Australia, the US, China, the Middle East and Europe, who either turned a blind eye, as the book reveals, or pretended not to see because of politics, personal survival, negligence, lack of oversight or simply, lack of a moral compass.
Wright, whom I was introduced to when he first embarked on the idea of a book three years ago, says although the initial motivation was to write the tale of Malaysia and Jho Low, "At a certain point, we realised it was more than that. It was (also) about his enablers in the global financial system and in Hollywood. He's a Gatsby for our era."
"This story was too expansive to fit into the pages of a newspaper. Only a book could capture how Jho Low did it, how he subverted Malaysia's democracy and conned so many for so long."
I asked Wright what motivated him and Hope. He replied, "We hope those who allowed this to happen — not just Low but his political protectors and Wall Street friends — are punished. Only jail time will stop this from happening again."
Reading the book, this would be how the majority, especially Malaysians, will feel. The initial incredulity at the audacity of this crime against the country turns into disbelief and wrath with the turn of each page.
The book begins with a description of Jho Low's 31st birthday party in Las Vegas on Nov 3, 2012.
In the most opulent suite at the Palazzo Hotel, costing more than RM100,000 a night, Jho Low was greeting his close friends — A-listers like Leonardo DiCaprio, Alicia Keys and her husband Swizz Beatz, top Goldman Sachs bankers, princes and powerful executives from the Middle East. His less high-profile Malaysian friends and family — who, as the book reveals, aided and abetted, or were sucked in by Jho Low in his scheming — were also there.
Shortly after 9pm, the guests were clandestinely steered towards a fleet of black limousines, which ferried them to a hangar-like structure, specially constructed on a vacant piece of land on the Strip, where the most extravagant party (and the city has seen extravagant parties) in Las Vegas played out.
Kanye West, Kim Kardashian, Bradley Cooper, Paris Hilton, Toby Maguire, Robert De Niro — they were all there. Britney Spears flew in to sing a birthday song for Jho Low. Well-known gossip columnist Robin Leach, who was a guest at the 300-odd invitees party, estimated that it must have cost millions. And all that money, the authors reveal, was stolen from 1MDB.
The story then moves on to the first chapter, about young Jho Low growing up in idyllic Penang, and how, from a young age, he displayed his ability to borrow his father's friends' assets, such as a yacht and a bungalow on Penang Hill, pass them off as his own, and convince his overseas friends that he was from a family of means. From young, he would devise schemes for a life of decadence, a life of Crazy Rich Asians.
The book is easy reading and is divided into five parts — the invention of Jho Low; how he became an overnight billionaire by convincing Najib to set up 1MDB and allowing him to pull the strings through pliant and complicit officials within the company and the government; how he tried to build an empire in the midst of wild, extravagant and decadent splurging of the stolen 1MDB money; how the secrets started unravelling; and in the final part, how the world came crashing down for Jho Low and his fellow conspirators.
There are very few heroes in this book and many villains, from one end of the world to the other, who, motivated by greed and power, looted Malaysia's coffers.
Goldman Sachs comes out looking really bad, as do many banks in Malaysia, Singapore and Switzerland. Many individuals are named and details of Rosmah Mansor's profligate shopping sprees are listed, and perhaps to disprove that crime does not pay, the book notes that the majority of the co-conspirators and individuals involved are still walking free and spending the ill-gotten gains. That includes Jho Low.
Wright and Hope credit The Edge Media Group and its publisher Ho Kay Tat and owner Datuk Tong Kooi Ong for persevering, at high personal cost, to expose the scandal. They credit Sarawak Report's Clare Rewcastle-Brown for helping them in the initial stages, unselfishly sharing information with them, and also credit many unnamed Malaysians, among the 100 or so people they have interviewed over the years, who, despite facing retribution in the country, met them in secret in Singapore, Thailand, Hong Kong and the UK to pass them information, which eventually exposed the massive corruption and theft of Malaysian taxpayers' money.
But the book also raises a lot of questions about why senior Malaysian officials and institutions kept quiet or looked the other way. For example, when the first chairman of 1MDB and a fellow director resigned after the first US$700 million was sent to an account of Jho Low's in 2009 and 2010, corporate circles were abuzz with the shenanigans at 1MDB. Yet, Najib's Cabinet and top government officials did not ask any questions.
Eventually, when Jho Low's involvement became clearer through his brazen involvement with the then ruling Barisan Nasional's 2013 general election campaign, as well as the exposes by The Edge and Sarawak Report, some opposition MPs started raising questions. But not many, apart from a few professionals among them, like Tony Pua, understood the issues. Most of the opponents were just shouting out the headline-grabbing details — Rosmah Mansor's decadent shopping sprees, a billion here, a billion there …
If the two directors who resigned in 2009 after the first PetroSaudi deal had gone public with their concerns, would it have stemmed the subsequent damage to the country and the loss of more billions of dollars? Perhaps. Perhaps not.
The Central Bank governor was informed by AmBank, first in 2011 and a second time in 2014, of Najib's private banking account and the inflow of hundreds of millions of dollars into that account. Would an exposé then have saved the country from further damage? Perhaps. Perhaps not.
Billion Dollar Whale is a brilliant piece of journalism and if placed in the genre of Robert Ludlum's thrillers, it would rank right at the top. Except, unlike Ludlum, the book by Tom Wright and Bradley Hope is not a work of fiction.
About the authors
Tom Wright, a British national, has long been interested in Southeast Asia after working as an English teacher in Bandung, Indonesia, in the early 1990s. He learnt Indonesian and back at Cambridge University, joined the Malaysia Society, where he was the only non-Asian present when then (and current) Prime Minister Tun Dr Mahathir Mohamad reminded members they were just as good as the white man.
He returned to Asia after graduating, spending time in Thailand, Indonesia, Singapore, India and Pakistan before relocating to Hong Kong in 2013. He wrote about malfeasance in USAID programmes and Indian wind turbine companies. Then, in 2015, he got interested in 1MDB.
The Wall Street Journal (WSJ) first reported in 2013 of the huge amount Goldman Sachs had made raising money for 1MDB, around the same time The Edge Media Group was raising questions about the fund. Then, in February 2015, The Edge and Sarawak Report released their bombshell pieces on Jho Low's role in taking hundreds of millions of dollars from the fund.
After breaking news on the US$681 million that Najib received from 1MDB, WSJ jumped in to look at other aspects of the fraud. Wright teamed up with Bradley Hope, who had spent years in Abu Dhabi, and they started breaking stories on the fraud around the Goldman bonds. After three years of labour, delving into Hollywood, Wall Street and Asian politics, the result is Billion Dollar Whale, which is available in bookstores now.
Save by subscribing to us for your print and/or digital copy.
P/S: The Edge is also available on Apple's AppStore and Androids' Google Play.