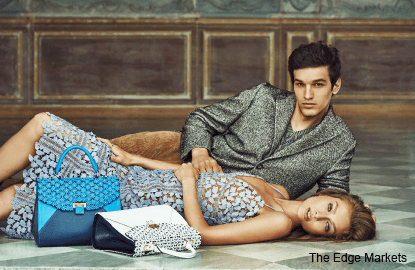 INSPIRATION, Bonia's autumn/winter 2015 collection features an inspired line of the artistic wanderer. From the footprints of the arts to the lives of people around the world, this collection infuses the magnificence of nature and the uniqueness of culture. Creative director Pepe Torres is well-known as an ingenious designer through his artistic and recognisable designs of Bonia leather goods. 
Bonia was founded in Singapore in 1974, and has grown to become one of Asia's leading fashion retailers – with a network of over 1,100 sales outlets and 140 standalone boutiques across Singapore, Malaysia, Taiwan, Japan, Vietnam, Thailand, Myanmar, Cambodia, Indonesia, Brunei and Saudi Arabia. 
The brand's new Inspiration collection is elegant, stylish and modern – showcasing a palette ranging from pastels to leopard prints and bold blues and fiery reds. A vast range of bags such as satchels, totes, clutches, slings as well as leather accessories like bracelets, tags and charms are available. 
Ladies' bags in particular, come in an array of styles, sizes and colours. Bucket bags in blue, red, black, brown and white, as well as shoulder bags in bright orange, yellow, blue and grey accessorised with flower patterns and a chain-link shoulder sling also grace this collection. 
A variety of clutches from the Starsome collection are perfect for formal occasions — from serious black to playful navy and pink. Purses for everyday use are also cleverly designed to be paired with each of the bags — leopard prints and plain leather. 
In addition to bags and accessories, men's shoes in three lines—business, loafers and sneakers—will join the autumn/winter line up. Comfortable leather shoes suitable both for casual and formal events are perfect for every occasion. 
Ladies' shoes, on the other hand, consist of beautifully crafted ballerina flats, boots, heels and loafers. Sporting a funky mix of eclectic shades—pink, orange, green, maroon and grey—Bonia is taking a step back from the dreary colours that fall collections usually bring. 
Bonia's autumn/winter 2015 collection is available at all retail outlets in Malaysia. For more information on products or to locate a store near you, visit www.bonia.com. 
This article first appeared in digitaledge Daily, on September 15, 2015.