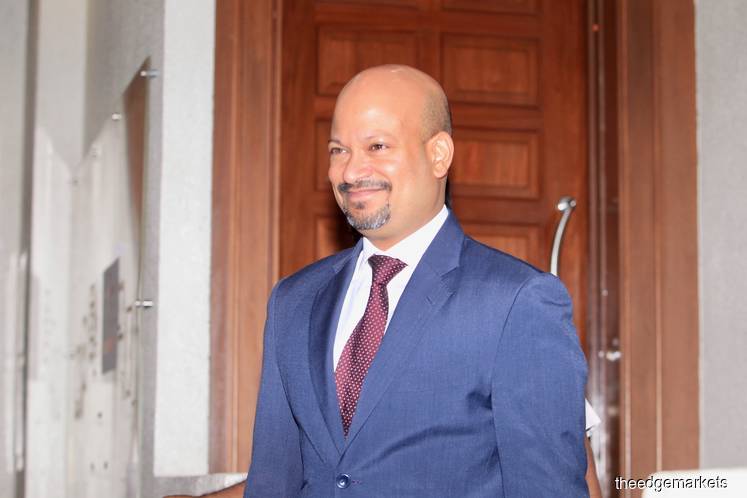 Former 1MDB CEO Arul Kanda Kandasamy at the Kuala Lumpur Court Complex today. (Photo by Shahrin Yahya/The Edge)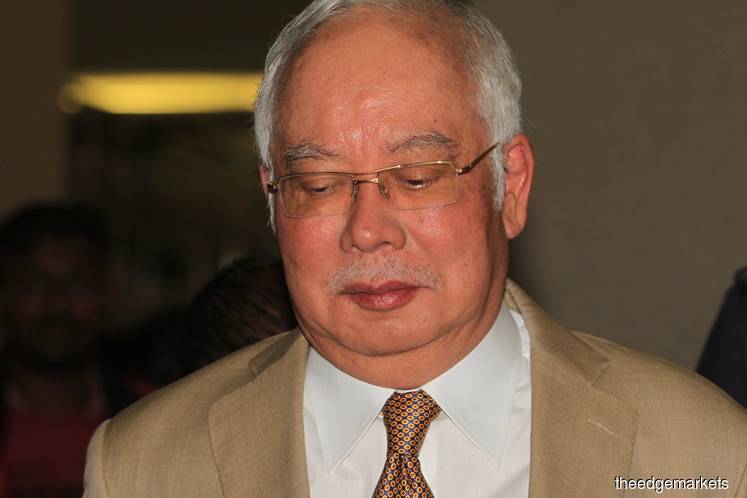 Datuk Seri Najib Razak at the Kuala Lumpur Court Complex today. (Photo by Shahrin Yahya/The Edge)
KUALA LUMPUR (Nov 18): The prosecution has given notice of having co-accused and former 1Malaysia Development Bhd (1MDB) chief executive officer Arul Kanda Kandasamy as a witness during the prosecution case against former premier Datuk Seri Najib Razak in the 1MDB audit report tampering trial.
Senior Deputy Public Prosecutor (DPP) and former Federal Court judge Datuk Seri Gopal Sri Ram indicated this in his opening statement at the start of the trial today.
Sri Ram said he was duty-bound to inform the court that the public prosecutor will apply in writing under Section 63 of the Malaysian Anti-Corruption Commission Act 2009 to call Arul Kanda to give evidence on the prosecution's behalf.
"We will be addressing the court on this part of the case at the appropriate stage," said the senior DPP.
This caught Arul Kanda's counsel Datuk N Sivananthan by surprise, and the lawyer said he would address the matter when the time comes.
Najib's counsel Tan Sri Muhammad Shafee Abdullah said he would be making a submission on this matter and raised the constitutionality of Section 63.
Section 63 of the MACC Act stipulates that whenever two or more persons are charged with an offence under this Act, the court may, on an application in writing by the Public Prosecutor, require one or more of them to give evidence as a witness or witnesses for the prosecution.
Those who refuse to give a sworn or affirmed answer shall be dealt with in the same manner as witnesses so refusing by law.
Witnesses who gives their true and full discovery of all things shall be entitled to receive a certificate of indemnity under the seal of the court stating that they have made true and full discovery of all things as to which they were examined, and such certificate shall be a bar to all legal proceedings against them in respect of all such things.
Sivananthan, when met by reporters from theedgemarkets.com and Free Malaysia Today, described this revelation as "a bombshell" to the defence, as they only got to know about it today.
"This is the first case where such a provision is being used (a co-accused is asked to testify for the prosecution). I have not come across any case that utilises Section 63 of the MACC Act.
"After my client gives his testimony, I will move this court to release him of the (abetting) charge," he said.
Today, High Court Justice Mohamed Zaini Mazlan ordered the trial to proceed and have the amended charge read to Najib and Arul Kanda, despite Shafee applying again to have the case deferred owing to the amended charge.
The amended charge added the missing pages or paragraphs which are supposed to be in the Public Accounts Committee Final Audit Report.
Both Najib and Arul Kanda claimed trial to the amended charge.
This is the third of five separate trials for the former prime minister. His SRC International Sdn Bhd trial before Justice Mohd Nazlan Mohd Ghazali had resulted in his defence being called while the 1MDB-Tanore trial before Justice Collin Lawrence Sequerah is ongoing and the current audit report tampering trial is the third.
Najib also has a RM6.6 billion criminal breach of trust trial which he is facing with former Treasury secretary-general Tan Sri Mohd Irwan Serigar Abdullah, while his second SRC trial involving money laundering of RM27 million has yet to start.
For more stories on the 1MDB audit report tampering trial, click here.
See also:
Prosecution calls second formal witness in 1MDB audit report tampering trial
Prosecution calls first formal witness in 1MDB audit report tampering trial
High Court orders 1MDB audit report tampering trial to begin today