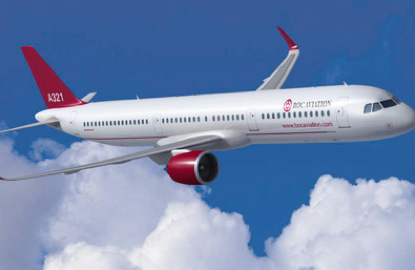 SINGAPORE (May 31): BOC Aviation, Asia's biggest aircraft lessor, will make its trading debut on the Hong Kong Stock Exchange (HKEX) on Wednesday. It will carry the stock code 2588 and trade in lots of 100 shares each.
The company raised HK$8.7 billion ($1.5 billion) in its initial public offering. The company sold new and vendor shares at HK$42 each, or 1.6 times its book value. BOC Aviation plans to use the proceeds to help pay for new planes.
Currently, it has 270 planes and its customers include IAG's Vueling Airlines, Iberia, Southwest Airlines, Aeroflot, EVA Airways, Singapore Airlines' India affiliate Vistara, and WestJet Airlines, according to Bloomberg.
As airlines serving Asia-Pacific move to triple their fleet, they are finding it can be cheaper to lease jets instead of buying them from Boeing or Airbus Group; the leasing business can also be more lucrative than running an airline, said Bloomberg on Monday.
In the past 30 years, the number of aircraft owned by operating lessors have jumped 11% yearly, according to Singapore-based Phillip Capital. That is double the pace of growth in the commercial fleet, where 40% of jets are leased. At the end of last year, BOC Aviation had 241 planes on order.
Malaysian budget carrier AirAsia received an offer valued at about US$1 billion for its aircraft-leasing business, Chief Executive Officer Tony Fernandes said on Monday.
Airlines in Asia will fly more than 16,000 planes within 20 years, almost tripling the current number, according to estimates by Boeing.
"In Asia Pacific, we're seeing very good demand for aircraft," Robert Martin, chief executive officer of the Singapore-based company, said in a May 18 interview with Bloomberg. "When we talk to investors, what they said to us is that they really want an Asian champion to come to the market."