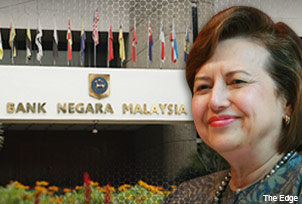 KUALA LUMPUR (Nov 18): Bank Negara Malaysia adopts a holistic approach in its monetary policy, taking into account current and future macro dynamics, Governor Tan Sri Dr Zeti Akhtar Aziz said.
Zeti, who was commenting on the impact of Japan's recession on Malaysia's monetary policy, said the central bank took into account many factors including major economies' policies.
"Monetary policy is a forward-looking policy, so, we will look at not only current conditions but also future conditions.
"Therefore, we have to make further assessment of the temporary factors which led to the slowdown in Japan's growth or any other major country," Zeti told reporters today after delivering her keynote address at the ISI Regional Statistics Conference 2014.
"And then, we have to also look at their policy flexibility - ­whether they have the capability in adjusting policy measures. For example, if you look at China, they have a fiscal surplus and therefore they will be in a position to provide support if the economy slows down by more than anticipated.
"So, you have to look at all these policies and conditions to see what the future prospect will be," Zeti explained.
Yesterday, Reuters reported that Japan's economy unexpectedly slipped into recession in the third quarter, setting the stage for Prime Minister Shinzo Abe to delay an unpopular sales tax hike and call for a snap election two years before he has to go to the polls.
Japan's GDP shrank by an annualised 1.6 percent in July-September, after plunging 7.3 percent in the second quarter following a rise in the national sales tax, which clobbered consumer spending.In Malaysia, Bank Negara had at its latest monetary policy committee meeting last November 6 maintained the overnight policy rate (OPR) at 3.25%
Today, Zeti said major importing nations' economic policies such as those in China, also influenced Malaysia's interest rate policy.
Zeti is also optimistic about Malaysian exports, as there has been export diversification in terms of geographical markets and products.
She said 60% of Malaysian exports go to the Asia region which is still a growth centre led by domestic demand.
"All of us are no longer export-led economies, our growth is driven by domestic demand," Zeti said.