This article first appeared in The Edge Financial Daily, on March 8, 2018.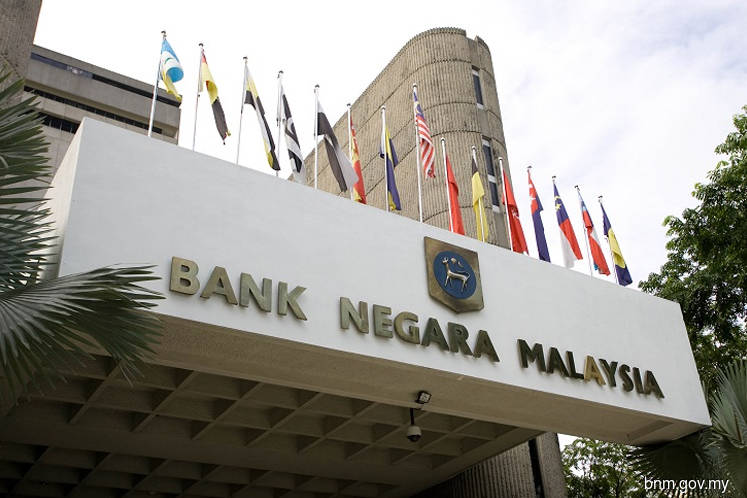 KUALA LUMPUR: Bank Negara Malaysia (BNM) has maintained the overnight policy rate (OPR) at 3.25% after the Monetary Policy Committee meeting yesterday, as it expects the economy to continue to see strong growth this year driven mainly by domestic demand amid a positive global growth outlook.
BNM said the degree of monetary accommodativeness is consistent with the policy stance to ensure that the domestic economy continues on a steady growth path amid lower inflation.
On Jan 25, the central bank normalised the degree of monetary accommodation by raising the OPR for the first time since 2014, by 25 basis points (bps) to 3.25%.
"Domestic demand will remain the key driver of growth, underpinned by favourable income and labour market conditions, spending on new and ongoing infrastructure projects, and sustained capital investment by firms in the manufacturing and services sectors. With additional impetus from the external sector, growth is expected to remain strong in 2018," BNM said in a statement.
The decision was expected by all 17 analysts in the Bloomberg poll, noted UOB Group senior economist Julia Goh.
"We think the overall tone of (BNM's) statement was neutral, reaffirming our view for the OPR to remain unchanged for the rest of the year," Goh said in a note.
DBS Group, however, is anticipating one more rate hike this year.
"We expect Bank Negara to raise the OPR by another 25bps to 3.5% in third quarter (3Q) 2018," DBS economist Irvin Seah said in a note. "By then, it would also be timely to realign rates to higher US and regional rates. In between, the risk of a hike in the statutory reserve requirement ratio should not be discounted as well."
Meanwhile, BNM said it projects inflation to average lower this year on expectations of a smaller effect from global cost factors, while a stronger ringgit exchange rate compared with 2017 will mitigate import costs.
It added that while global energy and commodity prices are expected to trend higher in 2018, it should be at a more moderate pace relative to the previous year.
DBS, in its note, said that although inflation will likely continue to ease in the coming two months, upside risks to inflation from 2Q is expected.
"The accumulated slack in the domestic economy will likely dissipate amid the strong growth momentum. High energy prices along with upcoming election spending could further stoke price pressure," said Seah. "The potentially weaker currency against the backdrop of monetary tightening in the US will also imply that the dampening effect on imported inflation will be comparatively less."
As such, DBS expects headline inflation to spike up to 4% by the middle of the year and continue to be sustained above 3.5% in the second half.
On the other hand, it might be difficult for the Malaysian economy to perform as well as it did in 2017 as the year progresses, according to FXTM's global head of currency strategy and market research, Jameel Ahmad.
"However that is in part due to the fact that the economy outperformed what most expected last year. GDP growth this [year] should remain robust.
"What might benefit the ringgit over the coming trading sessions is the unexpected news that Trump's top economic adviser, Gary Cohn, has resigned overnight. This should put further pressure on a US dollar that is already looking vulnerable to losses, potentially strengthening the ringgit as a consequence," Jameel wrote in a note.
UOB's Goh, meanwhile, reiterated that domestic conditions continue to favour the strengthening of the ringgit.
"We expect the pair to stay range bound between 3.88 and 3.95 in the near term, mainly driven by the US dollar. Year to date, BNM's international reserves rose US$1.3 billion (RM5.07 billion) to US$103.7 billion as at end-February, which is equivalent to 7.2 months of retained imports and 1.1 times short-term external debt," she said.
The ringgit was quoted at 3.9030/9080 against the US dollar at 6pm yesterday.