This article first appeared in The Edge Financial Daily, on September 29, 2017.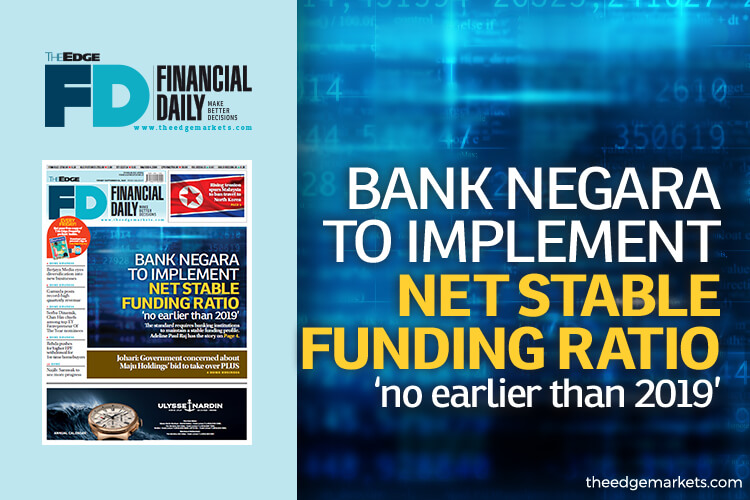 KUALA LUMPUR: Bank Negara Malaysia (BNM) said it plans to implement the net stable funding ratio (NSFR) — a liquidity standard under Basel III — for banks "no earlier than Jan 1, 2019".
The NSFR seeks to measure the proportion of a bank's long-term assets which are funded by long-term stable funding. It requires banking institutions to maintain a stable funding profile in relation to the composition of their assets and off-balance sheet activities.
"The NSFR, which complements the liquidity coverage ratio (LCR) that was phased in since 2015, looks for banks to have the liquidity to support their business in the longer horizon. It will help strengthen the liquidity management of the financial system," BNM assistant governor Marzunisham Omar told a media briefing yesterday evening.
For banks, the NFSR implementation means that they will have to look for more stable sources of funding. "Examples of these would be commercial papers with maturity of more than a year, long-term debt and retail deposits. We see that there will be potential offerings of more innovative products to help the banks get more deposits, for example," Marzunisham said.
He does not expect NSFR to have a major impact on borrowers.
"At the moment, we don't expect any major effect on the borrowers given the liquidity buffers that most banking institutions [already] have.
"In addition to that, we are aware of the level of competition in the market today which would encourage the banks to remain competitive with respect to their product offerings, as well as the pricing of their products. We don't think it (NSFR) will be a factor that could change the pricing of the loans," he said.
In deciding on the timing of its NSFR implementation, one of the key factors BNM took into consideration was the intended timelines of other countries. It noted that there is considerable uncertainty on the global front in terms of meeting the internationally agreed timeline of Jan 1, 2018.
"The bank has considered the international nature of Malaysian banking institutions' operations and the potential impact on domestic competitiveness against the immediate need for implementation of the standard. To this end, the bank intends to implement the NSFR at no earlier than Jan 1, 2019, ideally with greater certainty or harmonisation among key markets. This is not expected to affect the resilience of the Malaysian banking system," BNM said in a statement yesterday.
It emphasised that banking institutions here do have sufficient safeguards in managing liquidity risk, supported by strong liquid asset buffers, more diversified funding profiles and robust liquidity risk management practices.
As at June 30 2017, the banking system LCR stood at 141% while the NSFR is estimated at above 100%.
Marzunisham said based on preliminary and indicative data, the NSFR industry average was 107%. More than three-quarters of banks had NSFR of above 100%, which is the minimum requirement upon implementation. (A higher NSFR indicates a more stable funding profile.)
"So, our banks have a lot of buffer currently," he said.
Jurisdictions that are keeping to the Jan 1, 2018 timeline include Australia, Singapore, Indonesia and Hong Kong, while those that have delayed implementation include the US, the European Union and Canada. China, Japan and Thailand are among those that have yet to confirm their timeline.
Meanwhile, BNM, which issued an exposure draft on NSFR, is inviting public feedback on the proposed regulatory requirements. Banking institutions have two months, up to November 2017, to submit their feedback.