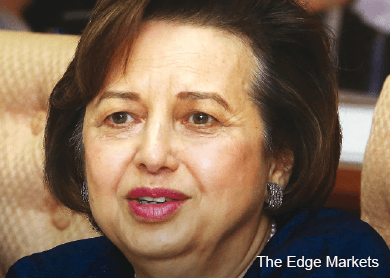 KUALA LUMPUR: Bank Negara Malaysia (BNM) governor Tan Sri Dr Zeti Akhtar Aziz yesterday confirmed that the central bank has received a report from the Monetary Authority of Singapore (MAS) on 1Malaysia Development Bhd's (1MDB) account with BSI Bank Ltd Singapore.
"They have announced sending the report to us. Yes, we did receive it," Dr Zeti was quoted by Bernama as saying.
"The information will be extended to other agencies under Malaysia's jurisdiction," she said, noting that the findings were highly confidential.
The governor remained tight-lipped over which Malaysian agencies will have the privilege of viewing the report or the contents of the report due to a confidentiality arrangement.
According to Bernama, when asked if MAS had notified BNM that there was no cash being held by 1MDB in BSI as alleged, she said: "We can't comment on an individual entity.
"I have already stated that the international community will not cooperate with us if we release the information extended. Therefore, it will stop all investigations if we talk about it."
On the Malaysian front, 1MDB's dealings are being probed by several local agencies including the police, the Auditor-General's office and the Public Accounts Committee. While some of them are in the early stages of investigations, none of them have issued any findings.
Recall that questions have been mounting over the authenticity of documents produced by 1MDB indicating there was US$1.103 billion (RM3.998 billion) cash deposits in BSI held by its subsidiary Brazen Sky Ltd.
According to whistle-blower website Sarawak Report, BSI had informed MAS that documents produced by 1MDB did not originate from the Swiss-based bank and did not accurately reflect the state of Brazen Sky's account. MAS had then probed into the complaint and forwarded its findings to BNM.
Last week, Prime Minister Datuk Seri Najib Razak, who is both the finance minister and the chairman of 1MDB's advisory board, reversed his earlier statement saying that the redeemed investments in the Cayman Islands are in the forms of assets, not cash.
This contradicted his statement made in March, saying that the US$1.103 billion in cash was redeemed from the Cayman Islands and kept in BSI.
This article first appeared in The Edge Financial Daily, on May 27, 2015.