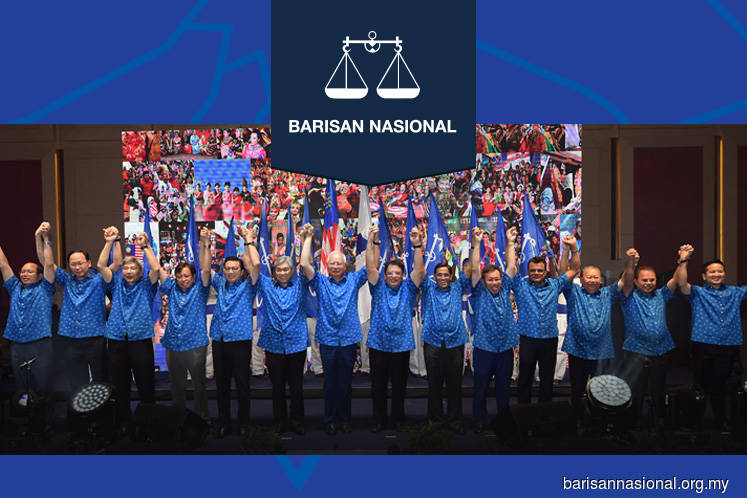 KUALA LUMPUR (Feb 25): Barisan Nasional and PAS have retracted their support for Tun Dr Mahathir Mohamad's leadership under a new political coalition, saying instead they want a snap election to be called.
This is because they do not agree with a supposed proposal from Dr Mahathir to form a unity government, which will include DAP.
In a press conference today, Umno secretary-general Annuar Musa said Dr Mahathir's plan goes against the conditional support they had voiced for him earlier. "As such the support we gave to Mahathir to form a coalition without DAP, we are forced to take it back," he told reporters at Putra World Trade Centre (PWTC) here.
PAS secretary-general Datuk Takiyuddin Hassan, who was also present, said there was previously an agreement in principal to form a new coalition.
"In fact we have obtained 130 [statutory declarations to be delivered to the Palace], under a collaboration called Perikatan Nasional. But what was planned did not go through as the prime minister resigned [on Monday]," said Takiyuddin.
Takiyuddin also expressed the coalition's view that the lingering uncertainty from PH's fallout is "unfair to the people". As such, Takiyuddin called for the Parliament to be dissolved so the voters can decide on the new federal government.
Also present at the press conference were leaders from MCA and MIC. Not present were Umno president Datuk Seri Ahmad Zahid Hamidi, and PAS president Datuk Seri Hadi Awang.
Earlier, Reuters reported that Dr Mahathir was proposing to lead a unity government and had invited lawmakers from across rival political parties to join, quoting sources. He reportedly proposed the idea to the leaders of major political parties he met today.
"In the absence of another candidate, it appears that Mahathir is poised to form the government," Reuters wrote, quoting one of four sources with direct knowledge of the matter. "There won't be any political entity. We might be a government of no parties," the source said.
Separately, the Prime Minister's Office issued a statement saying Dr Mahathir had indeed held meetings with leaders of political parties in Putrajaya this morning and that among those in attendance were Gabungan Parti Sarawak (GPS) chairman Datuk Patinggi Abang Abdul Rahman Zohari Abang Openg, Parti Pribumi Bersatu Malaysia (Bersatu) president Tan Sri Muhyiddin Yassin, PKR president Datuk Seri Anwar Ibrahim, DAP secretary-general Lim Guan Eng, Umno president Datuk Seri Zahid Hamidi, PAS president Datuk Seri Abdul Hadi Awang and Parti Amanah Negara president Mohamad Sabu.
Dr Mahathir, who currently serves as interim prime minister after resigning from premiership on Monday, also held a meeting with former PKR deputy president Datuk Seri Mohamed Azmin Ali, the statement said.
"The premier is scheduled to meet with Parti Warisan Sabah (Warisan) president Datuk Seri Mohd Shafie Apdal tomorrow," it added.