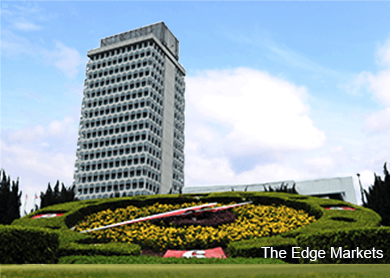 (May 20): Barisan Nasional (BN) and Pakatan Rakyat lawmakers have backed calls for parliamentary reform by Dewan Rakyat Speaker Tan Sri Pandikar Amin Mulia.
BN Backbenchers Club chairman Tan Sri Shahrir Samad said the repeal of the Parliamentary Services Act in 1992 had blurred the lines between the legislative and the executive branches of government.
Without the act that allowed parliament to be independent, Shahrir said parliament had become like a government department.
He said the executive had placed a minister in charge to oversee parliament, turning its administration into a formal government structure with numerous civil servants, including a director-general.
"So, where do you draw the line? Which one is civil service, and which one is legislative? That's the situation that arises because of the abolishment of the Act," he said at the Parliament lobby today.
The Parliamentary Services Act 1963 was abolished while Tun Dr Mahathir Mohamad was prime minister.
Pandikar, who revealed yesterday he had tried to quit his post due to frustration that Parliament was seen as a rubber stamp, also said he proposed several suggestions to improve the legislative body, including updating and reinstating the act.
Shahrir said Pandikar himself should spearhead the reforms by setting up a working group to discuss and look into what was needed.
Opposition leader Datuk Seri Dr Wan Azizah Wan Ismail said Pakatan Rakyat had set up a parliamentary reform committee headed by herself and the whips from DAP, PKR and PAS since both Pandikar and the opposition pact have the same aspiration to see a clear separation of power between the legislative, executive and judiciary branches of government.
Datuk Mahfuz Omar (PAS - Pokok Sena) expressed hope that any reform plan for Parliament could take off by March next year, when Parliament convenes for the new session.
Anthony Loke  Siew Fook (DAP - Seremban) said Pandikar's call for reforms was a positive development and that Prime Minister Datuk Seri Najib Razak should immediately agree to the speaker's proposals.
In explaining his retraction of his resignation letter yesterday, Pandikar said he told Najib he wanted reforms to be implemented so that Parliament and the speaker's office would no longer appear as if they only acted on the orders of the government.
Among the reforms he wanted was the removal of the minister in charge of parliament so that Parliament was fully in charge of its own administration. The minister with this portfolio is usually a minister in the Prime Minister's Department.
Additionally, he wanted the Parliament building to be upgraded to have infrastructure and facilities that were on par with government buildings in Putrajaya and with the Palace of Justice.
He said Najib listened to these proposals and asked for time to fulfil them, as these matters had to be approved by the cabinet. – The Malaysian Insider