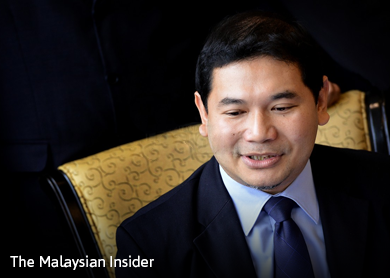 (July 20): Barisan Nasional's (BN) attempts to discredit 1Malaysia Development Berhad's (1MDB) critics will only further destroy public confidence in the government ahead of the next general election, PKR secretary-general Rafizi Ramli said today.
But the vocal opposition politician said he was "happy" with BN's moves in finding scapegoats for the debt-ridden fund, and urged the ruling coalition to carry on as this would weaken its position in the election.
Rafizi's name has emerged among that of other opposition politicians who are accused of being in a plot to topple Prime Minister Datuk Seri Najib Razak over 1MDB.
Besides Rafizi, jailed former opposition leader Datuk Seri Anwar Ibrahim and DAP's Tony Pua have been mentioned along with London-based website Sarawak Report that has carried exposes on 1MDB.
Yesterday, Putrajaya blocked local access to Sarawak Report, citing national stability.
"These tactics of blocking Sarawak Report and finding scapegoats are old tactics that will help bury Umno and BN in the next election," Rafizi said in a statement today.
He said that the attempts to discredit 1MDB's critics did not faze him, saying that only few Umno members believed the claim that the entire crisis was manufactured by the opposition.
"Until now, Najib has been unable to answer the main questions."
1MDB sits on a RM42 billion debt, accumulated in just over six years. It claims to have enough assets to offset its debts, but is yet to liquidate its assets for its debts, which it has struggled to service.
In addition to accusing opposition politicians and Sarawak Report for exposes on 1MDB, Malaysian authorities have also threatened financial newspaper The Edge with a show-cause letter for several several exposes of its own against 1MDB.
This morning, The Edge Financial Daily in its latest report alleged that Malaysian tycoon Low Taek Jho and oil company PetroSaudi International had plotted a scheme to cheat US$1.83 billion (RM6.9 billion) from 1MDB, with help from some 1MDB executives.
Najib, who is finance minister and also chairman of 1MDB's advisory board, has addressed allegations against him as being part of an international conspiracy led by former prime minister Tun Dr Mahathir Mohamad, a fierce critic of 1MDB.s – The Malaysian Insider