This article first appeared in The Edge Financial Daily, on November 20, 2019.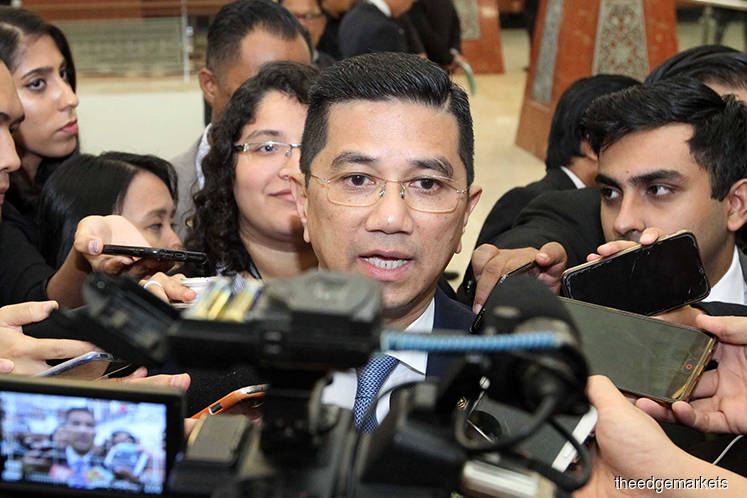 KUALA LUMPUR: Umno president Datuk Seri Dr Ahmad Zahid Hamidi (Barisan Nasional [BN]-Bagan Datuk) said he was told the meeting between BN lawmakers and Minister of Economic Affairs Datuk Seri Mohamed Azmin Ali (Pakatan Harapan-Gombak) was meant to demand a larger government allocation for BN constituencies.
"I was told, according to what they have reported, the meeting was to fulfil their voters' needs by demanding a bigger allocation to execute projects in their constituencies," Ahmad Zahid told reporters in the High Court here.
Mohamed Azmin, the PKR deputy president, reportedly met two dozen BN members of Parliament (MPs) at his house on Monday night.
Ahmad Zahid also said Umno's supreme council had decided that party members, including parliamentarians, must take action en bloc and in line with the party's consensus.
"Umno wants to ensure that all party decisions are obeyed by members and parliamentarians who represent Umno to contest under the BN ticket in elections.
"I would like to stress that the faith of our members and the people are strong, and it is encouraging because the current political situation has changed drastically and very positively, and we want all the leaders in Umno as well as parliamentarians [to] be respected," he said.
Ahmad Zahid also said a complaint had been filed with the Umno disciplinary committee for an investigation in the meeting on Monday.
"The complaint stated that the meeting last night has caused discomfort among party members as the meeting was arranged without the party's consent," he said.
Bernama quoted Prime Minister Tun Dr Mahathir Mohamad as saying he was aware of the meeting but that he did not know what had transpired. He refused to comment further.
"I heard about it, but I don't know what they talked about," he told reporters after launching an event here.
Deputy Prime Minister Datuk Seri Dr Wan Azizah Wan Ismail, who is also the chairman of the PKR advisory council, said: "It is good that such a meeting was held. Hopefully he (Mohamed Azmin) attends the [PKR] political bureau meeting."
Bersatu president Tan Sri Muhyiddin Yassin said he was not aware of the meeting.
"I don't know; I read what all of you had written.
"I don't know what actually happened," he said when asked by reporters at the Parliament lobby yesterday.