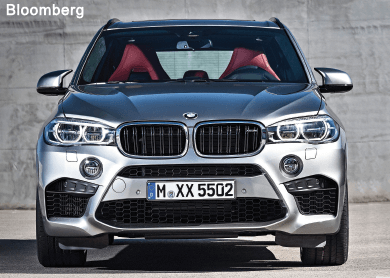 Step on the gas and it lunges forward like a pit bull on a leash
LAST week I drove the Range Rover Evoque. You know the one — angled like a chrome stiletto with body lines so sexy that Victoria Beckham was its spokesperson.
The BMW X5 M that I drove this week couldn't be more different. It's rather more serious. This is the right proper sport utility vehicle (SUV) for adults.
I don't want to generalise or presume or assume when it comes to characterising cars. I try to go into each one with an open mind; I love being surprised with something unexpected about how it handles or how the interior feels, whether it's good or bad.
But there is no denying the solemnity you encounter with high-end cars from German engineers (this one, it should be noted, is manufactured in Spartanburg, South Carolina). It's always there. It has to do with the razor-edge precision of their handling, the solidity of their smooth, minimal lines  and the generally perfect design of their components. These cars have the same effect as the lead surgeon when he walks into the operating room. Type A. Things are well in hand. Everything's going to be OK.
Which is not to say the BMW X5 M is dreadful.
This is the US$99,000 (RM352,440) five-seat vehicle you buy when you need something big, but want that coveted M badge, BMW's demarcation of sport-tuned ferocity. (The version I drove around Manhattan, Brooklyn and Connecticut cost US$116,000 because it came with upgrades. I'll get to those later.)
Press on the gas and the X5 M will lunge forward like a pit bull on a leash. It barrels forward from all four wheels at once, gathering itself from behind and then leaning ahead from the shoulders, straining against inertia as it barks. You find yourself screaming "yes" in your head when you floor it.
Credit that feeling to the pervasive M tuning: It's on the M twin-turbocharged V8 engine, the eight-speed M sport automatic transmission, the M-tuned chassis and suspension, and that aforementioned all-wheel drive. Each drive mode shifts seamlessly to the next — everything in sync.
Compare it with the Audi SQ5 (US$53,000), Mercedes G-Class (US$115,000), Porsche Cayenne Turbo S (US$158,000), Range Rover (US$84,000) or Cadillac Escalade (US$73,000). If you want brute strength and ample sporty space inside without sacrificing athleticism, it should sit at or very near the forefront of that list.
Gas hog
This car weighs 2,359kg, and yeah, you feel it. But the 567hp and massive torque compensate well to help push it to 97kph in 4 seconds. That's nearly 3 seconds faster than the regular-grade BMW X5 and just fractions slower than the US$115,000 Porsche Cayenne Turbo. (The Cayenne Turbo S gets to 97kph in 3.8 seconds, if you must know.)
The thing is, you pay for the weight and speed with loss of fuel efficiency. Combined mileage on the X5 M is only 25.74kpg, and the official federal rating has it at only 22.53kpg in the city.
Those are horrible statistics.
It's 2015 — there is no excuse for such poor efficiency, even from a "performance" vehicle, SUV be that as it may. Most SUVs range from 32.19kpg to 43.45kpg combined. That means if you spend US$3.80/gallon, and drive 24,140km a year, you'll spend about US$6,750 more on fuel for your X5 M than for the average new vehicle over five years, according to Environmental Protection Agency's estimates.
I get it. When you spend US$100,000 on a car, US$6,000 over several years' time isn't that much. But it's important to note the inefficiency and expense nonetheless. This is one of the things where the impetus is on the automakers to improve, not the consumers.
Like a boss
But it is a handsome devil, isn't it? Like a clean-shaven 40-something former quarterback in a slate suit,  with sophisticatedly greying hair, which is to say it looks professional, if you're into that type.
Even better, it doesn't look as oddly swooped as its competitor Cayenne, and it has more personality than the Audi Q5. The kidney grilles and coolers on the front chrome frame are reassuring (yes, you've spent your money well on a German luxury brand), and they combine nicely with the 21-inch M alloy wheels, high-gloss roof rails and LED xenon headlights with LED fog lamps. (Don't be shy flashing those M badges along the sides and rear as you pass people. Lord knows you paid for them — US$46,000 more than the non-M X5 — you might as well get your money's worth.)
Smart design
BMW has kept the interior minimal, but lest you forget you've upgraded, the M-specific instrument cluster (more M badging) and baseboard badging help you remember. So do the unusually comfortable "M Multifunctional" seats. They're set deep, with high side bolsters and angled shoulder sections, and come with a lot of adjustment options, contrast stitching and double lap seams.
The X5 M I drove came with the US$1,900 option of blazing red Mugello merino leather covering virtually every surface in the car, except the black dash. It's bold in a good way. Other add-ons worth the additional outlay include a heated steering wheel, ventilated and heated front and rear seats, adaptive headlights, a head-up display (with optional night vision) and a Bang & Olufsen sound system, which alone costs an extra US$3,700. In short: It's a lot of options that dramatically raise the price. Yet that ability to add bragging-rights goodies is what makes an M an M. Go all-in.
I loved the panoramic sunroof that stretches from the front to the full rear of the car — these are becoming increasingly normal in luxury SUVs — but what made it even more special is the fact that it would stop in certain stages of openness, controlling how much light you let inside.
Active blind spot detection, drive assist, and side and top view cameras fortify this like a fortress, too. (The latter are much better than industry standard.)
But the shifter (drive, neutral, reverse) can take a moment to appreciate — the car has to be in drive for you to engage the parking brake and walk away. If you leave the car in neutral and throw on the parking brake, it won't allow you to lock the car. Alternatively, the car doesn't creep forward in first gear nearly as easily as other cars. You know that thing we do in traffic, when we let our foot off the brake and expect our car to crawl forward? The X5 M doesn't do that — you actually have to give it gas. It's not a bad thing, just different.
But that, really, is the point of this car. It is different from the smaller, more chic (and expensive) crossovers suited to late nights in cosmopolitan centres that we've seen lately. Let the supermodels have their fun in those. The X5 M is for business. — Bloomberg.