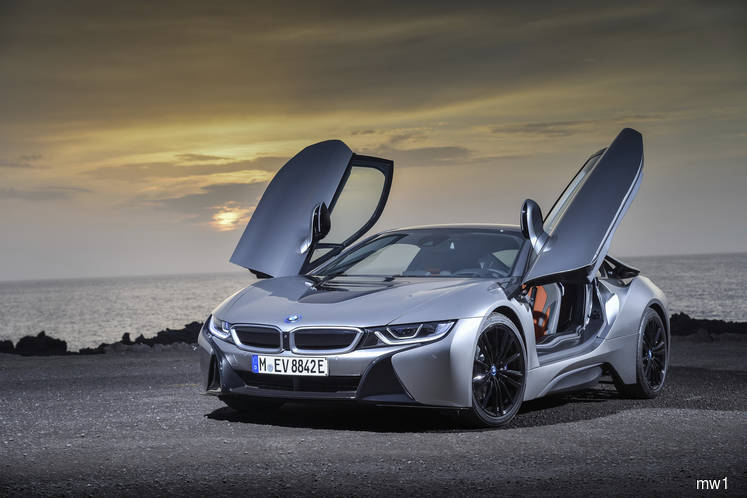 KUALA LUMPUR (Aug 14): BMW Malaysia has unveiled its new BMW i8 Coupé, which is a new iteration of its BMW i8 that the company says epitomises the revolutionary combination of extreme power and absolute efficiency, and will redefine plug-in hybrid vehicle technology.
The new coupé's introduction comes amid BMW Group Malaysia's year-to-date deliveries of electrified BMW and MINI vehicles reaching over 55% of its total vehicle deliveries.
Globally, the BMW Group delivered over 100,000 electrified vehicles last year. Year-to-date sales of electrified BMW and MINI vehicles totalled over 71,000, with a 40.6% increase year-on-year, putting the group well on course to selling over 140,000 electrified vehicles in 2018.
"In 2014, BMW redefined the concept of a supercar with the BMW i8. In its looks and appeal, the sports car arrived from the future but more than this, the BMW i8 told a bold and ambitious story of the BMW Group in shaping the future of the automotive industry with electro mobility," BMW Malaysia head of sales Raymond Tan said in a statement.
In eDrive Mode or its electric-only driving mode, acceleration and deceleration on the BMW i8 Coupé can be smoothly executed with the gas pedal. If the driver takes the foot off the gas pedal, the electric motor assumes the function of a generator that converts the car's kinetic energy and feeds it back into the high-voltage lithium-ion battery, said BMW Malaysia. "This process of regenerating brake energy creates braking momentum that effectively slows down the vehicle."
If it is in hybrid mode, the electric motor provides a power boost to the new coupé's engine when vigorous acceleration is required. "The electric motor is also able to recuperate energy and feed it to the high-voltage battery on the overrun and under braking. The petrol engine's high-voltage starter-generator can similarly generate additional reserves of electricity, thereby ensuring that sufficient energy is on tap at all times for the electric drive system in the new BMW i8 Coupé," the statement added.
The new BMW i8 Coupé will be available at all authorised BMW i dealerships nationwide from today (Aug 14). The on-the-road retail prices for the vehicle, without insurance at the current zerorised goods and services tax are: RM1,310,800 for Peninsular Malaysia, RM1,313,992 for East Malaysia, and RM862,800 for Langkawi.
BMW Malaysia also shared that, "for the first time ever", the premium automaker will be the electro mobility partner at the upcoming Conference of the Electric Power Supply Industry (CEPSI) 2018, that will be held at the Kuala Lumpur Convention Centre from Sept 17 to 22, where major energy companies will meet to share new ideas on the future trends of the energy industry.