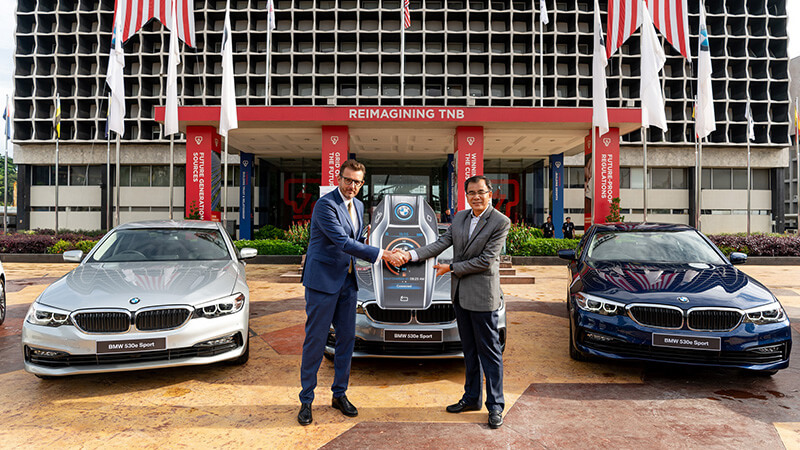 (Left) Harald Hoelzl, MD & CEO of BMW Group Malaysia and TNB's Chief Corporate Officer Datuk Wira Roslan Ab Roslan
KUALA LUMPUR (Sept 13): BMW Malaysia Sdn Bhd today handed over a fleet of BMW 5 Series Hybrid cars to Tenaga Nasional Bhd (TNB) to be utilised at the upcoming Conference of the Electric Power Supply Industry (CEPSI) 2018.
The fleet will be utilised as the official cars at the landmark conference, taking place from Sept 17 to Sept 22, of which BMW Malaysia is the official e-Mobility partner.
TNB is hosting CEPSI 2018 on behalf of The Association of Electricity Supply Industry of East Asia and the Western Pacific (AESIEAP).
"The collaboration signifies BMW Malaysia's intention of being a key partner in transforming the local electro-mobility industry and the country's ambition in sustainable development. We look forward to exchanging our industry-leading expertise and insights, as well as gaining knowledge from the many thought leaders at CEPSI to shape a better Malaysia," BMW Malaysia managing director and CEO Harald Hoelzl said in a statement today.
TNB chief corporate officer and AESIEAP 2017/2018 secretary-general Datuk Wira Roslan said the cars will be used to shuttle VVIPs and AESIEAP executive council members throughout the five-day conference. 
"This e-mobility partnership is the first of its kind for CEPSI, since its inception in 1976 in Hong Kong. The partnership is timely, as the electric vehicles are generating a revolution in transportation across the globe," Roslan said.
Themed "Reimagining the Utility of the Future", BMW head of product management of BMW i, Dr Alexander Kotouc, will share his thoughts on the mobility of the future, as a keynote speaker at the event.
The premium automaker will also be unveiling a new model from its BMW i portfolio.