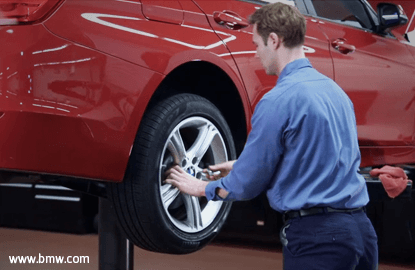 KUALA LUMPUR (Jan 14): BMW Group Malaysia has introduced The BMW Tyre Warranty Programme for all new BMW vehicles sold at authorised BMW dealers nationwide from Jan 1, 2016.
"With our new tyre warranty programme, we are providing our customers another industry first product and service where our valued customers have the freedom to further enjoy sheer driving pleasure on any road, at any time, with peace of mind ownership experience," said Han Sang Yun, Managing Director and CEO of BMW Group Malaysia, in a press release today.
The new Tyre Warranty Programme from the premium automaker is also applicable to all BMW Approved Star-Marked Tyres sold at its dealerships.
For new vehicles, the warranty program is valid within 24 months from the date of the first registration of the new vehicle, the date upon which the new BMW Star-Marked Tyre was purchased or upon reaching of all four tyre claims — whichever comes first.
"BMW Tyre Warranty Programme is attached to the vehicle; the tyres are mounted on and is non-transferable, if the same tyres are fitted on another vehicle."
Meanwhile, the warranty for replacement tyres or tyres sold at the point after sales, is valid within 24 months from the date of purchase from a BMW Authorised Dealer and will cease when a claim is made.
The tyre warranty certificate covers tyre damage caused by any pointed or sharp objects such as nail or broken glass, or by hitting the edge of a kerb or pothole — and is only applicable if no other existing guarantee or insurance is covering the tyres of the vehicle. It also covers tyre fitment and wheel balancing.
"In the case of a claim, the BMW Authorised Dealer will inspect the cause of the damage, as well as assess the current market value of the damaged tyre. Depending on the depth of the tread, BMW vehicle owners could be entitled to [a] compensation of up to 100% of the cost of a new tyre. The compensation is also calculated based on the retail price rate of the tyre during the time of change."
For example, if the damaged tyre has still more than 7mm of residual tread depth, no costs would be incurred on the new tyre. In this case, BMW would also absorb the cost for fitment and balancing.
Compensations for residual tread depth that is from 6.9mm to 6.0mm, 5.9mm to 5.0mm, 4.9mm to 4.0mm and 3.9mm to 3.0mm, meanwhile, are calculated at 80%, 60%, 40% and 20% respectively. No compensation will be offered for residual tread depth that is less than 3mm on the damaged tyre.
Wheel alignment cost and towing charges, however, are not applicable and covered in the programme.
Futhermore, the tyre warranty programme is only applicable for vehicles driven for personal use. It is not applicable to vehicles used for commercial purposes, such as car-for-hire, taxi, or any driver car services.
"Any damage due to normal wear and tear of tyre, as well as tyre defect caused by vehicle owners, their auxiliaries, representatives or their car users' improper or incorrect use of the tyre, are not covered under this new warranty programme."
Other circumstances that are not covered under The BMW Tyre Warranty Programme include participation in driving events with racing characteristics or from test drives in similar characteristics of car-racing, and vehicle accidents save for situation above-mentioned.
 
It also does not cover changes to the original construction of the vehicle, which are not approved by BMW Group Malaysia, and excessive or uneven wear and tear as a result of false adjustment of the track and camber, inaccurate tyre pressure or use of defective bumpers, such as saw tooth formation, brake plates, erosion.
 
The tyre warranty will also automatically and immediately cease upon the sale of any vehicle or star-marked tyre out of Malaysia and with commercial resale.