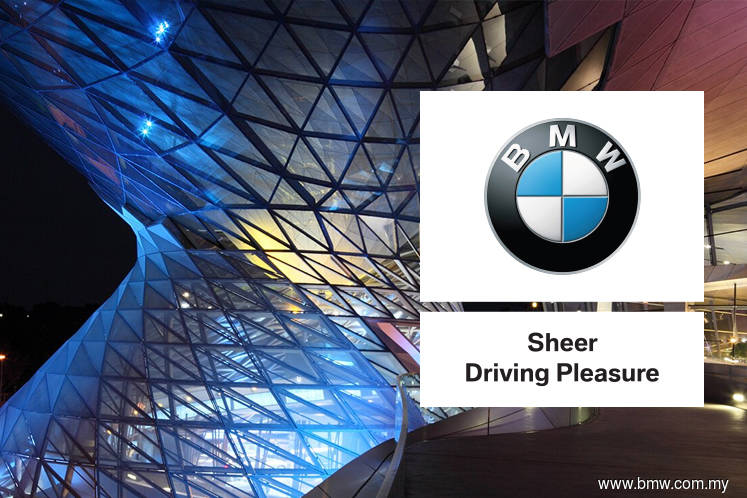 KUALA LUMPUR (Feb 4): Premium car maker BMW Malaysia Sdn Bhd (BMW Group Malaysia) delivered fewer vehicles last year with deliveries falling 19% to 11,567 units of its BMW, MINI and BMW Motorrad brands of vehicles, from 14,338 units in 2018.
This snapped its eight-year streak of record sales.
In a statement today, BMW Group Malaysia said its 2019 sales were underlined by the introduction of 32 new model variants — four of which were electrified vehicles.
Nevertheless, it continued to reinforce its position as the leading e-mobility provider in Malaysia, having delivered a total of 3,148 electrified BMW and MINI vehicles in 2019. This contributed to a total of over 17,000 electrified vehicles delivered by BMW Group Malaysia since 2015.
"A total of 145,815 electrified BMW and MINI vehicles were delivered worldwide in 2019, contributing to half a million electrified vehicles delivered to date," the statement said.
"Against the backdrop of a challenging year for the automotive sector, we are proud to have achieved such success within the electrified segment in Malaysia and across the globe — which reaffirms our optimism for the year ahead," BMW Group Malaysia managing director Harald Hoelzl said.
"We are committed to continue leading the charge for electromobility in Malaysia, especially in light of the upcoming National Automotive Policy announcement that will see electrified vehicles play a prominent role in propelling our automotive sector to greater heights," he added.
Meanwhile, the BMW brand saw 9,300 new owners in Malaysia last year, led by a delivery of 2,514 units of the BMW 3 Series, of which over 1,000 were the BMW 330e M Sport.
Another key contributor to BMW's total deliveries in 2019 was the BMW 5 Series, which saw over 2,000 new owners.
MINI delivered 1,142 vehicles last year, with the MINI Countryman contributing to more than half of total deliveries (685 units). BMW Motorrad delivered 1,125 motorcycles to new owners.
This year, BMW Group Malaysia said it will continue its commitment to drive initiatives for innovation, local assembly capabilties and awareness on new and clean technology for the automotive industry, as well as develop infrastructure for premium vehicles in the country.
"This year, begins a new chapter for us and the nation in the Story of Visionary Mobility. The year 2020 is building up to be an exciting year of change in the automotive sector and we are thrilled to be a part of it," Hoelzl said.