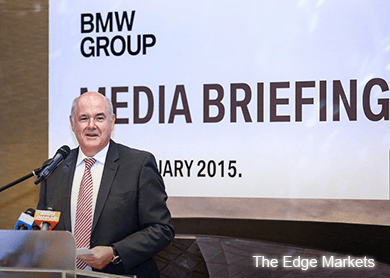 KUALA LUMPUR (Jan 26): Cars of luxury brand BMW  will not be more expensive after the implementation of the goods and services tax (GST), said BMW Group Malaysia managing director Alan Harris.
And contrary to popular opinion, BMW cars will not be cheaper by 4% either, once the 6% consumption tax replaces the 10% sales tax.
"There was a lot of speculation that the 10% sales tax would be replaced by the 6% GST. Some people still have this perception that it will be 4% cheaper, but that is actually not the case," he told a media briefing today.
"So, until all those calculations are finalised, my anticipation of prices would be the same or marginally cheaper - not more expensive and not 4% cheaper," he added.
Harris, who is also BMW CEO, said prices of its vehicles would be firmer in April once the car manufacturer finalised its pricing strategy, which would also factor in the weaker ringgit.
Harris expects BMW to see sales growth this year, despite acknowledging that the motor vehicle company may face a challenging first quarter due to the imposition of GST.
He said growth would stem from the introduction of the BMW 2-Series Active Tourer, its 3-Series models and some "surprises later this year".
He was also optimistic that the intense competition in the luxury segment would not dampen growth but instead spur BMW's further growth in the country.