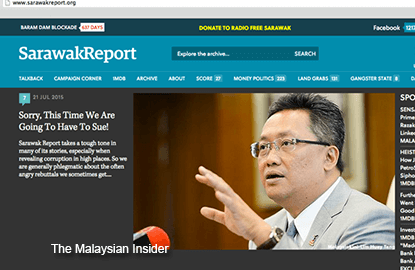 (July 23): Putrajaya should drop its "politically motivated" investigations and travel bans against opposition politicians and journalists who have been instrumental in exposing corruption within the government, Human Rights Watch said today.
The group also said Putrajaya should allow access to whistleblower site Sarawak Report, which played a key role in the 1Malaysia Development Berhad (1MDB) controversy with its exposes.
"Blocking a website and threatening critics with prosecution will not make the firestorm over alleged government corruption go away," said Brad Adams, executive director of the Asian division of Human Rights Watch, in a statement today.
"Instead of engaging in repression, Putrajaya should lift the bans and properly address the allegations swirling around it."
The Malaysian Communication and Multimedia Commission (MCMC) recently blocked access to Sarawak Report, saying it was disrupting national security.
The website has been accused by pro-government quarters recently of forging and tampering with the 1MDB-related documents.
Although media freedom has long been under threat in Malaysia, the group said Putrajaya had previously pledged not to censor the Internet in its effort to make the country a technology hub in Asia.
"The block appears to have backfired spectacularly as it has led to a deluge of online criticism of the government's actions and approximately 125,000 Facebook 'likes' for the Sarawak Report.
"By blocking the Sarawak Report website, the Malaysian government has undermined its claim for a more open Internet that is so crucial for commerce. The government should try to find both its missing scruples and common sense and lift the ban," Adams said.
Putrajaya had also imposed a travel ban on opposition MPs Tony Pua and Rafizi Ramli, as well as The Edge Media Group owner Datuk Tong Kooi Ong, believed to be over their criticism and exposes on 1MDB.
The immigration authorities stopped Pua yesterday at low-cost carrier terminal klia2, while Rafizi and Tong were believed to be barred from leaving the country after several checks on the Immigration Department's website.
Criminal investigations have been initiated on the three for allegedly committing activities detrimental to parliamentary democracy.
A police source was quoted as saying in news portal Malaysiakini that the investigation was linked with allegations that 1MDB documents were tampered with and fabricated as part of a plot to oust Prime Minister Datuk Seri Najib Razak.
Since the exposes on 1MDB, Najib's image as prime minister has taken a beating with calls for him to step down. He is also finance minister and chairman of the 1MDB's advisory board. – The Malaysian Insider