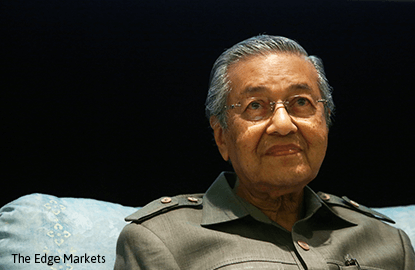 (Nov 30): Tun Dr Mahathir Mohamad today published an open letter to Umno members and grassroots leaders, warning them that supporting party president Datuk Seri Najib Razak could mean the end of Umno and Barisan Nasional (BN) in the next general election.
The former prime minister urged them not to remain blindly loyal to Najib to the detriment of the country, even though they might be rewarded for doing so.
"Supporting Najib may bring rewards to certain people, but when BN loses, all the rewards will be lost.
"In contrast, if Najib stepped down as Umno president and prime minister, it is highly likely Umno will return to its glory and BN will win the 14th general election," he wrote on his blog chedet.cc.
Dr Mahathir said removing Najib would ensure that the race, country and religion remained safe, and all Malaysians would be able to reap rewards.
He added that a government ruled by BN rivals would see them taking action against every crime Umno had committed.
"Oh, Umno members and grassroots leaders. Think wisely. Do not support or pledge your loyalty blindly, or for temporary rewards.
"Our race will condemn us if they fall because we were greedy and forgot Umno's struggles. And all the rewards we have will be destroyed."
Dr Mahathir's appeal today comes as the party prepares to hold its annual general assembly at the Umno headquarters in PWTC, Kuala Lumpur, next week.
Despite being issued an invitation to attend the assembly, the former party leader said he had resorted to publishing the open letter on his blog because of "tight restrictions" imposed on him.
He said Umno was using both the government and party machinery, to prevent him from meeting party members and the public.
He said this was proof the leadership was abusing its powers.
"Today, we can see that Umno now belongs to the president and Umno's struggles are limited to supporting the president.
"The members' loyalty is with the president, not with the party, the race, religion or the country," he wrote.
On Friday night, a group of Umno branch leaders launched a movement to force Najib to resign as party president.
They said hundreds of Umno branches had thrown their weight behind the movement, which they dubbed "Gabungan Ketua Cawangan Malaysia" or "Coalition of Branch Chiefs Malaysia" (GKCM).
Previously, several Umno branch leaders declared they had lost trust in Najib in the wake of a number of issues surrounding 1Malaysia Development Bhd (1MDB) and the RM2.6 billion deposited into his personal accounts.
The Umno General Assembly next week will see the party breaking away from its long-held tradition of having the deputy president officiate the opening of the wings' meetings.
This prompted Tan Sri Muhyiddin Yassin, a vocal critic of Najib as of late, to declare he would not be silenced. – The Malaysian Insider