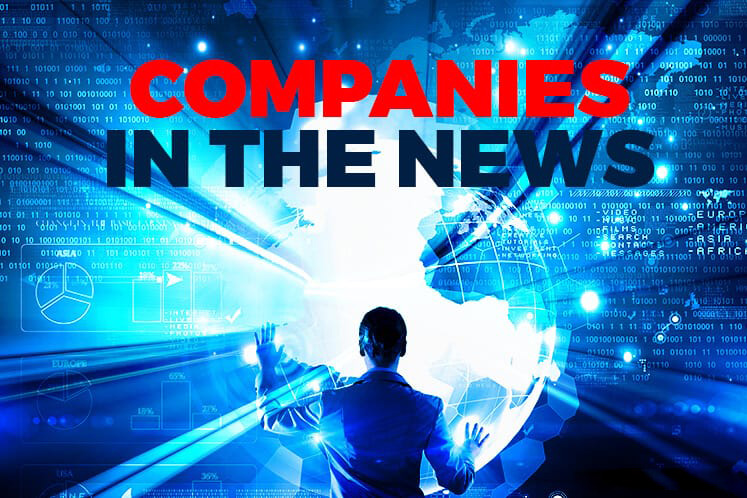 KUALA LUMPUR (Dec 20): Based on corporate announcements and news flow today, stocks in focus on Thurs (Dec 21) may include: Berjaya Land Bhd, Kimlun Corp Bhd, UEM Sunrise Bhd, Poh Huat Resources Holdings Bhd, Salcon Bhd, Westports Holdings Bhd, Dagang NeXchange Bhd, Goh Ban Huat Bhd, Hovid Bhd, Green Ocean Corp Bhd, Yee Lee Corp Bhd and Tasco Bhd.
Berjaya Land Bhd (BLand), the controlling shareholder of Berjaya Sports Toto Bhd, posted a net loss of RM99.92 million in the second financial quarter ended Oct 31, 2017 (2QFY18) compared with a net profit of RM180.47 million in 2QFY17, though revenue only slid marginally to RM1.61 billion from RM1.62 billion.
The losses were caused by the provision for impairment of balance of sales proceeds from the sale of Berjaya (China) Great Mall Co Ltd (GMOC), which amounted to RM155.08 million. Without that, the property developer would have reported a pre-tax profit of RM59.18 million in 2QFY18.
Its earnings performance was also due to lower profit margins earned on new car sales by its 98.38%-owned H.R. Owen Plc.
Kimlun Corp Bhd is buying a plot of freehold agriculture plot measuring 11.734ha in Pulai, Johor, from UEM Sunrise Bhd for RM82.1 million to develop commercial properties.
The purchase is being undertaken via its indirect wholly-owned unit Kii Morris Sdn Bhd, which inked the sale and purchase agreement with UEM's unit Nusajaya Greens Sdn Bhd yesterday.
The purchase consideration will be financed using internal funds and/or external borrowings.
Poh Huat Resources Holdings Bhd's net profit fell 6.4% to RM17.84 million in the fourth financial quarter ended Oct 31, 2017 (4QFY17), from RM19.06 million a year ago, due to lower contribution from its Vietnamese operations.
Quarterly revenue, however, increased 12.9% to RM171.68 millon, from RM152.05 million in 4QFY16, on higher shipment of furniture from its Malaysian operations.
Poh Huat proposed a final dividend of 3 sen per share for the financial year ended Oct 31, 2017 (FY17). Total dividends paid and proposed by Poh Huat for FY17 stood at 8 sen per share.
Salcon Bhd stands to lose RM3 million in the event its appeal to overturn a court judgement favouring its contractor proves unsuccessful, and has made provision for the sum in its financial statement for the financial year ending Dec 31, 2017 for that.
Salcon said its wholly-owned engineering unit received a judgement from the High Court in Sabah and Sarawak yesterday, ordering it to pay contractor Terra Environment Management Sdn Bhd RM2.4 million, with costs and an interest of 5% per annum from Jan 1, 2014 to the date of full payment.
The litigation is in relation to legal claims put forward by Terra Environment in November 2015, alleging Salcon Engineering Bhd (SEB) had underpaid for completed works for the Higher Power Water Jetting Cleaning and CCTV Inspection and non-dig repair works in various sewer pipes in Kota Kinabalu, Sabah.
Westports Holdings Bhd has been slapped with several bills of demand totalling RM59.51 million from the Royal Malaysian Customs.
Westports said its wholly-owned subsidiary Westports Malaysia Sdn Bhd has received several bills of demand amounting to RM59.51 million between July 17 and Sept 29, 2017.
"The demand included, inter alia, time-barred assessments for the years 2008 to 2011, import duty remittance for purchases of equipment and the Goods and Services Tax for purchases made after April 2015," it added.
Dagang NeXchange Bhd (DNeX) announced today that the government has awarded it another year of extension to its contract for the National Single Window (NSW) for Trade Facilitation.
The existing contract, undertaken by its wholly-owned subsidiary Dagang Net Technologies Sdn Bhd for the period from Sept 25, 2016 to Sept 24 2018, will be extended until Aug 31, 2019.
The company has been the operator of the Royal Malaysian Customs Department's NSW for Trade Facilitation since its launch in 2009.
Under the contract extension, the service charge to be imposed by Dagang Net will remain unchanged at 75 sen and 80 sen per kilobyte (kb) for the government and private sector respectively, and RM5 per approved permit and Certificate of Origin application.
Ceramic products company Goh Ban Huat Bhd (GBH) is planning to buy several properties in Pontian, Johor, from three companies controlled by the family of its largest shareholders, for RM143 million.
It is also seeking to diversify its business into construction and property development, it announced in a Bursa Malaysia filing yesterday.
The properties it is buying are 29 units of unsold 1.5-storey semi-detached factories — with a collective built-up area of 340,542 sq ft — 15 parcels of vacant industrial land, a vacant commercial plot, and vacant land for a hostel that measure 45.52 acres (18.4ha) in all.
GBH said it is undertaking the purchases via its wholly-owned unit Paragon Bizhub Sdn Bhd, which inked three conditional sale and purchase agreements (SPA) with Pekan Nenas Industries Sdn Bhd (PNISB), Pekan Nenas Development Sdn Bhd (PNDSB) and Jayaplus Development Sdn Bhd (JDSB), for the acquisitions.
GBH chairman Datuk Tan Eng Boon holds a 52.5% stake in PNISB, 78.71% in PNDSB, and 66.68% in JDSB. Eng Boon is the father of GBH managing director (MD) Datuk Seri Edwin Tan and executive director Datuk Seri Godwin Tan, who both control a 70.4% indirect stake in GBH. Edwin also holds between 8.33% and 20.29% in the three vendor companies, while Godwin has an 8.33% stake in JDSB.
The takeover offer for Hovid Bhd has turned unconditional, with joint offerors Fajar Astoria Sdn Bhd and Hovid managing director David Ho Sue San now holding in aggregate 68.2% of the pharmaceutical company's shares.
That is above the set 67% acceptance threshold, meaning its final acceptance condition of the offer has been fulfilled, turning the bid unconditional today.
The joint offerors will keep the offer open for acceptances for at least another 14 days from the unconditional date. As such, the closing date and time for the acceptances of the offer has been extended to 5pm on Jan 12, 2018.
Green Ocean Corp Bhd's Datuk Tan See Meng, 60, has resigned as the group's managing director (MD), citing personal commitments, with his post now taken over by executive director Mohd Yusri Md Yusof.
Tan had helmed the group as MD since Dec 27, 2013. He is also the founder and MD of Sawit Raya Sdn Bhd, an entity established since 1983 that is involved in palm oil trading and refinery activities.
Yee Lee Corp Bhd and Tasco Bhd have entered into a shareholders' agreement to jointly develop a business involving trading, distribution and logistics through YLTC Sdn Bhd.
Tasco plans to subscribe for 999,998 shares in YLTC, the joint-venture company that is currently wholly-owned by Yee Lee Trading Co Sdn Bhd (YLT), which in turn is wholly-owned by Yee Lee, for RM999,998.
Upon completion of the subscription of the shares in YLTC, Tasco will hold 40% while YLT will have 60% in the joint venture company, said the logistic firm Tasco.