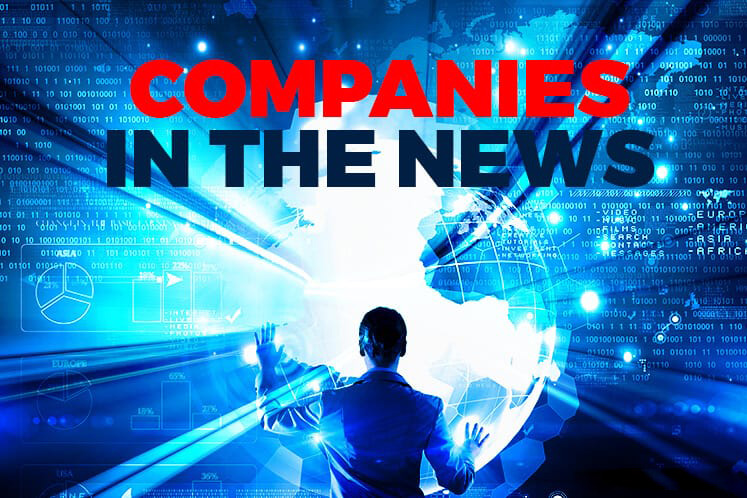 KUALA LUMPUR (Jan 17):  Based on corporate announcements and news flow today, companies that may be in focus on tomorrow (Friday, Jan 18) may include the following: Berjaya Land Bhd, Kerjaya Prospek Group Bhd, Sinmah Capital Bhd, Affin Bank Bhd, Bursa Malaysia Bhd, Muhibbah Engineering (M) Bhd, Kumpulan Powernet Bhd, Pavilion Real Estate Investment Trust (REIT), Malton Bhd, DRB-Hicom Bhd, Scomi Energy Services Bhd, Scomi Group Bhd and Malaysia Airports Holdings Bhd.
Berjaya Land Bhd (BLand) has inked a partnership with Four Seasons Hotels and Resorts to develop the Four Seasons Resort and Private Residences Okinawa in Japan with a gross development value of US$1 billion (RM4.11 billion).
BLand said its unit Berjaya Okinawa Development Co Ltd inked the deal, which would take four years to complete, with a projected total development cost of US$400 million.
The master plan development site is about 100 acres of beach front land owned by BLand along the western coast of the island, some 50 kilometres northeast of Naha International Airport.
Kerjaya Prospek Group Bhd has secured an RM155 million project to construct the main building for a planned property development along Persiaran Bestari in Cyberjaya.
The group said its unit Kerjaya Prospek (M) Sdn Bhd  has accepted the letter of award from Aspen Entity Sdn Bhd, a subsidiary of HCK Capital Group Bhd.
The RM155 million project is the group's first contract for this year, and will bring the total outstanding order book to RM3.1 billion.
Former poultry producer Sinmah Capital Bhd has earmarked RM100 million in capital expenditure for the construction of a hospital in Nilai as it makes its maiden venture into healthcare.
Via 70%-owned unit Sinmah Amegajaya Healthcare Sdn Bhd, the company inked a deal to acquire a property in Nilai for RM27 million and plans to redevelop it into Malaysia's first full-service Integrated Public-Private University Hospital.
The company is also looking at a Sukuk issuance of a couple of tranches to raise RM500 million to fund the development of a number of hospitals, with the first tranche of RM200 million to be issued this year.
Affin Bank Bhd's unit Affin Hwang Investment Bank Bhd, in collaboration with Bursa Malaysia Bhd, launched its Securities Borrowing and Lending (SBL) to enable retail investors to lend out their idle shares and earn interest income over and above the dividends they would normally receive.
Affin Hwang said the retail SBL is part of the efforts to boost retail interest in the market.
It said it targets to achieve RM50 million in securities lending book size in 2019.
The Bintulu Port Authority has cancelled an RM584.84 million contract with Muhibbah Engineering (M) Bhd to build a supply base wharf at the second harbour basin of the port in Sarawak.
Muhibbah said its 51%-owned unit Muhibbah Viccana JV has received a notice from the port authority to terminate the contract. It is expecting fair compensation for the termination of the contract.
The project, which was awarded to Muhibbah Viccana joint-venture in April 2017, was expected to be completed by the end of 2019.
Kumpulan Powernet Bhd said the MoU inked with Japan's Applied Science Co Ltd to commercialise the technology of superfast charging and discharging of battery related products has been mutually terminated.
No reason was disclosed for the termination of the MoU, which was entered into in September last year.
Pavilion Real Estate Investment Trust (REIT) has decided not to participate in the ownership of the Pavilion Bukit Jalil mall here, which is being developed by Malton Bhd.
No reason was given for the decision made by the REIT.
Malton's unit Pioneer Haven had on Aug 8 last year formally invited Pavilion REIT to participate in the ownership. This was followed by a due diligence and discussions between the two parties on the method of participation and negotiations on relevant terms and conditions.
Both Pavilion REIT and Malton are linked to property tycoon Tan Sri Desmond Lim, who is a substantial shareholder and chairman in both entities.
Proton Holdings Bhd's indirect unit Proton Automobiles China Ltd has been slapped with a civil suit in China's Guangdong High People's Court by a former Chinese partner, claiming 860.61 million yuan (RM522.91 million).
PACL and another unit, Perusahaan Otomobil Nasional Sdn Bhd, were named as defendants in the civil complaint served by Goldstar Heavy Industrial Co Ltd. The two companies have to appear in court on July 9.
DRB-Hicom Bhd said the claims are in relation to a contract entered into between its 50.1%-owned subsidiary Proton, Lotus Group International Ltd and Goldstar on April 17, 2015, to form a joint venture company called Goldstar Lotus Automobile Co Ltd.
Scomi Energy Services Bhd (SESB), the 65.64%-owned unit of Scomi Group Bhd, clarified today that its parent owed it RM47.83 million, and not just RM28.44 million as reported yesterday.
The total outstanding sum comprises RM19.39 million in relation to a shared service agreement and RM28.44 million worth of advances that Scomi Group still owes SESB under related party transactions as at end-2018. SESB had initially advanced RM44.94 million to Scomi Group under the transactions.  
Malaysia Airports Holdings Bhd (MAHB) has appointed retired Federal Court judge Tan Sri Zainun Ali as its non-independent non-executive chairman with effect from tomorrow, following the resignation of Tan Sri Syed Zainol Anwar Syed Putra Jamalullail today.
MAHB said Zainun has held various positions in the legal and judicial service. She was appointed a judicial commissioner in August 1996 and named a Federal Court judge on April 4, 2012, a position which she retired from on Oct 4, 2018.