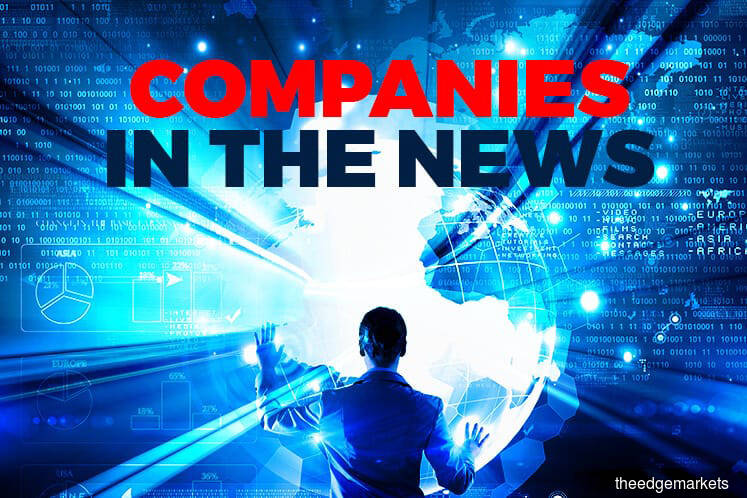 KUALA LUMPUR (July 15): Based on corporate announcements and news flow today, companies that may be in focus on Tuesday (July 16) may include:  Berjaya Land Bhd (BLand), Axis Real Estate Investment Trust (REIT), Multi Sports Holdings Ltd, Chin Hin Group Bhd, Pegasus Heights Bhd, Omesti Bhd, Tex Cycle Technology (M) Bhd and IJM Corp Bhd.
Berjaya Land Bhd (BLand), which is controlled by tycoon Tan Sri Vincent Tan, is buying a 75% stake in Icelandair Hotels ehf in a US$53.63 million (RM222.03 million) deal that would allow the group to enter the luxury hotel segment in Iceland.
It said the proposed acquisition is in line with the group's geographical diversification and revenue expansion.
"The luxury hotel segment in Iceland is expected to grow and the proposed acquisition will enable the group to enter this segment with strategically located hotels in the heart of Iceland, as well as certain hotels being operated under the Hilton brand name," it added.
Axis Real Estate Investment Trust (REIT) is leasing 2.4975 acres of industrial land at Batu Kawan Industrial Park, Penang from Penang Development Corp (PDC) and developing it into a single-storey warehouse facility with a built-up area of 44,000 sq ft for use by Federal Express Services (M) Sdn Bhd (FedEx).
It said its manager Axis REIT Managers Bhd had entered into a lease agreement with PDC for the proposed land lease, as well as a build and lease arrangement with FedEx for the proposed development and the proposed 10-year sub-lease.
Under the deal, PDC will lease the land at RM36 per sq ft or a total of RM3.92 million for a period of 30 years.
China-based shoe manufacturer Multi Sports Holdings Ltd and construction firm Southern Score Sdn Bhd have aborted plans to form a new company to take over and assume Multi Sports' listing status.
The plan was part of efforts to regularise Multi Sports' finances and lift itself out of Practice Note 17 (PN17) status.
It said the memorandum of understanding (MoU) it had signed with Southern Score has lapsed on July 5 and no further extension was sought.
Atlantic Blue Sdn Bhd, a 45%-owned associate of Chin Hin Group Bhd, has proposed a listing on the ACE Market of Bursa Malaysia via a special purpose vehicle, Solarvest Holdings Bhd.
Solarvest had on Jan 30 entered into an agreement to acquire the entire stake in Atlantic Blue for RM26.26 million, to be satisfied via the issuance of 291.79 million new shares in Solarvest at 9 sen apiece.
The agreement was completed today, and Solarvest is now a 45%-owned associate of Chin Hin, while Atlantic Blue is 100% owned by Solarvest.
In February, Solarvest had issued a prospectus for a proposed initial public offering of 98.83 million new shares, to fund its expansion locally and overseas. However, the IPO has yet to materialise.
Pegasus Heights Bhd, formerly known as Naim Indah Corp Bhd, said its contract as a project management consultant for a 30-storey mixed commercial development at Teluk Likas, Sabah, has been terminated.
It said the company and GE Properties Sdn Bhd both mutually agreed to cease the letter of award for the job.
This, it said, would have an impact on the group's revenue and profit. Based on the preliminary gross development cost of RM480 million, the value of the award was estimated at RM24 million.
Omesti Bhd has sold its entire stake in Formis E Solutions Sdn Bhd to CTOS Holdings Sdn Bhd for RM26.88 million cash.
It is expected to realise a gain of RM24.62 million from the disposal, after taking into account the original cost of investment in Formis was RM12.48 million on Oct 8, 1993.
Formis is engaged in the development of application software, system integration services and the provision of hardware and software maintenance services but has been dormant since 2014. Formis holds a 16% equity interest in RAM Credit Information Sdn Bhd, which provides credit reporting business, credit bureau and information services.
Tex Cycle Technology (M) Bhd is teaming up with privately-held Pakar Go Green Sdn Bhd to embark into the biochar production business.
It said its unit, Tex Cycle (P2) Sdn Bhd, has entered into a memorandum of understanding with Pakar Go Green on how they will collaborate and conduct their respective and collective organisations' business for the success of their entry into new and global markets.
Pakar Go Green has seven years of engineering, environment and technology experience as consultant related to wastewater and environmental study, and is also a biochar producer.
IJM Corp Bhd announced that Datuk Soam Heng Choon is set to retire as CEO and managing director of the group, to be succeeded by Liew Hau Seng effective Sept 1.
Liew, 53, is currently the managing director of IJM's construction division.
The group also announced that deputy non-executive chairman Tan Sri Krishnan Tan Boon Seng will take over as chairman from Tan Sri Abdul Halim Ali, 76, when the latter steps down upon conclusion of IJM's annual general meeting on Aug 28.