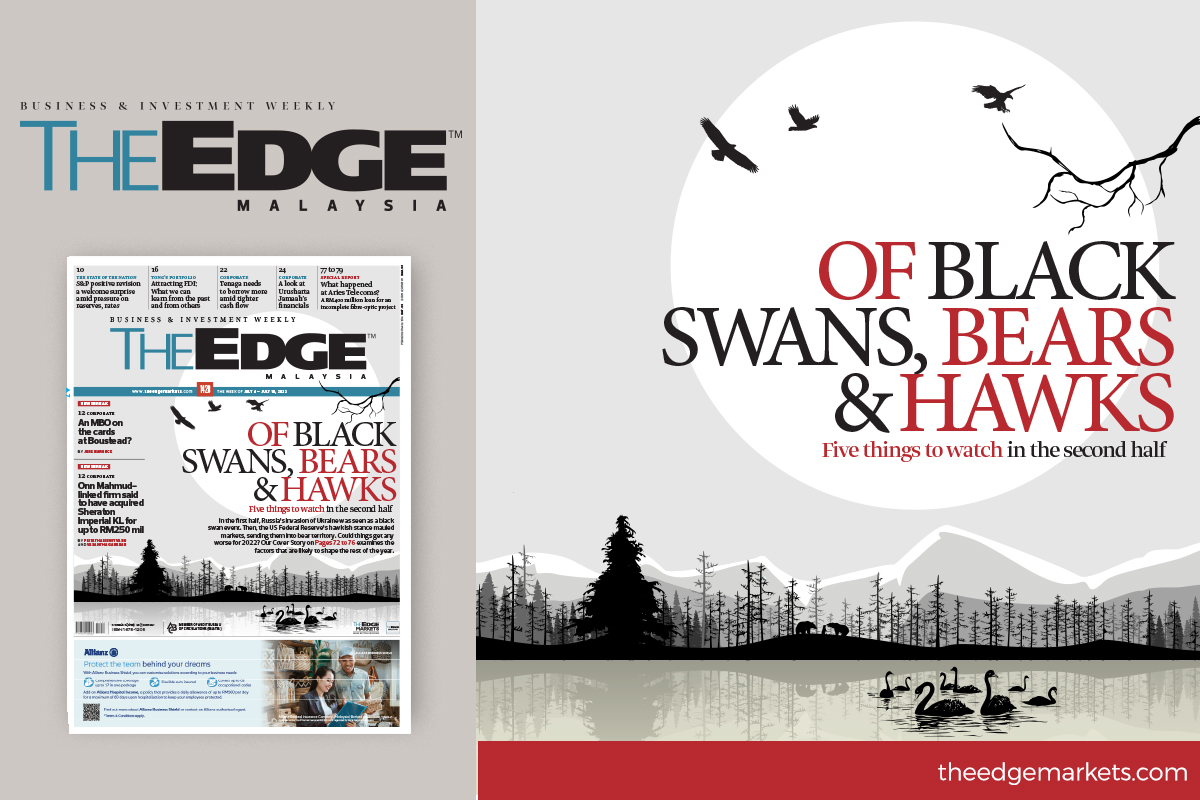 KUALA LUMPUR (July 2): The black swan, bear and hawk crossed each other's path in the first half of 2022 (1H2022), and it was anything but coincidence.
Just when the world is trying to recover from the Covid-19 pandemic, the financial markets continue to be hit by the shockwaves of the Fed's rising interest rates, Russia-Ukraine war, US-China trade war, as well as global supply chain disruptions.
Amid chaos around the world, the US equities had fallen by 20-30% year to date, a stark contrast to Brent crude oil prices, which had risen by 40%.
Can things get any worse for 2022? What should investors do amid market volatility?
The Edge spoke to Singular Asset Management Sdn Bhd chief investment officer Teoh Kok Lin, Value Partners Asset Management Malaysia Sdn Bhd fund manager Kamal Mustadza, Fortress Capital Asset Management (M) Sdn Bhd director Geoffrey Ng Ching Fung, and Sunway University Business School professor of economics Dr Yeah Kim Leng to get the answers.
Meanwhile, it is timely to look back on the major decisions made by US president Joe Biden, Federal Reserve chairman Jerome Powell, Russian president Vladimir Putin and Chinese leader Xi Jinping in 1H2022. It is also important to discuss what these top global movers and shakers might be plotting in the next six months.
Closer to home, one major uncertainty facing the Malaysian market is the possibility of a snap general election at a time when the political parties in the country are more divided than ever. Can Malaysia sustain its economic recovery and address the inflationary pressure?
Get the full story in this week's issue of The Edge Malaysia.